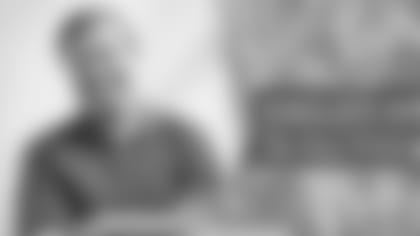 On Monday night, Jeremiah Trotter and Merrill Reese enter the exclusive club known as the Philadelphia Eagles Hall of Fame. For both men, it is an honor richly deserved but it did not come easily. It was in many ways an uphill climb.
Trotter did not even play football in junior high school. One of eight children growing up in Hooks, Texas, Trotter worked with his father, Myra, chopping wood. When the other kids were heading off to football practice, Trotter was picking up his axe and going off to work. His father finally relented and allowed him to play in high school, but only with the understanding he would chop his share of wood when he came home.
Trotter received a football scholarship to a Division 1-AA school, Stephen F. Austin State University, where he earned All-Southland Conference honors. He left school early to enter the 1998 NFL Draft so he could better support his family. His father was 75 at the time and Trotter said, "It was my time to take over." He was selected by the Eagles in the third round, but he spent his rookie season backing up veteran James Willis at middle linebacker and playing mostly on special teams.
It wasn't until the following year when Andy Reid took over as head coach and hired Jim Johnson as defensive coordinator that Trotter was given a chance to show what he could do. The 6-1, 260-pound Trotter led the team with 202 tackles and punctuated every big hit with a simulated axe chop, a tribute to his father. It became Trotter's trademark and earned him the nickname, "Axe Man." He became a four-time Pro Bowl selection and fan favorite - see how many No. 54 jerseys still are worn around Philadelphia - but he was largely ignored that first year.
"Jim (Johnson) believed in me and gave me a chance," Trotter says. "He let me attack the line of scrimmage. He let me dictate."
Like Trotter, Reese also had to wait for his big break. A Philadelphia native, Reese attended Overbrook High School and Temple University. While in college, he worked at WRTI, the campus radio station, broadcasting football and basketball, and also hosting a music show in which he spun his own 45 RPM records. After a stint in the Navy, he came back to Philadelphia in search of a job in broadcasting. He knocked on every door in town and was told, "Sorry ..."
He went to WCOZ, a radio station in Coatesville, Pennsylvania. He met with the station manager who studied Reese's application and said, "You can't start here. You have to start someplace small." Reese's response: "But this is Coatesville." In other words, what could be smaller than this?
He also was turned down at WPAZ in Pottstown, Pennsylvania - "I was so nervous the station manager thought I'd have a heart attack on the air," Reese recalls. He was called back when the station realized it needed someone to broadcast the Pottsgrove-Spring Ford high school football game. He broke into the Philadelphia market doing sports reports for WWDB and WHAT and later WIP-AM. He began hosting the Eagles pre- and postgame shows in the early '70s and in 1977 he was assigned the role of color analyst working alongside play-by-play announcer Charlie Swift.
Swift died in December of that year and Reese was moved into the play-by-play role for the final two games of the season. He has been there ever since. This marks his 40th year as the Voice of the Eagles, making him the longest tenured play-by-play man in the National Football League. He is now the first media member inducted into the Philadelphia Eagles Hall of Fame. He has come a long way from Pottstown.
Trotter and Reese both connected with the Philadelphia fans albeit in different ways. In a town that celebrates defense, Trotter was a perfect fit, a big bruising middle linebacker in the mold of a Bill Bergey and Chuck Bednarik who delivered blows that reverberated through the 700 level. He played with great emotion and, along with safety Brian Dawkins, he brought the fire to the Eagles' defense every gameday for eight seasons.
Fans saw what Trotter did on the field, but they didn't see what he went through during the week just to line up and play. He had a series of knee injuries that would have sidelined most players but he played through them. On a typical Wednesday, you would find Trotter sitting in a film room studying tape of the next opponent while holding a giant ice pack on each knee. Paul Domowitch of the Philadelphia Daily News once referred to Trotter as "a linebacker with the heart of a lion and the knees of a mailman."
"He is a great leader for this football team," Reid said when he brought Trotter back for a final season in 2009. "He gathers the other players and takes them to the film room without the coaches even being there. He is the classic example of someone who leads by example and he has been doing it for a long time."
Reese brings his own brand of passion to the broadcast booth. Generations of Eagles fans have grown up listening to his calls and now they know them by heart. Indeed, when he authored his autography (along with sportswriter Mark Eckel), he titled it, "It's GooooooD," his famous call for every big Eagles field goal from Tony Franklin to Roger Ruzek to David Akers and now Caleb Sturgis.
Walk through the parking lot before any Eagles game and you are sure to hear fans of all ages imitating Reese as they toss the football around. His distinct voice is as much a part of football in this town as the fight song and the E-A-G-L-E-S chant. Chairman and CEO Jeffrey Lurie said when he bought the team in 1994, one of the first things he was told was that Merrill Reese was part of the deal. Lurie could change coaches but he couldn't change the guy behind the microphone. The fans wouldn't accept it.
Reese likes to tell the story about riding in the car one day and hearing SportsRadio 94WIP's Angelo Cataldi announce a Merrill Reese sound-alike contest. The morning radio host asked fans to call in with their best Merrill impersonation. Reese was amused and decided to call in himself.
"I said, 'This is Joe from Drexel Hill and I'd like to enter the contest,'" Reese recalls. "They put me on and I did my usual, 'The Eagles break the huddle. (Donovan) McNabb brings them to the line. The backs are lined up in the I.' I did it just as I had done it a thousand times. I didn't win. I couldn't believe it."
"He finished fourth," Cataldi says. "It just goes to show you that if you're in a town long enough and people listen to you long enough, they'll start doing you better than you do yourself. It was very funny. We honestly didn't know (it was Reese). We had so many people on the line that by the time Merrill called in we couldn't tell. We all got a good laugh out of it and Merrill laughed louder than anyone."
Trotter and Reese had tough acts to follow. Trotter followed Bednarik and Bergey, both Philadelphia Eagles Hall of Famers, at the middle linebacker position. Reese followed numerous play-by-play voices, most notably Bill Campbell who broadcast every professional franchise in the city but is best remembered for calling the action on the Eagles' last NFL championship season in 1960. Reese was sitting in the stands at Franklin Field back then with a transistor radio pressed to his ear listening to Campbell's play by play.
"I was watching the game but I was also looking up to the press box because I knew that's where I wanted to be one day," Reese says. "It is hard for me to believe sometimes that it really did happen for me. People ask me, 'Aren't you tired of it after all this time?' I can honestly say no. It never gets old. I'll never retire. They will have to pry me out of the booth."
Jeremiah Trotter and Merrill Reese earned their way into the Philadelphia Eagles Hall of Fame. And they're not going anywhere.
An award-winning writer and producer, Ray Didinger was inducted into the Pro Football Hall of Fame in 1995. He has also won six Emmy Awards for his work as a writer and producer at NFL Films. The five-time Pennsylvania Sportswriter of the Year is a writer and analyst for Comcast SportsNet. Didinger will provide Eagles fans a unique historical perspective on the team throughout the year for PhiladelphiaEagles.com. You can read all of his Eagles History columns here. He is also the author of The New Eagles Encyclopedia.