It was just a footnote in the 34-3 rout of the Pittsburgh Steelers but in the context of Eagles history it was major milestone.
Tight end Brent Celek caught three passes to raise his career total to 375. He surpassed Pete Pihos (373) to take over fourth place on team's all-time receiving list. He now trails only Harold Carmichael (589), Pete Retzlaff (452) and Brian Westbrook (426). That's pretty good company.
But the fact that Celek passed Pihos, a 1970 inductee to the Pro Football Hall of Fame, is a very big deal.
Chances are you don't know much about Pihos. You may have heard the name but that's about all. It is too bad because he was an all-time great. He was overshadowed playing alongside halfback Steve Van Buren and center-linebacker Chuck Bednarik, but he was equally valuable to the championship teams of 1948 and '49.
Pihos played nine seasons and was an All-Pro selection in seven of them - six times on offense, once on defense. He led the league in receiving three consecutive years (1953-55). He was the first Eagle to top 1,000 yards in receiving - he had 1,049 in 1953 - and that was in a 12-game regular season. His 61 touchdown catches still ranks third in team history, tied with Mike Quick.
Nicknamed "The Golden Greek," Pihos was the best receiver of his era. He was a fullback and end at the University of Indiana, a 6-1, 215-pound bull who earned All-America honors at both positions. He set the school scoring record with 138 points before being drafted into the Army during World War II. He served 14 months in the European theatre earning five combat medals and a battlefield commission. He was part of the Normandy invasion and survived the bloody Battle of the Bulge.
The Eagles selected Pihos in the 1945 NFL Draft while he was still in the Army. Head coach Greasy Neale said, "I can wait for a player like Pihos."
Pihos joined the team in 1947 and in his first two seasons he caught 69 passes and scored 18 touchdowns. In his rookie year, he helped the Eagles win their first postseason game, a 21-0 victory over Pittsburgh in a divisional playoff, when he blocked a punt to set up a touchdown. He missed only one game in his nine seasons.
In the 1949 NFL Championship Game, Pihos scored the first touchdown on a 31-yard pass from quarterback Tommy Thompson. He played in six consecutive Pro Bowls from 1951 through '56. Only three Eagles - Bednarik, Reggie White and Brian Dawkins - made more Pro Bowl appearances.
"Pete could do everything," said Russ Craft, a halfback on those championship teams. "He had those big paws and he could catch a ball in a crowd better than any receiver I've seen. Because he was a fullback in college, he knew how to run with the ball once he had it. He wasn't the fastest guy, but he was so strong he'd just knock people over in the open field."
Neale was a creative thinker and he used Pihos' fullback skills to put a new wrinkle in the Eagles' offense. He drew up a play that teams still run today called the middle screen. Pihos would slide down from his end position to catch a short pass while the line set up a wall in front of him. It was a successful play for the Eagles; a low risk pass and a chance for Pihos to run over defenders which he did better than any other receiver.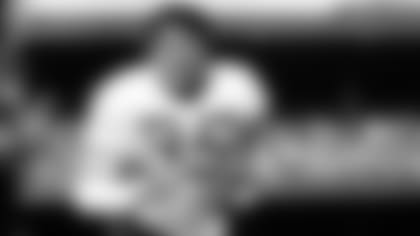 In his book Pro Football's 100 Greatest Players, George Allen called Pihos "the first great tight end." Technically Pihos was not a tight end. There were no tight ends in his era. Offenses consisted of four backs and two ends. But Allen, the Hall of Fame coach, was making the point that Pihos played like a modern tight end - a tough, physical blocker and a skillful receiver who averaged 15.1 yards per catch for his career.
"(Pihos) was no giant but he was big enough," Allen wrote. "He was no sprinter but he was fast enough. He was extremely tough and durable and he seemed to me an exceptionally smart player. He never gave an opponent anything."
It was a shock when Pihos announced his retirement after the 1955 season. He was coming off another fine year (62 catches, 864 yards, seven touchdowns) and he was still in his prime at 32 years old. But he was discouraged with the direction of the team - the Eagles were 4-7-1 his final year - and he was offered a lucrative sales job so he decided to hang up his pads.
"It wasn't my age that made me quit," Pihos said. "I've always kept in top condition and I never smoke or drank. I know I have a couple years of football left but I've reached that stage in life when a man cannot serve two masters. I think I've found myself in the business world. I can no longer afford to give five months to football. And I can no longer be a stranger to my family. Just the other day my little girl asked me, 'Daddy, when are you going to stay home?'"
In a 1981 interview, Pihos talked of a conversation he had with baseball great Joe DiMaggio that influenced his decision.
"I ran into Joe DiMaggio once in Atlantic City," Pihos said. "He told me, 'Pete, when you retire make sure you retire on top. Things will be better for you. Don't retire as a has-been.' I always remembered that. I could've played longer but I chose to retire on top."
When Pihos retired, he held virtually all the Eagles' receiving records. As it is, he is still in the top half dozen in most categories, an amazing feat when you consider his career ended more than 60 years ago. So when Brent Celek passed him, it was worth pausing to acknowledge a great achievement and a great player from the past.
An award-winning writer and producer, Ray Didinger was inducted into the Pro Football Hall of Fame in 1995. He has also won six Emmy Awards for his work as a writer and producer at NFL Films. The five-time Pennsylvania Sportswriter of the Year is a writer and analyst for Comcast SportsNet. Didinger will provide Eagles fans a unique historical perspective on the team throughout the year for PhiladelphiaEagles.com. You can read all of his Eagles History columns here. He is also the author of The New Eagles Encyclopedia.