On what it was like as a lifetime Eagles fan to see the former S Brian Dawkins retirement ceremony: "I know most people say that the draft is the best day of their life, but growing up an Eagles fan and being blessed to have the opportunity and see Brian Dawkins retire and give a speech here, this has to be the best day of my life here. To see his teammates back here and they way they embraced him, and then the way they embraced me, it was really something special. This is a moment I will never forget in my entire life."
On what the Eagles alumni said when he met them: "Welcome to the family and cherish the moment."
On what Dawkins said to him: "He said, 'Man, you're a blessed young man. It's a beautiful city and a wonderful organization. Things happen fast, and stick with God. Welcome to the family."
On whether Curry looked up to Dawkins growing up: "Oh yeah. I have Brian Dawkins stuff all over. He's Weapon X, the X Factor. He was it and is it. He is arguably one of the best safeties of all-time. It's just amazing to be here and meet him in person. It's phenomenal."
On whether there is anything poetic to the fact that his career begins the same day that Dawkins ends: "Right. His passion for the game is similar to the way that I love the game and he wears his emotion on his sleeves just as well as I wear my emotions on my sleeve if you watch my tape. I feel like I put so much work into my craft because this is something I love to do. When he was talking about sore losing, and not wanting to shake the other people's hands it sounded like me but just an older version. Like I said, to just be here and meet him, it's unbelievable because I see myself in everything that he was talking about. I was really sitting back there and fighting back not to tear up."
On watching the Dawkins highlight reel before the press conference: "It definitely brought back some memories of my household as a kid sitting on Monroe Ave. (in Neptune, NJ) in my avenue watching the Eagles games on Sundays. I was at my Pop Warner games trying to rush home to see my boys play. Now, I'm an Eagle, and I'd just like to thank (head coach) Andy Reid and (general manager) Howie (Roseman), they just handpicked me like this and I'm just so blessed and so happy."
On whether he is motivated by not going in the first round as he was projected: "Oh yeah, it does and it gives you a big chip on your shoulder. I'm an underdog anyway, it don't matter where I'm at. Everybody was expecting me to get dogged and not do as well, but in my heart, this is what I do and this is what I love. Every time I step on the field and I try to leave a great impression because this is my line of work. Coming into this situation and seeing the way it fell, this is my favorite team growing up and there is a great coaching staff here. Would you rather play for someone else in the first round or would you rather play for your childhood team in the second round? This is what I said yesterday on the phone, and I'm just so happy and so blessed to be here. You guys have no idea how happy I am. My Aunt is over here and she knows that I have Eagles stuff all in my room. The NFL Network and all these TV stations wanted to come to my house and I said no because I wasn't taking this stuff down. It would have been my last day as an Eagle fan if I would've gone to a different team, but I wouldn't have taken it down."
On his memories as a fan: "I take it back to before we got (QB Donovan McNabb), we were struggling a little bit. When he came, he brought that who's this guy attitude that I take on the field. When I do stuff, I want people to go, 'Wait, who is that again?' It's amazing just some of the things I can remember. Even First-Down Freddie (WR Freddie Mitchell). I'm a big wrestling fan and he did the world championship belt celebration. As an Eagles fan, it makes you angry when you hear another person say, 'that's another person's dance move' and you're like, 'No, the first person to do that was Freddie.'"
On whether there was any Eagles alumni in particular besides Dawkins he wanted to meet that he met today: "(LB Jeremiah) Trotter. You know what he brings to the game. Like I said, I met McNabb and was blessed meet (former RB and current special teams quality control coach) Duce Staley, and (QB) Michael Vick. Michael Vick told me if I ever need anything to call him and he's going to take me under his wing and show me the ropes, the do's and don'ts. He has been through a lot. People here are so embracing and it's very humbling. As a fan, you never really know the people outside the helmet so you always wonder and you come up with impressions of how that person is until you actually meet them and you're like, 'Wow, he's probably one of the nicest people I ever met.'"
On whether was aware of where Eagles were picking in the second round: "No, I just kept praying. Once I started sliding, I just kept praying that Coach Reid would pull the trigger. That's the thing, you can never predict the draft. I'm just blessed to be a part of a great draft class that the Eagles had selected so far. I was upset that I slid but like I said, I slid into a great situation. It was like it was 100 degrees and I slid into the pool to cool off a little bit."
On whether the Eagles contacted him at all before the draft: "No. It was just a little bit of interest at the combine and I met with Coach Reid and Howie. There was a private workout. As far as coming to the facility, they were probably thinking that they had their guy in the first round but God has a plan for everything. He knew where he wanted me to be and he knew where my heart was at. I wish my mother was alive to see me be an Eagle. Like I said, I've been an Eagles fan ever since I've been able to watch football. People ask me who my favorite Eagles player is and I just don't have one. The Eagles at one point in time was sickening with Troy Vincent, Bobby Taylor, Brian Dawkins, Trotter. The d-line had big Hugh (Douglas). It was crazy, and I used to picture myself on Sundays and say, 'This is going to be me one day.' To actually see everything fall through and come through, it's mind blowing. I'm a really positive guy and I want people in hometown and all across the world to know that there is never a dream too big as long as you keep your mind on things, you put your blindfold on, and you stay positive and true to yourself, all things are possible."
On whether he knows DT Fletcher Cox: "I know him a little bit. We hung out a little bit at the Combine and we both have mutual friends. His teammate, his close friend of his, is our (graduate assistant) at Marshall this past year and he used to talk about him all the time, so we kind of knew each other through a mutual friend."
On how he ended up at Marshall: "I was a Prop 48. I attended a prep school, Harmony Prep. I used to go to high school half the day and was in Monmouth County Vocational School in this nursing program. I thought I was going to follow my aunt's footsteps because she's a doctor and she's the biggest inspiration in my life. That feels kind of hard. My aunt actually came down one week for a whole week and I said, 'You should come to this counseling meeting with me.' So she came and she's asking my head football coach, 'Well, how is Vinny going to get into college?' We didn't have 14 core classes at that point in time, so you know, I'm panicking like, 'So that means I can't go to college?' So my senior year of high school I tried to jam all these classes upon myself and take the SATs not knowing it was a practice SAT. I wasn't prepped for it, I just tried to go in there head first. It didn't quite work out the way I wanted it t, so I ended up going to the prep school in Cincinnati called Harmony Community School. From there, I made great grades, had a great season, got heavily recruited and then my first try on the ACT I scored a 21. The NCAA said it was too much of a jump, so of course they red flagged me and I ended up propping summer of 2007 at Marshall University."
On growing into a leader as his career progresses: "Well, my freshman year at college – I'm a big observer. I sit back and I just watch everything. By my junior year, you know, everybody was kind of leaning on me for everything. There are just some things that people put you upon and I'm a great people person. I love my teammates to death. Like (former Eagles DB Brian Dawkins) said earlier, I wouldn't ask anybody to do anything for me if I can't return the favor or if I'm not doing it. At Marshall, I held everybody at a high standard because I expected myself to be at a high standard. That's one thing, I tried to bring the community back this year, my senior year, by myself, no coaches, no push, no anything. I tried to promote the program in a positive image because that's who I am and I opened my heart to them. We sold out mostly all the home games and it was a great season. I made sure that I put on a show every Saturday for the fans."
On defensive line coach Jim Washburn: "Coach Wash, coach Wash, you know, he's very excited for me to be here. We sat down a little bit and we talked a little bit and chopped it up. Like I said, everything just goes back to (general manager) Howie (Roseman) and (head) coach Andy Reid. They hand-picked me to be here and it's just a blessing and I thank them so much."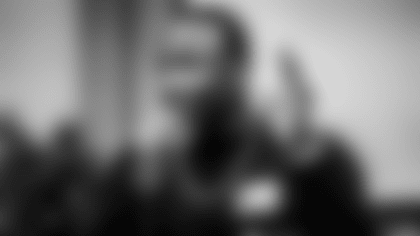 news
LeSean McCoy gives 'take it to the house' a whole new meaning
The Eagles' all-time leading rusher is enriching his hometown with new, affordable housing.