Darren Sproles was finally presented with a challenge that he was unable to overcome on his own.
Sproles' unique combination of strength and athleticism has allowed him to carve out a brilliant 12-year NFL career while being listed at 5-foot-6, 190 pounds.
Despite battling players who are over a foot taller and 100 pounds heavier, Sproles has been one of the most prolific players of his generation with 18,337 all-purpose yards, which ranks ninth in NFL history. In a profession that is unkind to running backs, Sproles has helped ignite the Eagles' offense and special teams units since he arrived in Philadelphia at 31 years old when most players his age are on the decline.
But with all of his gifts and talents, nothing would prepare him for the news that was delivered on October 17, 2012 - that his wife, Michel, was diagnosed with breast cancer at the age of 28.
"That's my best friend. It was tough for me to see her going through that time. It was rough for me, but I knew I had to stay strong for her," Sproles said. "There were times when I would cry, but I wouldn't let her see me."
Darren and Michel met in 2006, while he was a member of the San Diego Chargers. It was Sproles' second season in the league, but he was placed on the Injured Reserve list after injuring his ankle in the preseason. He was training in Los Angeles and was introduced to Michel through a mutual friend. Michel, who was an athlete in her own right as she earned a track and field scholarship to UNLV, called Sproles a "breath of fresh air."
"He was just the total opposite of your average athlete, especially being a professional athlete when I met him. I expected him to really be a jerk. But he was so different," Michel recalled. "He was attentive. He was a gentleman."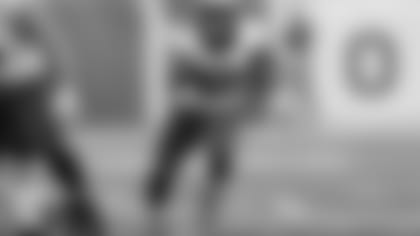 They talked on the phone for two months before meeting for the first time. The two complement each other perfectly. In addition to everything else he has overcome to be a star in the NFL, Sproles has a speech impediment which is one of the main reasons why fans know so little about him. On the other hand, Michel describes herself as someone who is very "vocal and outgoing."
"Sometimes when people communicate with him they often get frustrated because he can't get his thoughts out quick enough for other people. For me, I showed patience, and even though I talk really, really fast and I communicate really fast, I was patient with him and I made him comfortable being himself," Michel said. "I wasn't trying to force him to be anything other than what he was. I think that was one of the things that kind of drew him to me more so."
Darren and Michel were married in 2010 and have two daughters - Devyn, 7, and Rhyan, 4. Shortly after Rhyan was born, Michel noticed that an area of her left breast was thicker than the other. There was no lump, but Michel just knew something wasn't right. She finally went to her primary physician, who sent her for an ultrasound. The results showed obstructed milk ducts, but the initial thought was that it was leftover milk from Rhyan's birth. However, Michel didn't breastfeed so that made no sense to her.
Not satisfied with the result of her ultrasound, she visited her OB/GYN in New Orleans and pleaded for a referral to get a mammogram. After discovering calcifications on the mammogram, Michel underwent another ultrasound and a biopsy. Even though Michel bore none of the typical warning signs, she was diagnosed with DCIS - ductal carcinoma, a form of breast cancer. Since the discovery was made while still in Stage 0, Michel underwent a bilateral mastectomy a week later to rid herself of the disease once and for all.
The news was difficult for Darren to bear because he already had lost his mother, Annette, to brain cancer. But he was the rock for Michel, even helping her snap out of depression following the surgery.
"He was very, very supportive. He allowed me to lean on him and cry in front of him and be vulnerable in front of him, but during that period I did slip into a depression. I lost a ton of weight, not from an illness or anything, but from being stressed out about it and my mind going 100 miles an hour," she said.
"But I remember him coming in the room one day and I was just out of it. It was dark in the room and he was just like, 'You've got to snap out of this. It is what it is. You experienced it. It's over. It's done with. The test is over. Whatever reason God had you go through this we may not know now. We may find out later, we may never know, but it's over. You're fine. You're healthy. The doctor said you're healthy. You're not about to die. You're not going anywhere. I need you to snap out of it.'
"And that was the turning point for me."
Now four years removed from the initial diagnosis, almost to the day, Michel is healthy.
When Sproles takes the field this Sunday for the Eagles' annual Tackling Breast Cancer Game, there's no doubt he'll be thinking about his wife, all they went through during that difficult time and how thankful he is that she won her fight with breast cancer.