Wide receiver Damaris Johnson is entering his second season in the NFL. He feels comfortable, confident and ready to take that next step after showing flashes as a rookie in 2012.
"I'm definitely more confident because coming from last year I didn't play football for a full year," he said. "Now my feet are wet and I know what to expect when I go out on the field."
Johnson already figured to have a fairly significant role in the Eagles' offense in 2013, and that was before Jeremy Maclin suffered his ACL injury. Now a bulk of attention has shifted to him and how he can contribute as more than just a return specialist. The diminutive yet explosive weapon has had an exceptionally strong first three practices, showing sure hands and the quick, slippery playmaking ability that endeared him to Eagles fans last season.  Johnson believes he brings a lot to the table in 2013.
"I definitely think I can (be more than a return specialist)," Johnson said Sunday. "Even in the offseason I went out and prepared, my mind is always focused like that. I want to be that guy, I just want to be that guy that my team can count on."
With Maclin out, can Johnson contribute on the outside and in the slot?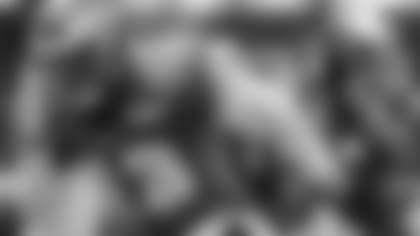 "Just coming from high school and college, I was mostly an outside receiver anyway, I never really played the slot," Johnson said. "So this is really my first year playing the slot, getting used to everything, but I think I'm capable of playing inside and outside."
Johnson's calling card, the quickness that allows him to make defenders look silly at times, figures to be an asset in the Eagles' new fast-paced offense.
"It's faster," Johnson said of the offense. "My skill set, I think I can play in any offense. But definitely with this one, with the speed, getting the ball out quick, getting the ball in my hands, I think it suits me more."
"My favorite part is Coach Chip gives everybody an opportunity (to work on) your strengths and your weaknesses," Johnson said. "If you're an inside guy, he puts you outside to make you better at that position. I think he just gives everybody a great opportunity."
Could that mean Johnson will see some time in the backfield? He did in college at Tulsa, where he accumulated the most all-purpose yards (receiving, rushing, returning) in NCAA history in just three seasons.
"I practiced a few times at running back … early in camp, in OTAs," Johnson said. "Whatever (the coaches) ask of me, I'm ready to do."
Johnson is still practicing as one of the primary punt returners and said that competing against DeSean Jackson for that spot will "bring the best out of me."
Now, though, Johnson's focus extends to the offensive side of the ball.
"Just try to work on my whole game," Johnson said of his goals for the rest of Training Camp. "My speed, my quickness, my routes, my hands. Definitely when I catch the ball; if you're a receiver, you have to catch the ball first, so that's what I focus on first."
Expect to see a lot more from Johnson going forward. The Eagles are going to need him.