The clock is ticking, Eagles fans.
On April 30th, the NFL Draft will kick off from Chicago, as NFL Commissioner Roger Goodell announces the latest class of NFL talent. To make sure that you're all set for when the Eagles are on the clock for the first time, we're counting down each day with look at each number from 100-1 and the significance that the number holds in Eagles history.
Without further ado, let's continue the countdown… Connor Barwin recorded a team-leading 21 quarterback hurries in 2014.
Barwin came into his own during his second season in Philadelphia, earning Pro-Bowl honors thanks to his 14.5 sacks. The Eagles jack of all trades has quickly become a leader on the defense and a fan favorite throughout the city. First Eagle To Wear No. 21: G James Zyntell (1933-35)
Current Eagle Wearing No. 21: S Jerome Couplin III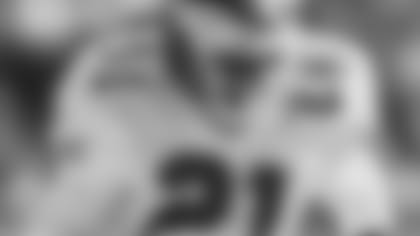 The Eagles moved up in the second round of the 1988 NFL Draft to select Eric Allen out of Arizona State, which turned out to be a very, very good move.
Allen joined Andre Waters and Wes Hopkins in the secondary on a defense that also included Reggie White and Jerome Brown up front. Waters was dynamic at the cornerback position, intercepting 34 passes (tied for a franchise record) over his seven years in an Eagles uniform. In 1993, Allen returned four interceptions for touchdowns, which remains a club record as well.
Allen played seven more seasons in the NFL after leaving Philadelphia, spending time with New Orleans and Oakland. The six-time Pro Bowler was elected into the Eagles Hall of Fame in 2011.