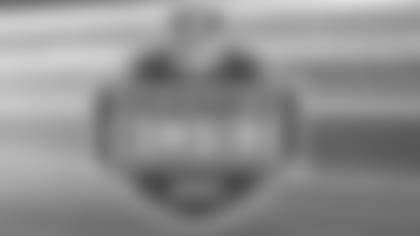 The NFL Scouting Combine begins Feb. 18 in Indianapolis. In the days ahead, we will take a position-by-position look at some of the key storylines to keep track of as the 2009 NFL Draft inches closer. Today, we take a look at defensive end...*
1. Who are the elite defensive ends in this draft?
Everette Brown, the 6-4, 252-pound end from Florida State tallied 13.5 sacks in 2008 as a fourth-year junior and finished with 23 for his career. Before the start of the season, Brown sought the advice of former Seminole and NFL star Peter Boulware, who set the single-season school record for sacks with 19 back in 1996. Well, the advice worked as Brown's combination of technique, quickness, explosion and strength makes him a first-round target in this year's draft.
LSU's Tyson Jackson is a physical marvel with his size and athleticism. The 6-5, 290-pound Jackson is a bull-rush end who finished with 4.5 sacks in 2008 and 18.5 for his career, good enough for eighth in school history. A first-day selection, Jackson is likely to end up with a team that will utilize him in a 3-4 scheme. Jackson has drawn comparisons to former LSU alum Marcus Spears.
Georgia Tech's Michael Johnson was a top-tier tight end prospect coming out of Dallas County High School in Selma, Ala. He showed up at Georgia Tech tipping the scales at around 205 pounds and now is a 6-7, 260-pound physical freak. Johnson evolved from a pass-rush specialist into a more complete end during his senior year, which was his only as a full-time starter. Expect Johnson to put up big numbers at the Combine. Some expect him to be a Vernon Gholston-type who will play outside linebacker in a 3-4 in the NFL. He will probably be more of a third-down rush end. Johnson was criticized for skipping the Senior Bowl to get ready for the Combine.
Aaron Maybin from Penn State went from the bottom of the depth chart to first-round NFL pick in one year, as a redshirt sophomore. A quick edge rusher like the Colts' Dwight Freeney, Maybin is only 245 pounds and will likely have to bulk up another 20 pounds after he is drafted. Maybin overcame tragedy at a young age as his mother died from complications due to the birth of Maybin's younger sister. Again, Maybin could end up as a 3-4 outside linebacker but he has the frame to add the necessary weight needed to play defensive end.
Texas' Brian Orakpo was a unanimous first-team All-America, the recipient of the Nagurski Trophy as the nation's top defensive player, the Lombardi Award as the nation's top lineman and the Big 12 Defensive Player of the Year in 2008. Whew. Look for Orakpo to put up huge numbers at the Combine in the bench press due to his strength. At 6-4, 260 pounds, Orakpo enjoyed plenty of success in college, but still has room to grow as an NFL player. Durability is a concern as he battled through a couple of injuries in college, including a knee injury that limited him in 2007.
2. Is it a need for the Eagles?
When is it not for any team? The Eagles have invested more at defensive end than maybe any other position on the roster. Darren Howard and Chris Clemons were both significant free agent signings. Juqua Parker flourished with the Eagles and earned a new contract. Trent Cole was a steal in the 2005 draft and has since earned himself a contract extension. Victor Abiamiri, a second-round pick, played very well despite being limited by injuries in his sophomore season. Bryan Smith was a third-round selection last year and is a mystery as to how he will fit in.
The Eagles have a bonafide starter in Cole, a Pro Bowl end on the right side. Parker played well early last season as the starter on the left side. Abiamiri provided excellent depth despite two injuries. Clemons came on strong at the end of the year. Howard led the team with 10 sacks and never started a game.
There are questions, though. Can Abiamiri push to be a starter in '09? Can the Eagles get more out of Clemons? Is Howard going to be able to put up big numbers again? Is Smith going to be a factor?
The Eagles have a lot of talent at defensive end, but don't overlook any position - especially a critical one - when trying to improve this team for 2009.
3. Who could be the next Trent Cole?
Basically, who is a mid-round, never-heard-of tweener who could flourish on Sundays in the NFL.
How about another former Cincinnati Bearcat in Connor Barwin? He began his career at Cincy as a two-year starting tight end. He was athletic enough to walk on to the Bearcats hoops team. Finally, as a senior, he was moved to defensive end where he had 11 sacks and 14.5 tackles for loss. Yes, Barwin had that production in one year at the position. Talk about upside.
It seems as if there's a Connecticut player mentioned in each Combine Preview. This time, it's Cody Brown who had 10 sacks and 15.5 tackles for loss for the Huskies last season. Brown was a three-year starter at UConn who does have some experience at linebacker.
Victor Butler had 12 sacks and 21.5 tackles for loss for Oregon State in 2008. The 6-3, 238-pound Butler finished his college career with 11 tackles, five for loss, and four sacks as the MVP of the Sun Bowl.
Arguably the best name at the Combine, Stryker Sulak of Missouri had 10.5 sacks and 15.5 tackles for loss. The 6-4, 245-pound Sulak was named to the All-Big 12 Second-Team in 2008.
4. Are you going big? Or small?
If you want a big, run-stuffing end, here's the guys you want based on size: Tennessee's Robert Ayers (6-3, 270), Stanford's Pannel Egboh (6-6, 270), LSU's Tyson Jackson (6-5, 290), USC's Kyle Moore (6-6, 270), Nebraska's Zach Potter (6-7, 280).
Small, pass-rush specialist: UConn's Brown, Virginia Tech's Orion Martin (6-2, 250), Penn State's Maybin, Texas Tech's Brandon Williams (6-5, 246).
5. Who will be picked early that you probably never saw play?
Northern Illinois' Larry English won the Mid-American Conference MVP award as a junior in 2007 becoming the first defensive player to take the honor since the first year the award was handed out in 1982. Well, English took the hardware again in 2008 as he also won the conference's defensive player of the year award. He finished his career with a school-record 31.5 sacks. Amazingly enough, he played through 2008 with a cast on his hand after breaking his thumb in the season opener against Minnesota. English underwent surgery to have pins put in place to secure the thumb and still had eight sacks and 15 tackles for loss. A likely first-round pick, the question is at 6-3 and 255 pounds will a team want him as an end or as a rush linebacker?