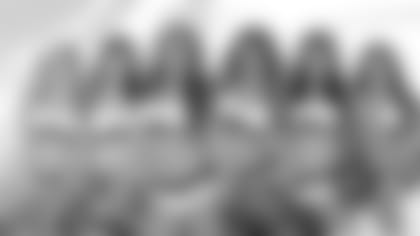 Six Philadelphia Eagles Cheerleaders will be traveling to Mexico City to perform at NFL Mexico's Super Bowl Experience 2016 on February 7. The cheerleaders will also make appearances throughout the city beginning on Friday.
The six cheerleaders traveling to Mexico City are Ally, Amanda Grace, Christine, Deonna, Rachel and Snow.
"The Super Bowl is the most-watched single sporting event in Mexico. Over nine million people watched last year's Super Bowl in Mexico," shared Jorge Loperana, NFL Mexico Director of Marketing and Media. "By having the Eagles Cheerleaders participating at one of the most important viewing events in Mexico City helps to amplify the popularity of the sport and the growth of the local fan base."
Snow, who is trilingual and speaks Spanish proficiently said, "I can't wait to greet all of the fans in Mexico City and teach the Eagles Fight Song in Spanish. We want to make their first meeting with the Porristas de las Aguilas de Philadelphia to be very special!"
"I expect that for some of the fans we'll be meeting in Mexico City, this may be their first real touch point with the NFL," said Amanda Grace, a fifth-year member of the squad. "Through our performances and appearances, I'm excited that they will get to experience an aspect of the exhilarating NFL gameday atmosphere."
The Eagles Cheerleaders also visited Mexico City in 2007 to promote the NFL by participating in a number of fan engagement events, interviews with local media outlets, performances and appearances throughout the city.
"The NFL is the second most popular sport in Mexico after soccer," continued Loperana. "The League's growth is due to the fact of great games aired every week. Mexico has nine national games per week and thousands of kids playing Flag Football (Tochito) in different tournaments. The Eagles Cheerleaders were very popular during their last visit to Mexico, drawing great crowds during their appearances. They are great ambassadors for the Eagles to further develop the local fan base."