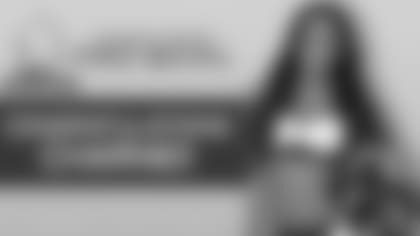 Charnei was named the Philadelphia Eagles' 2016 Pro Bowl Cheerleader during Saturday's game. As the 2016 Pro Bowl Cheerleader, Charnei will have the honor of representing the squad at the NFL Pro Bowl in Honolulu on January 31, 2016 at Aloha Stadium.
A Philadelphia Eagles Cheerleader for four seasons, Charnei is a native of Philadelphia. She is currently finishing her Bachelor of Science degree in nursing at Temple University and will be graduating in just a few short weeks. Charnei plans to pursue a career as a labor and delivery nurse, eventually specializing in neonatal care after obtaining a master's degree. In the midst of all of her hard work, Charnei has found time to pursue one of her greatest passions – dance.
"I started dancing when I was 7 years old at a local dance school," said Charnei. "I went to a creative and performing arts high school where I was a dance major, and after I graduated and went to college I thought about performing on a larger scale. That's when I said to myself, 'I should audition for the Eagles.'"
Only one cheerleader from each NFL squad is selected for the Pro Bowl, and Charnei will have a lot of work to do leading up to the big game. She will be rehearsing for the large-scale pre-game and halftime productions, and will also appear at numerous fan engagement events, official Pro Bowl practices and the "Draft of Team Rosters" event.
"It's an incredible honor," said Charnei. "Being an Eagles Cheerleader is an honor in and of itself, but to represent the organization and my teammates on this national stage, I feel so privileged and humbled. I'm so ecstatic!"
2016 marks 75 years since the attack on Pearl Harbor, and during this year's Pro Bowl there will be various military appreciation initiatives. There are currently 50,000 active military members based in Hawaii, and with help from USAA, 50 military members and wounded warriors will be in attendance at the practice on January 29. All five branches of the military will also be represented at during the televised draft on January 27.
As a Philadelphia Eagles Cheerleader, Charnei has been passionate about supporting active and retired military. One of her most memorable experiences was visiting with U.S. military aboard the USS Somerset, named in honor of the heroes of 9/11 to thank them for their service and sacrifice. Charnei also spent a day sailing with the U.S. Coast Guard aboard the Barque Eagle and finds that community outreach is one of her favorite aspects of being an Eagles Cheerleader.
"My favorite part would have to be the appearances we do," said Charnei. "For example, the Eagles' Huddle Up for Autism Event. I have a little cousin who is autistic and she's 8 years old. I know the day-to-day struggles that her mom goes through, and not many places are educated on how to deal with Autism. When the Eagles hosted such a big extravaganza for autistic children and their families, I loved being a part of that. It's personal for me."
Charnei continues to help make an impact in the community and will be joining Eagles defensive end Fletcher Cox, running back Darren Sproles, tackle Jason Peters and Eagles mascot SWOOP at the 2016 Pro Bowl. Make sure you tune in on January 31 for the live broadcast on ESPN beginning at 8PM.