The Eagles announced their final injury report on Wednesday ahead of Thursday night's game against the Tampa Bay Buccaneers. Tackle Lane Johnson will miss a third straight game due to a personal matter. Head Coach Nick Sirianni indicated that Jordan Mailata would start at right tackle while Andre Dillard is at left tackle.
Tight end Dallas Goedert is not on the injury report because he is on the Reserve/COVID-19 list. Sirianni outlined the plan if Goedert is not cleared in time for kickoff.
"We know we have two really good tight ends," Sirianni said. "Zach (Ertz) will be ready to go. And Jack Stoll, we'll look forward to having Jack Stoll being able to play, as well."
The Buccaneers, meanwhile, announced that they will definitely be without All-Pro tight end Rob Gronkowski due to a ribs injury. Tampa Bay also ruled out two starters on defense – linebacker Lavonte David (ankle) and safety Antoine Winfield (concussion).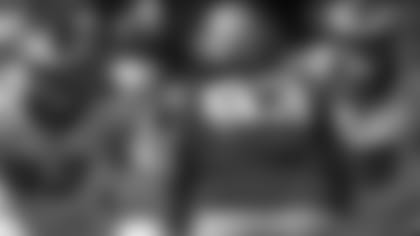 • T Lane Johnson (Personal Matter)
• DE Derek Barnett (Ankle)
• C Jason Kelce (Foot/Rest)
• OL Landon Dickerson (Ankle)
• T Jordan Mailata (Knee)
In Tampa Bay, quarterback Tom Brady spoke with reporters and provided an update on his injured right thumb.
Here is the full injury report for the Buccaneers.
The Eagles released their first injury report of the week, 24 hours after the win over Carolina, ahead of Thursday night's clash with the Tampa Bay Buccaneers.
• DE Derek Barnett (Ankle)
• TE Dallas Goedert (Illness)
• T Lane Johnson (Personal Matter)
Head Coach Nick Sirianni wore a decal on his visor for Johnson on Sunday, along with defensive end Brandon Graham and guard Isaac Seumalo, who are out with season-ending injuries. Sirianni said that Johnson is expected to return at some point this year.
"I just wanted those guys that I had on there, that's not reflective that he'll be out for the season," Sirianni said. "Still working through a personal matter, and we're here for Lane for everything and all our guys through good times and bad times."
Sirianni said that Sunday's starting lineup along the offensive line – with Andre Dillard at left tackle and Jordan Mailata at right tackle with Jack Driscoll at right guard – will likely be the same on Thursday night if Johnson does not return.
• C Jason Kelce (Foot/Rest)
• T Jordan Mailata (Knee)
• OL Landon Dickerson (Ankle)
In Tampa Bay, the Buccaneers also held a walkthrough on Monday. Here is a look at the key injuries:
• LB Lavonte David (Ankle)
• TE Rob Gronkowski (Ribs)
• QB Tom Brady (Right Thumb)
• WR Chris Godwin (Knee/Ankle)
• DL Patrick O'Connor (Calf)
• LB Jason Pierre-Paul (Shoulder/Hand)
• S Antoine Winfield (Concussion)