The Philadelphia Eagles mean so much more than a football team to its vast fan base, and defensive end Brandon Graham has come to know that quite well throughout his 13-year playing career in Philadelphia.
That's one of the many reasons he stands firm by the philosophy, "Anytime you can give your time, give it."
Graham is the Philadelphia Eagles nominee for the Walter Payton NFL Man of the Year Award, presented by Nationwide, a well-deserved honor for a beloved teammate, role model, husband, father, and friend.
As Philadelphia's longest-tenured professional athlete, Graham has become one of the city's most influential leaders. From in-game triumphs like securing the Eagles' first-ever Super Bowl win by strip-sacking Tom Brady in the fourth quarter to beaming light into the lives of fans off the field when they needed it the most, Graham's impact on the Philadelphia community is one that will last long after his football career. His legacy will carry on through the lives he's touched along the way.
"He lights up the room," said Head Coach Nick Sirianni.
"That's just the personality that he has. Always smiling, always in an upbeat mood. You want to be around people like that and there aren't many of them out there. Brandon is one of a kind."
Graham's résumé is robust; he's played the most career regular-season contests by a defensive lineman in franchise history, boasting 64.5 sacks through those 173 games. He's been an All-Pro, a Pro Bowl selection, and a Super Bowl Champion, but what's more impressive is the good he's done with his platform since Philadelphia drafted him in 2010.
On a Tuesday morning in November, Graham prepared for what he believed was a press conference. But when he entered the auditorium at the NovaCare Complex, he was greeted by his wife Carlyne and several families who have drawn strength through the unwavering positivity he exudes. Each had the opportunity to express their gratitude towards Graham and celebrate the nomination with him.
"That was a big surprise for me. It was an emotional day for my wife, for me, for them ... I didn't expect to see them. I know that people look up to me, but you just don't know the moments where you're helping them the most," Graham said.
The first to speak at the honorary "press conference" was Shelley Gandy – a Philadelphia woman who has devoted more than 30 years of her life to helping local children thrive in sports and academics through the Liberty Youth Athletic Organization. Graham rewarded her commitment with tickets to Super Bowl LIII – that moment has stuck with her since.
"I don't know if you realize how special you made me feel that day," she said.
"I was at a point where sometimes you wonder if what you're doing makes a difference. And then you gave me two tickets and it changed things for me. It made me go back to work, roll up my sleeves, and get back with those kids."
The next to speak was Matt Helm, who was in a tragic kayaking accident in September 2014, a month after his son Hunter was born. Helm was training in Detroit, Graham's hometown, fighting to regain his ability to walk – and in true Brandon Graham fashion, he supported him along the way, making an incredibly challenging process for his family a much brighter one.
"It was so much fun and motivating, working out under the same roof as you. But what impacted me the most is seeing how you treated everybody else around you," Helm said.
"Even if it was somebody from my family that you saw that was with me, you came up and took the time to say hello, gave them a big bear hug, and had a big smile; it meant a lot to them. But it meant the world to me. Because, I don't know if you realize it, but just those small gestures brightened up a very dark time in our life."
The Merriweather family added another story that featured Graham's signature bear hug. Chase Merriweather contracted a near-deadly strain of the flu virus at 3 years old, which sent him into septic shock. The medications that helped protect his vital organs stopped the blood flow to his extremities, resulting in amputations of all of his limbs.
Merriweather had the chance to meet Graham in 2016, and from the moment he received a hug from Graham, he became his fan for life, looking up to him as he learned to live with the loss of his arms and legs, eventually pursuing football himself.
"The first time I saw you, I was very inspired by what you can do on the field. I was like, 'Man, I want to play football and do the exact same thing.' First year playing football, I get my first tackle, and I remember that day all the time. I remember wanting to be just like you on that day," said Merriweather.
As for the Eitl family, Graham helped them immensely through a time of uncertainty when their son, Joe, was recovering from surgery. He was one the first patients in the country with Down syndrome to undergo a heart and liver transplant. Through the process, it was Brandon Graham's words of encouragement through a series of three videos that lifted his spirits while he was in the hospital.
"Your impact on Joe's recovery is immeasurable. Our family in our entire community is eternally grateful for what you did. On the field, everybody knows you're a beast. You're a decorated pro player. We love watching you play. But off the field, your gifts rival any play," said Joe's mother, Peg Eitl.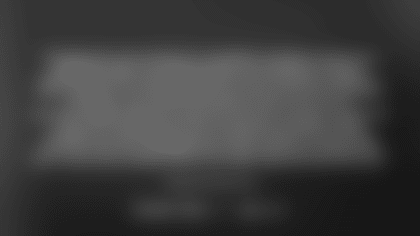 Those families represent a fraction of the people Graham has helped, and that number just keeps growing. In addition to his dedication to the Eagles, participating in meet-and-greets at every home game, and donating time, energy, and funding to the Eagles Autism Foundation, he and his wife created an initiative of their own.
Brandon and Carlyne work together to run Team Graham, a fund that offers its time and resources to various organizations and causes in his hometown of Detroit, including mentoring children and providing clothes and food to families in need. Through Team Graham, the pair facilitated boys and girls football camps, which included lifelong learning experiences that integrated yoga, self-defense, obstacle courses, and more.
Both growing up on the city's Eastside, the two met in the Detroit public school system in 2002; it was natural for their community efforts to begin there. But now, as full-time residents in Philadelphia, they're working hard to implement their programs in the city they now call home.
"Next year, we will have a busy offseason, starting something new in Philly," Graham said.
"It's all about the community of people. I've got my kids and I know that they're the future. So, we've got to pour into them even more now, so that when I'm older, our future could be a lot brighter. That was the whole reasoning behind Team Graham, working with a team of people for one common cause – whatever was dear to our heart."
In the locker room, Graham has the same effect on his teammates as he does on fans. He's been the first to greet new players when they arrive at the NovaCare Complex, and the last to stay behind, guiding them through any challenges they face.
As a four-year captain, he's been part of the glue that has brought the team closer and closer together, promoting the culture that has boosted the team to its 11-1 start.
"Ever since I got here, I've been looking to BG. I worked out with him this offseason and seeing him every day, constantly just growing and growing and getting better, even at his age, it's an inspiration," said second-year defensive tackle Milton Williams.
"Every day, you strive to be one percent better, to trend in that direction. You look at a guy like that and you're like, 'When I'm 34, I hope I'm looking like that. I hope I'm still playing and moving like he's playing.'"
Graham's influence on Philadelphia can not be understated – but neither can Philadelphia's impact on him. He has an important message of gratitude for everyone whose lives he's touched over the years, who have put him in the position to represent the Eagles as their Walter Payton NFL Man of the Year Award nominee:
"Thank you guys for just making me better. Hearing their stories, knowing exactly what it was that I helped them with, they helped me too! I'm thankful to be able to learn from them and they motivated me to want to do more," Graham said.
"Big thank you, big congratulations to them, too. Because without them, this situation wouldn't happen. I know for me, I'm gonna just continue to just keep being me, keep having fun, enjoying life, and trying to be all I can be as far as inspiration to whoever I come across."