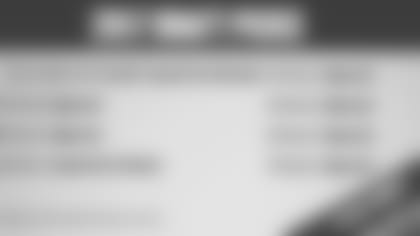 When the 2017 NFL Draft is held in Philadelphia later this spring, the Eagles' first-round selection will be either No. 14 or 15 overall thanks to the trade that sent quarterback Sam Bradford to the Minnesota Vikings.
The Vikings finished with an 8-8 record along with the Indianapolis Colts and Baltimore Ravens. The Ravens had the toughest strength of schedule among the three clubs, so they will select 16th. Minnesota and Indianapolis had the same strength of schedule, and the other tiebreakers do not apply since those teams are in different conferences so a coin toss will be held at the NFL Scouting Combine to finalize the draft order. The Vikings, not the Eagles, will be involved in the coin toss with the Colts.
The Eagles traded their first-round pick this year, No. 12 overall, to Cleveland as part of the package to acquire last year's No. 2 overall pick which was used to select quarterback Carson Wentz.
In total, the Eagles currently have eight draft picks. Philadelphia recouped the first-round pick when Bradford was sent to Minnesota. The Eagles have an additional fourth-round selection from Cleveland as part of the Wentz deal. Philadelphia owns its picks in the final six rounds. The NFL will award compensatory picks, which can be traded for the first time starting this year, in late March to teams that accumulated a net loss in the 2016 free agency period.
The 2017 NFL Draft will be held April 27-29 on the Benjamin Franklin Parkway. The first-ever NFL Draft took place in Philadelphia in 1936, and was last hosted here in 1961.