It was a special sight in the Eagles locker room following Thursday's win over the Texans.
Head coach Andy Reid had just given David Akers a game ball for playing in his 184th career game with the Eagles, a franchise record. Akers became emotional as he told his teammates how thankful he was for the Eagles organization giving him a chance back in 1999. Remember, Akers had bounced around three NFL teams before landing with the Eagles.
"It's been an absolute blessing to be a part of Philadelphia sports this long. The town has changed me. It's been such a blessing to our family, I've got two kids here and it shows to me a lot of loyalty from the Eagles," Akers told reporters after the game. "They gave me an opportunity when a lot of teams didn't and they stuck by me in some times when I didn't do as well, and I will always have gratitude for them. It's an emotional thing for me, because 12 years went in a blink of an eye. I'm just extremely thankful and I just thank God for giving me this opportunity to be able to give back to the community when they've been so great to me."
While Akers has raised a lot of money over the years for his Kicks for Kids Foundation, he has not been a charity case for the Eagles. When you would expect to see some signs of decline over 12 years, Akers is having one of his strongest seasons. He leads all NFL kickers with 114 points. It's the 10th 100-point season and fifth in a row for Akers. But Akers has already set a new career high for touchbacks in a season with 20, which is tied for third-most in the NFL.
"I feel that I work hard, I got a great group of strength coaches that help me and I never want to lose my job, because I'm lazy and not performing and because I didn't give it my all. I want to fail giving it a hundred percent," Akers said. "I'm just extremely happy to be here for that long and I'm thankful for the organization for allowing me to be here for that length of time. It doesn't happen, especially in today's football. You're usually here for a couple of years and move around. To have my family planted here for 12 years in one place is just amazing."
The NFC Special Teams Player of the Month for November was his usual automatic self on Thursday as he hit two field goals and a touchback in the 34-24 win. Akers has connected on 26 of 31 of his field goal attempts, but three of those misses came in one game - the win over Atlanta. Since the last of those misses against the Falcons, Akers is 20 of 21 in field goal attempts.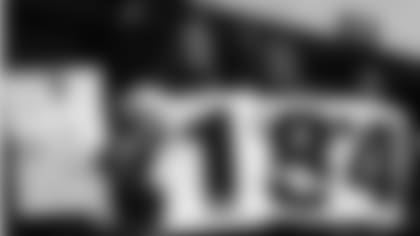 Akers' family cheered him on Thursday as he set the team record for games played
-- Posted by Chris McPherson, 7:08 p.m., December 3