For as well as Andy Reid's teams typically play in the month of December, it's not exactly the warmest time of year for quarterback Donovan McNabb. So McNabb's resurgence over the past three weeks after his benching in Baltimore is all the more surprising.
McNabb's numbers since being reinserted into the starting lineup have been a little south of spectacular but far north of merely efficient, and his play has been a major reason the now 8-5-1 Eagles have put together a three-game winning streak and a certainly realistic shot at an NFC wild card spot.
But for McNabb, not much has changed.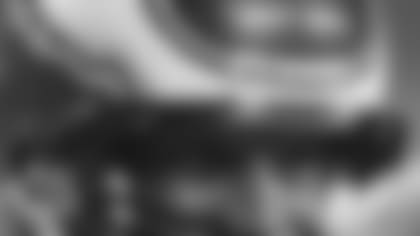 McNabb has had plenty to smile about
"I've been playing with a chip on my shoulder since the beginning of the season. I didn't need any added motivation to come out and play well by any means," he said. "I've been a part of a lot of different situations, so finding motivation for me is not a problem."
After tossing five interceptions and completing fewer than 50 percent of his passes over back-to-back weeks against the Bengals and the Ravens, McNabb came alive on Thanksgiving night against Arizona.
Since then, McNabb's completed 72 of 104 passes (69.2 percent) for 741 yards and seven touchdowns to just one interception, for a 107.9 quarterback rating during the win streak. The last time McNabb had a stretch this proficient was during Weeks 3-5 of the 2006 season, also a three-game win streak for the Eagles.
But here's a kicker: McNabb has never had a stretch of three games with a cumulative 100 quarterback rating this late in the season in his entire career. The closest he's come was during a three-game run from Weeks 12-14 in 2003, during which McNabb compiled a 101.2 rating.
But it's not just McNabb that's been hot as of late.
"As far as team is concerned, an offensive unit, I think we're really playing well and, defensively, we're playing well, as well," McNabb said. "Energy wise, I think you're seeing a team out there that understands the situation, being able to capitalize on each opportunity, and that's exciting for us."
Should McNabb – and the Eagles in general – continue on their current course, winning out seems almost probable. The running game has gone over 100 yards in three consecutive weeks, and got a big boost against the Browns on Monday with the return of Correll Buckhalter.
The wide receivers stepped up, as well. DeSean Jackson recovered from the first no-catch performance of his career with five against Cleveland, and Jason Avant gave the Eagles' wideouts their first 100-yard performance since Jackson did it against Dallas in Week 2.
The defense, too, has risen to the occasion. Since wearing down late against Baltimore, the run defense hasn't allowed a 100-yard team performance since that point, including allowing only 88 to the Giants.
But it starts with McNabb. When McNabb's quarterback rating is 90 or above and he plays the majority of the game, the Eagles are 48-7 in his career, including playoffs. When he gets to the 100 plateau, the Eagles are 39-1 – and undefeated since Week 5 of the 2001 season.
"(The offense) had spurts all throughout the year. I think right now, we're really bringing things together, knowing that this is what we have to do at this particular time," McNabb said. "As a quarterback, you just want to get ways to get (playmakers) the ball to make plays for the team to help us win."
         </td>
     </tr>
     <tr>
         <td> Week 13 vs. ARI</td>
         <td> 27/39</td>
         <td> 260</td>
         <td> 4/0</td>
         <td> 121.7</td>
         <td> 0</td>
     </tr>
     <tr>
         <td> Week 14 @ NYG</td>
         <td> 19/30</td>
         <td> 191</td>
         <td> 1/0</td>
         <td> 92.5</td>
         <td> 0</td>
     </tr>
     <tr>
         <td> Week 15 vs. CLE</td>
         <td> 26/35</td>
         <td> 290</td>
         <td> 2/1</td>
         <td> 105.7</td>
         <td> 0</td>
     </tr>
     <tr>
         <td> **Total**</td>
         <td>**72/104**</td>
         <td>**741**</td>
         <td>**7/1**</td>
         <td>**107.9**</td>
         <td>**0**</td>
     </tr>
 </tbody>

         </td>
     </tr>
     <tr>
         <td> Week 3 at SF</td>
         <td> 18/33</td>
         <td> 296</td>
         <td> 2/0</td>
         <td> 105.1</td>
         <td> 0</td>
     </tr>
     <tr>
         <td> Week 4 vs. GB</td>
         <td> 16/30</td>
         <td> 288</td>
         <td> 2/0</td>
         <td> 108.8</td>
         <td> 2</td>
     </tr>
     <tr>
         <td> Week 5 vs. DAL</td>
         <td> 18/33</td>
         <td> 354</td>
         <td> 2/0</td>
         <td> 112.4</td>
         <td> 1</td>
     </tr>
     <tr>
         <td> **Total**</td>
         <td>**52/96**</td>
         <td>**938**</td>
         <td>**6/0**</td>
         <td>**108.8**</td>
         <td>**3**</td>
     </tr>
 </tbody>

         </td>
     </tr>
     <tr>
         <td> Week 2 vs. SF</td>
         <td> 23/29</td>
         <td> 342</td>
         <td> 5/0</td>
         <td> 155.4</td>
         <td> 0</td>
     </tr>
     <tr>
         <td> Week 3 vs. OAK</td>
         <td> 30/52</td>
         <td> 365</td>
         <td> 2/1</td>
         <td> 84.2</td>
         <td> 0</td>
     </tr>
     <tr>
         <td> Week 4 at K.C.</td>
         <td> 33/48</td>
         <td> 369</td>
         <td> 3/1</td>
         <td> 103.6</td>
         <td> 0</td>
     </tr>
     <tr>
         <td> **Total**</td>
         <td>**86/129**</td>
         <td>**1,076**</td>
         <td>**10/2**</td>
         <td>**111.8**</td>
         <td>**0**</td>
     </tr>
 </tbody>

         </td>
     </tr>
     <tr>
         <td> Week 1 vs. NYG</td>
         <td> 26/36</td>
         <td> 330</td>
         <td> 4/0</td>
         <td> 137.5</td>
         <td> 0</td>
     </tr>
     <tr>
         <td> Week 2 vs. MIN</td>
         <td> 19/28</td>
         <td> 245</td>
         <td> 2/0</td>
         <td> 118.9</td>
         <td> 1</td>
     </tr>
     <tr>
         <td> Week 3 at DET</td>
         <td> 29/42</td>
         <td> 356</td>
         <td> 2/0</td>
         <td> 110.8</td>
         <td> 1</td>
     </tr>
     <tr>
         <td> **Total**</td>
         <td>**74/106**</td>
         <td>**931**</td>
         <td>**8/0**</td>
         <td>**122.0**</td>
         <td>**2**</td>
     </tr>
 </tbody>

         </td>
     </tr>
     <tr>
         <td> Week 11 vs. WAS</td>
         <td> 18/26</td>
         <td> 222</td>
         <td> 4/1</td>
         <td> 118.9</td>
         <td> 0</td>
     </tr>
     <tr>
         <td> Week 12 @ NYG</td>
         <td> 18/27</td>
         <td> 244</td>
         <td> 1/0</td>
         <td> 107.6</td>
         <td> 1</td>
     </tr>
     <tr>
         <td> Week 13 vs GB</td>
         <td> 32/43</td>
         <td> 464</td>
         <td> 5/0</td>
         <td> 147.8</td>
         <td> 0</td>
     </tr>
     <tr>
         <td> **Total**</td>
         <td>**68/96**</td>
         <td>**930**</td>
         <td>**10/1**</td>
         <td>**131.9**</td>
         <td>**1**</td>
     </tr>
 </tbody>

         </td>
     </tr>
     <tr>
         <td> Week 12 vs. N.O.</td>
         <td> 16/25</td>
         <td> 259</td>
         <td> 1/0</td>
         <td> 111.9</td>
         <td> 0</td>
     </tr>
     <tr>
         <td> Week 13 @ CAR</td>
         <td> 18/26</td>
         <td> 182</td>
         <td> 1/1</td>
         <td> 85.7</td>
         <td> 0</td>
     </tr>
     <tr>
         <td> Week 14 vs. DAL</td>
         <td> 18/34</td>
         <td> 240</td>
         <td> 3/0</td>
         <td> 105.4</td>
         <td> 0</td>
     </tr>
     <tr>
         <td> **Total**</td>
         <td>**52/85**</td>
         <td>**681**</td>
         <td>**5/1**</td>
         <td>**101.2**</td>
         <td>**0**</td>
     </tr>
 </tbody>