The Eagles return to the practice field on Tuesday looking to carry the momentum of Sunday's win into this week's showdown with the Tampa Bay Buccaneers. Here is a look at the 5 Things To Know Today for October 8 ...
1. LIVE COVERAGE BEGINS AT 11:25 AM
Please join us here on PhiladelphiaEagles.com for complete live coverage of today's practice beginning at 11:25 AM as offensive coordinator Pat Shurmur and defensive coordinator Bill Davis host their weekly press conferences.
At Noon, Dave Spadaro brings you the latest buzz on Eagles Live! We'll have reaction to the coordinators, your phone calls and a live chat as the Eagles prepare for Sunday's game against Tampa Bay.
Once practice is over, we will broadcast Michael Vick's and DeSean Jackson's press conferences. Not able to be on PhiladelphiaEagles.com? No problem. Download the latest update to the Eagles Mobile App and you can watch on the go.
Tuesday's Broadcast Schedule
Time
Event
11:25 AM
Pat Shurmur Press Conference
11:40 AM
Bill Davis Press Conference
Noon
Eagles Live!
Post-Practice
Michael Vick, DeSean Jackson Press Conferences
2. DeSEAN JACKSON: ON HIS WAY TO A CAREER SEASON?
Wide receiver DeSean Jackson has 28 receptions, 525 yards and 3 touchdowns, and he's already recorded 3 of his 18 career 100-yard games through the opening five games this season. Jackson's career highs in a season are still a ways away – Jackson caught 62 passes for 1,156 yards and 9 touchdowns in 2009.
The best seasons by a wide receiver in franchise history? There have been many ...
TOP SEASONS BY AN EAGLES WIDE RECEIVER
Year
Player
Catches
Yards
Touchdowns
1996
Irving Fryar
88
1,195
11
1997
Irving Fryar
86
1,316
6
1994
Fred Barnett
78
1,127
5
2004
Terrell Owens
77
1,400
14
2007
Kevin Curtis
77
1,110
6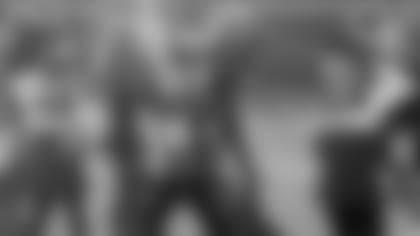 3. JUNIOR CHEERLEADING CLINIC: SIGN UP NOW
The Philadelphia Eagles Cheerleaders will host their annual Junior Cheerleading Clinic on Saturday, November 9th at Lincoln Financial Field for ages 5-13! There is a morning and an afternoon clinic.
Participants will receive dance and cheer instruction by the Eagles Cheerleaders and have the opportunity to perform on the sidelines at conclusion of the clinic!  In addition, each participant will receive a set of poms, customized bracelet, customized lanyard, and photograph with Eagles Cheerleaders taken and printed on-site, and a poster of the entire 2013 Eagles Cheerleaders Squad.
4. FORMER EAGLES ON TAMPA BAY ROSTER
There are a few former Eagles on the Tampa Bay roster. Let's check in on them ...
Daniel Te'o-Nesheim, DE: A third-round draft pick in 2010, Te'o-Nesheim played in six games as an Eagle before he was released and claimed by the Bucs. Te'o-Nesheim started 14 games for Tampa Bay last year and recorded 4 sacks. He has one sack in four games this year.
Derek Landri, DT: Signed as a veteran free agent by the Eagles, Landri played in 2011 and 2012 in Philadelphia before signing with Tampa Bay in the offseason. Landri has played in two games, with one start, for Tampa Bay.
Russell Shepard, WR: Signed as a non-drafted rookie in the spring, Shepard lasted until the final roster cutdown to 53 players in Philadelphia. He was picked up by Tampa Bay after his release by the Eagles. Shepard has played in all four games with the Bucs, primarily on special teams. He has yet to record a catch.
5. CLIFTON GEATHERS: A TRAVELING MAN
Defensive lineman Clifton Geathers has spent five weeks of the regular season as an Eagle – an eternity for him considering his NFL past.  Here is a look at Geathers' past moves ...
2010: Drafted by CLE in 6th round ... signed 4-year contract; Sept. 4: Waived by CLE; Sept. 5: Claimed by MIA off waivers from CLE; Sept. 13: Released by MIA; Sept. 15: Signed by MIA to the practice squad; Sept. 18: Released by MIA from the practice squad; Sept 21: Signed by MIA to the practice squad; Oct. 23: Signed by MIA from practice squad to active roster; Nov. 26: Released by MIA; Nov. 27: Signed by SEA; Dec. 7: Waived by SEA; Dec. 8: Claimed by DAL off waivers from SEA
2012: April 20: Re-signed by DAL; Aug. 31: Released by DAL; Oct. 3" Signed by IND to the practice squad; Oct. 9: Signed by IND from practice squad to active roster
2013: March 28: Traded from IND to Eagles
That's 18 transactions for the 6-foot-8 Geathers, who has already recorded a career-high nine tackles in five games this season.