What has happened in the days since the loss in Denver? Well, the Eagles have put that game in the rear-view mirror and focused on Sunday's game against the Giants. We review Chip Kelly's Best-Of from this week, and we dig deep for the NFC East game tomorrow ...
1. CHIP KELLY: A WEEK'S WORTH OF HIS BEST
Head coach Chip Kelly is entertaining, informative and engaging with the media. He also expresses his perspective very clearly when he deals with reporters, so we present each Saturday here The Best Of Chip Kelly from the previous days ...
• (On being 1-3) "We just have to stick together as a group. We're 1-3 right now four games into a 16-game season. As a group we just need to stick together."
• (On the offense) "I don't think we are far away offensively. I look at what we have done consistently in four games. I think we know as a group we can move the football but sometimes the enemy that we play isn't the other team, it's ourselves."
• (On safety Earl Wolff) "I think you just see Earl improving and there's something you keep looking at him and see, he's starting to make plays. The one thing I know about Earl and we all know about Earl is he flies around and then he's around the ball, and if he even makes a mistake or a misstep he's going to make up with it with effort. That part is encouraging and I think as he continues to get experience, you're going continue to see him get better and better out there."
• (On the Eagles-Giants rivalry) "Yeah, I'm very aware of the rivalry between the Giants and the Eagles. There's actually an NFL Network (program on) the biggest rivalries in the league and that was voted No. 1, so you notice there's a history in the game. There's Herm Edwards picking up the fumble, DeSean Jackson's punt return. There's a lot of history. Obviously, when you play in games like this, it's the closest opponent. They are right up the road. So you're very aware of it, and the battles that have gone on in this division, you understand it. Especially recently with the Giants' success; the Eagles have had so much success in the 2000s. We are very aware of what the battle between New York and Philadelphia is like."
• (On possibly leading NFC East after Sunday) "I talked to our team about that on Tuesday because I had people tell me, I think it's if Dallas loses this weekend and we win, we are in first place, and I was fired up. I called the league office and I wanted to find out when we get the trophy and when the trophy presentation would be (laughter). And they got the same response; they started laughing, too, because it doesn't matter if you're in first place in the first week of October.  What matters is, are you in first place after December 29? But, this week contributes to being in first place on December 29, so let's not waste energy and time on the, 'Hey, if this happens and this happens and this happens,' it's almost, you've got two choices to do. You can wish for things to happen but you can plan for things to happen, and our job as a team, is to prepare to play the New York Giants."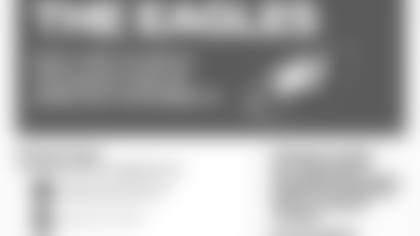 2. A GREAT DEAL FROM SPORTS AUTHORITY!!
Get to a Sports Authority in the Philadelphia area NOW and you could end up a big winner. The Eagles and Sports Authority are teaming up to offer fans a chance to win the following (Hurry! The sweepstakes ends on Sunday!!):
• A trip to see the Eagles play in Green Bay. Includes tickets, transportation, hotel accommodations and a $250 Sports Authority gift card
• 50 runner-up prizes for Eagles merchandise
3. SUNDAY: MILLER AWAY GAME PARTY AND YOU'RE INVITED!
We've got a place for you to watch the game against New York! Join the Eagles for our Miller Away Game Party at Curren's Irish Inn, located at 6900 Old State Road in Philadelphia. Former Eagles linebacker Bill Bergey is there to sign autographs, pose for pictures and sing the Eagles fight song, and he's joined by SWOOP and the Eagles Cheerleaders. Fans on hand can also win some nifty autographed Eagles merchandise and join in the great environment for the NFC East contest.
4. THE MOST-EXPERIENCED EAGLE IS ...
Todd Herremans and Trent Cole were drafted in 2005, and Jason Avant was a draft pick in 2006, so Jon Dorenbos, who joined the Eagles as a veteran free agent in 2006, isn't the longest-tenured member of this football team. But he has played the most NFL games of anybody on the roster, and that's a special thing.
"It's amazing for me to be here and I think about it every day," said Dorenbos, the team's long snapper. "I don't take it for granted, not for a minute. This game can get taken away from you quickly, so I'm going to appreciate every day I have in the NFL."
Dorenbos plays in his 106th Eagles game (his 145th overall) on Sunday. He came to the Eagles when Mike Bartrum was injured in 2006, an injury that eventually ended Bartrum's career.
For the record, Cole plays in his 129th game as an Eagle on Sunday, while Herremans plays in Game No. 108.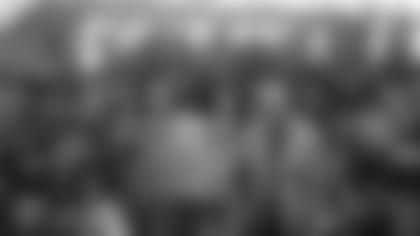 5. HONORING CONCRETE CHARLIE
Eagles all-time great Chuck Bednarik was recognized by the Pro Football Hall of Fame and Allstate Insurance Company in Bethlehem, Pa. on Friday as part of "Hometown Hall of Famers™," a national program honoring the hometown roots of the sport's greatest coaches, players, and contributors with special ceremonies and plaque dedication events in local communities.
"'Hometown Hall of Famers™' has been warmly embraced by communities and Hall of Famers alike," said George Veras, Pro Football Hall of Fame Enterprises president and CEO. "We are thrilled to continue our partnership with Allstate to bring the Pro Football Hall of Fame to communities across the country and congratulate Chuck Bednarik and Liberty High School on bringing a piece of the Pro Football Hall of Fame to Bethlehem."
An eight-time Pro Bowl player and former high school standout at Liberty High School, Bednarik was presented with his "Hometown Hall of Famer™" plaque during a special ceremony in the school's gymnasium, where the plaque will live permanently to serve as an inspiration for the school's students and athletes. The presentation was made by Pete Carril, former Princeton basketball coach and College Basketball Hall of Fame inductee, and Bill Werpohoski, longtime friend of Bednarik and Moravian College Sports Hall of Fame inductee.
The ceremony was attended by Liberty High School students, faculty, staff, alumni and Bednarik's family members and close friends. Fred Harris, Liberty High School Athletic Director, served as the Master of Ceremonies.
In addition to the plaque, a commemorative Chuck Bednarik "Hometown Hall of Famers™" road sign is on display in Bethlehem.