The Eagles return to practice at the NovaCare Complex on Tuesday and they will begin prep work for the New York Giants, who won their first game of the season on Monday night 23-7 over the Minnesota Vikings. Here's a look at what's on tap for the Eagles, who should get a better picture of their quarterback situation ...
1. DE CURRY: E-A-G-L-E-S, EAGLES! HOW IT ALL BEGAN
Defensive end Vinny Curry was drafted in 2012 and the headline-catching story was that he was selected by the team he grew up loving. Curry has talked many times about what it was like to meet former safety Brian Dawkins at the NovaCare Complex that first weekend and about how he was so excited about being an Eagle.
Curry's love for the team started in the 1990s when he watched a certain No. 32 carry the football for the Eagles offense.
"It all started with Ricky Watters," said Curry. "I used to want to play running back and he was my favorite player. After that, I just loved rooting for them. I have pictures and jerseys all over my house. It was such a special moment for me to get drafted by the team I've rooted for all my life."
2. TODAY'S BROADCAST SCHEDULE
The Eagles return to the practice field today and we will have a better sense of who is healthy at the quarterback position. We will have it all covered live on PhiladelphiaEagles.com and our official app ...
Today's Broadcast Schedule
Time
Event
11:25 AM
Pst Shurmur, Bill Davis Press Conferences
Noon
Eagles Live! with Dave Spadaro and Adam Caplan
1:10 PM (Approx.)
Michael Vick, DeSean Jackson Press Conferences
3. TAILGATING, RECIPES AND MORE IN OUR FAN ZONE
Tune in each Thursday to Eagles Live! and get ready for your tailgating Sunday with our Amoroso's On The Menu feature that points you to the section on the website that features our tasty recipes each week.
You also have a chance to vote on your favorite recipe of the month and you can enter to win tickets to the 2014 Amoroso's Combine, an exclusive event at the NovaCare Complex (date to be determined).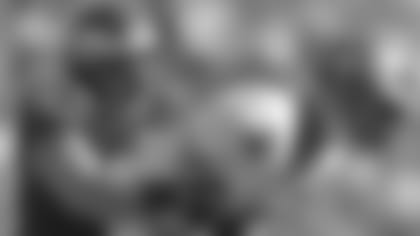 4. GETTING TO KNOW: LB CONNOR BARWIN
Linebacker Connor Barwin has quickly made himself feel at home in Philadelphia in his first season as an Eagle. On and off the field, Barwin has stepped in and made his presence known. He's overcome a lot in his life – he was born completely deaf and had to spend a lot of time in the hospital to make his hearing better.
"They figured it out when I was around two years old," said Barwin. "I had to undergo multiple surgeries until I was about 12. It was tough, but it worked out." Barwin's hearing was completely restored in his right ear, but his hearing out of his left is somewhat limited. "It's really not a big deal. People have to deal with a lot worse in life. If anything, it's helped me be a stronger person."
Here are few facts about Barwin that perhaps you didn't know ...
Greatest love besides football: Basketball
What I'd be doing if not playing football: Coaching football or basketball
Actor that would play him in a movie: Adam Sandler
Favorite team/athlete growing up: Detroit Lions/Barry Sanders
Bucket list: Win the Super Bowl
Quote: "Hard work and good times always go together, but hard work always comes first." - Wade Phillips
Meal: Spaghetti
Book: Psychopath Test
Movies and TV: Documentaries
Funniest Eagle: Evan Mathis
5. SHAPING UP THE NFC EAST RACE
It's clear that the NFC East is wide open, with the 4-3 Cowboys currently leading the way. How will the division look in a few weeks? Let's take a look at the upcoming schedules for all four teams ...
NFC East Schedule
Team
Next Three Opponents
Eagles
GIANTS, at Raiders, at Packers
Dallas Cowboys
at Lions, VIKINGS, at Saints
New York Giants
at Eagles, RAIDERS, PACKERS
Washington Redskins
at Broncos, CHARGERS, at Vikings