The coaches have pored over the game tape and are now preparing for another NFC East matchup when the Giants come to Lincoln Financial Field next Sunday. Join us as head coach Chip Kelly explains what he saw on Eagles Live! beginning at Noon ...
1. EAGLES LIVE! COMES YOUR WAY AT NOON
Dave Spadaro hosts Eagles Live! today at Noon and you can watch here on PhiladelphiaEagles.com or on our mobile app. We'll review the highlights from Sunday's game and head coach Chip Kelly gives his day-after-game press conference. Kelly will explain what he saw on the coaches tape and offer an update on the status of his quarterbacks. Michael Vick was inactive Sunday with a hamstring injury and Nick Foles exited the game late in the third quarter with a head injury.
This interactive show gives you a chance to offer your thoughts on the team. We'll have a live chat running throughout the program and you can call in to talk to Dave as well.
Make sure not to miss a minute of the action!
2. VINNY CURRY CONTINUES TO GET AFTER THE QB
Second-year defensive end Vinny Curry has a different perspective on the Eagles-Cowboys rivalry than most fans. Curry grew up in nearby Neptune, N.J. as a die-hard Eagles fan, so he's always had a dislike for Dallas.
The Eagles defense got after Cowboys quarterback Tony Romo all afternoon and it was Curry who registered one of the team's two sacks.
"I knew (the blocker) was going to try and jump out at me," Curry said. "I just wanted to keep stabbing and ricocheted, and I knew (Romo) was going to be right there."
After being inactive for the first two games this season, Curry has helped make his presence known since. Curry is quick off the snap and has consistently shown the ability to get in the backfield to disrupt plays. With his second sack of the season on Sunday, Curry surpassed the total from his rookie season.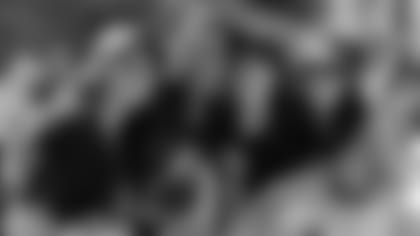 3. FANS COME OUT TO TACKLE BREAST CANCER
Eagles fans were out in full force to not only tackle the Cowboys, but breast cancer as well on Sunday. Since 2005, the Philadelphia Eagles and Thomas Jefferson University Hospitals have worked together to help tackle breast cancer. Together with their fans, over $1 million has been raised towards the Jefferson Breast Care Center.
Volunteers gave each fan in attendance at Lincoln Financial Field a pink rally towel courtesy of Snapple and sold pink hats and T-shirts to help raise more money in the fight against breast cancer.
For more information about the Eagles' Tackling Breast Cancer campaign or to show your support check out PhiladelphiaEagles.com/TBC
](http://www.azbycx1928.com/pe3uidfjke/)
4. CHECK OUT THE LATEST GAMEDAY MAGAZINE
If you weren't able to get a copy of the Eagles-Cowboys Gameday Magazine, you can download it now here or pick up one at a participating Philadelphia-area ACME supermarket.
In addition to a preview of the game, there are some in-depth features including:
A look at the history of the Eagles-Cowboys rivalry by Hall of Fame sportswriter Ray Didinger
Photos and anecdotes from the greatest moments in the rivalry
Get to know 2012 first-round draft pick Fletcher Cox
Find out what Jason Avant's passionate about off the field, his faith
5. PREVIEW SUNDAY'S OPPONENT TONIGHT
There's one game left on the Week 7 NFL schedule and it features the Eagles' next opponent, the New York Giants.
The Giants host Adrian Peterson and the Minnesota Vikings on Monday Night Football (ESPN, 8:30 PM). It's already a historic matchup, but not for the right reason. The Giants' 0-6 record paired up with the Vikings' 1-4 record makes it the worst combined win percentage between two participants this late in the season in the 44-year history of Monday Night Football.
The Eagles beat the Giants 36-21 in Week 5 at MetLife Stadium. The last time these two teams clashed at Lincoln Financial Field, the Eagles were victorious by a 19-17 margin.
New York is looking for its first win coming off a mini-bye as they lost to Chicago on Thursday Night Football in Week 6. Quarterback Eli Manning has struggled this season throwing 15 interceptions matching his 2012 total. Manning threw three in the Week 5 matchup with the Eagles. But Manning has not had success against the Vikings in the past. In five career starts vs. Minnesota, Manning has thrown three touchdowns against 11 picks.
The Giants are 7-4 in Monday night games under head coach Tom Coughlin, but have lost their last two contests.