It's Football Friday! Get ready for Sunday's big game between the Eagles and the Cowboys with the Eagles Friday pep rally where you can win tickets and meet cornerback Bradley Fletcher. Also, get to know safety Nate Allen and learn about wide receiver Riley Cooper's touchdown celebrations ...
1. TONIGHT: BUD FRIDAY PEP RALLY SPONSORED BY BUD LIGHT
Win tickets to Sunday's Eagles-Cowboys game, meet cornerback Bradley Fletcher and win some autographed prizes tonight at Fluke's Irish Pub at 7401 State Road, Philadelphia from 7-9 p.m. It's going to be a great party with a live broadcast, Bud Light beer specials and the chance to win a pair of tickets for Sunday.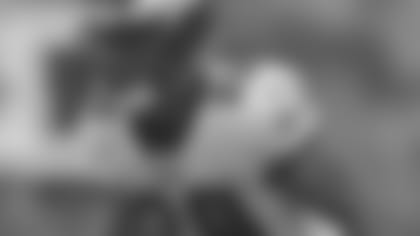 2. GETTING TO KNOW: SAFETY NATE ALLEN
Safety Nate Allen is in his fourth season as an Eagle and he's got a lot of interests off the field. Take a moment to get to know him ...
Talent I'd most like to have: Singing
Trade places with for a day: President Obama
Dinner guest: Martin Luther King, Jr.
Bucket list: Go on an African safari
Music: Drake, John Legend, Kenny Chesney, Marvin Sapp
Philly restaurant: Fogo de Chao
Cheesesteak spot: Tony Luke's
Movies: Scarface, Something About Mary, Any Given Sunday, Above The Rim
TV shows: Swamp People, Duck Dynasty, World's Dumbest
Place to visit: Caribbean
3. DONNIE JONES: NICE TACKLE, BUT ...
Punter Donnie Jones made a terrific open-field tackle in Sunday's win over Tampa Bay, bringing down Eric Page after a 40-yard return. Jones estimates he's made about 10 tackles in as many NFL seasons.
He doesn't want to make it a habit.
"It was pretty cool to watch it on film. I actually looked like a football player. In years past I haven't so much," said Jones, signed in the offseason in free agency. "I really don't know how it happened. I saw him coming and he was cutting back towards the middle of the field, so I planted and when he cut the other way I just kind of jumped out at him and make the tackle."
Jones played tight end in high school and then signed with LSU in 1999 to play for head coach Jerry DiNardo. Jones was asked to play safety in practice as a freshman in the spring game and he accepted the challenge.
"They threw a pass to the tight end over the middle and he just ran me over," said Jones. "I had a headache for a week. That was the end of my tackling days."
But not the end of his punting days. Jones is averaging 44.1 yards per punt with 9 dropped inside the 20-yard line. The Eagles have allowed a total of 39 yards on 9 punt returns, fewer than all but three teams in the league.
"I'm glad I'm here. This is a great situation for me, and I feel pretty good. The only game I really didn't like my performance was the Kansas City game, but otherwise things are going well. I've had some bounces go against me and some work for me," he said. "We have a great challenge this week against Dallas (Dwayne Harris) but I know we will be ready to give it great effort and get after it."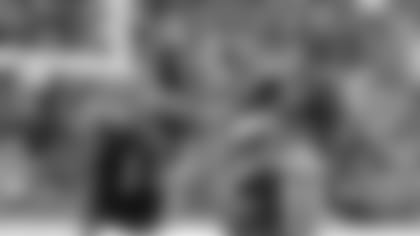 4. RILEY COOPER: TO DANCE OR NOT TO DANCE?
Riley Cooper hauled in a pretty 47-yard pass from Nick Foles on Sunday in the win over Tampa Bay, rolled over in the end zone, stood up and raised his hands in celebration. Then Cooper turned and jumped into the arms of a teammate and ran over to the sidelines to continue the celebration.
This isn't the way wide receivers in the NFL generally celebrate. DeSean Jackson, for example, is a dancer. Some receivers jump into the stands.
Cooper? He's not sure what to do the next time he scores.
"I got some heat for the celebration," he said. "I didn't have anything planned. I was just happy to help the team win the game. That's all that mattered to me. But it does make me wonder if I should try something the next time. I don't think that I can compete with DeSean as a dancer, though."
5. QB KEY STAT: DRIVE EFFICENCY
Who has had the better season at the quarterback position for the Eagles? It's been very close between Michael Vick and Nick Foles, who have led the Eagles to 164 points in six games, an average of more than 27 per game.
As a team, the Eagles have a drive efficiency average of 40.8. Foles' drive efficiency average is 45.5, while Vick registers at 38.9 (drive efficiency measures the percentage of offensive drives resulting in scores). Foles, in more limited playing time, has averaged 2.64 points per drive, while Vick has averaged 1.96 points per drive.