It's another busy day at the NovaCare Complex as head coach Chip Kelly will address the media one final time before Sunday's showdown at Lambeau Field. We will broadcast Kelly's address at 11:40 a.m. before Eagles Live! at Noon where rookie nose tackle Bennie Logan will be our in-studio guest. Following practice, quarterback Nick Foles' press conference will be broadcast live at 1:50 p.m. Find out everything else you need to know on this Thursday, November 7 ...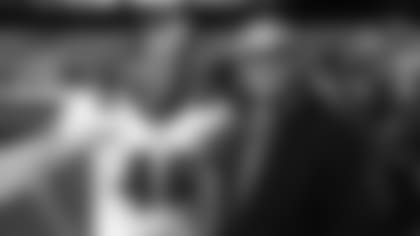 1. DORENBOS SHARES HIS NFL LIFE IN GAME AT OAKLAND
Long snapper Jon Dorenbos is one of those guys who understands how blessed he is to be where he is, so when he has a chance to provide a special moment to someone who has helped him reach the NFL, Dorenbos is more than happy to help.
Such was the case on Sunday in Oakland when Dorenbos hosted a math teacher from his Pacifica High School in California. Mark Zulauf taught Dorenbos in 11th and 12th grades.
"I respected him as a teacher and he was really cool to me and my group of friends and, so, anytime I have a chance to give a teacher I respected a cool experience from my life now, I'm going to do it," said Dorenbos, who introduced Zuluaf to official Ed Hochuli on Sunday. "He's a huge football fan and a huge Ed Hochuli fan, so it was my pleasure to do it.
"Periodically, I will take some of the cleats and equipment that guys aren't going to use any more and I ship them back to my high school, so the equipment guy at the high school mentioned to me that Mark was going to be at the Oakland game. Mark gave me a call and I was only too happy to help.
"It was great. He is one who put his hand out to me and helped me along the way. I appreciate every one of those people."
2. LACY BECOMES FOCUS OF PACKERS OFFENSE
On a Wednesday evening conference call, Green Bay running back Eddie Lacy spoke about the changing look of the Packers offense, saying that players will need to step up to help fill the void left by the absence of quarterback Aaron Rodgers.
"(Our offense) changes a little bit, but guys are just going to have to step up," said Lacy. "Everybody knows what they're doing out there, and they're just going to have to go out and play."
Even when Rodgers was healthy, the Packers had been leaning more heavily on their running game than they had in years past. Lacy had a breakout game Monday night against Chicago rushing for 150 yards and a touchdown. Lacy ranks eighth in the NFL with 596 yards on the ground and has scored four touchdowns. According to Lacy, that focus on running the football goes a long way.
"Being able to add another dimension is great," said the rookie. "It keeps the defense guessing. They can't just sit out there and play the pass. Now they have to respect the run. I think the running back corps has done a great job of adding another dimension to this offense."
Lacy's contribution to the Packers offense has not gone unnoticed. According to head coach Mike McCarthy, Lacy has been everything that the team expected him to be when they selected him in the second round of the NFL Draft.
"Eddie is a heck of a football player," said McCarthy. "He's as good as advertised. He showed it in college and now he's getting better and better each week for us. I look for Eddie to keep working on the little things at the running back position, particularly the things we use him for. He's doing a good job of being a three-down back, which is a real credit for him. It's a challenge for any rookie going into a multiple offensive system, but he's a damn good football player."
3. MAEHL STEPS IN, AND STEPS UP
Wide receiver Jeff Maehl is gaining more and more playing time in the offense, trying to find his comfort zone, and on Sunday he delivered a big play on the team's opening drive, catching a 19-yard pass to convert a third-and-16 situation as the Eagles scored a touchdown on the way to 49 points.
It was a breakthrough moment for Maehl, who has 4 catches for 67 yards and a touchdown this season after the Eagles acquired him a trade with Houston.
"It was a big play in the game to keep that drive alive and keep our momentum going," Maehl said. "I struggled a couple of weeks ago and didn't help Nick (Foles) out too much against Dallas, so for me to go out and help the team, it was big."
Maehl, who played for head coach Chip Kelly at Oregon, caught a couple of passes for 43 yards late in the loss at Denver – he had a 37-yard grab and a 6-yard touchdown catch, the first of his career – is working his way into the rotation a little bit more as he gets up to speed in the offense.
"I'm definitely all up to speed and feeling like I'm ready when needed," said Maehl. "I hope the reps come. It seems like in the last month I'm part of the rotation and we're all used to the rotation and it's working well."
4. ACHO BACK IN HIS GROOVE
A late cut when the Eagles reduced their roster to 53 players, linebacker Emmanuel Acho had a feeling he would be back in Philadelphia. So even as he played on the Giants' practice squad, and lived in a hotel in Northern New Jersey, Acho kept the house he rented in Philadelphia, and all of his furniture and clothes with it.
"I feel like I took a short vacation, but it feels good to be home," said Acho. "I had a hunch I'd be back here."
Acho said he's had a "5-percent" learning curve since returning and seeing regular season NFL action, but he has been a quick study. Acho has played two games and he recorded four total tackles in Sunday's win over Oakland from his inside linebacker position. Acho is also a core member of Dave Fipp's special teams.
"It feels great and I'm calling the shots when I'm in there behind DeMeco and being the head of the defense," said Acho, who replaced Mychal Kendricks briefly against the Raiders and had an open-field tackle on his first snap. "I forgot what it felt like to be sore and to have a long road trip to a game. It's a punishment that I love to take."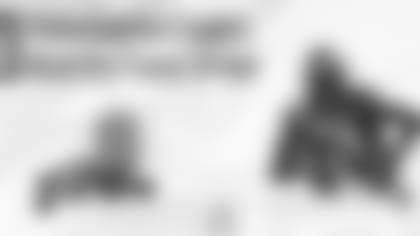 ](http://www.YouGiveGoods.com/Eagles)
5. DONATE HEALTHY FOOD ONLINE TODAY FOR THE HOLIDAYS
The Eagles and YouGiveGoods implemented the first-ever online food drive with fresh produce, enabling Eagles fans everywhere to donate nutritious food to those who need it most this holiday season. In less than one week, Eagles fans have donated 330 pounds of food to help tackle hunger. So basically, one and a half Bryce Browns!
The drive runs until Friday, November 29 and it benefits the Greater Philadelphia Coalition Against Hunger's Green Light Pantry program. To donate, please visit www.YouGiveGoods.com/Eagles