Hope everyone had a wonderful Thanksgiving holiday. The Eagles are back on the practice field this morning as they get ready for Sunday's showdown with the Arizona Cardinals. In 5 Things To Know Today, check out how the Thanksgiving football action affected the Eagles, find out how you can save big on this Black Friday and learn how much the team missed some key players last season ...
1. EAGLES MUST WIN TO KEEP PACE IN NFC EAST
The Eagles have plenty to be thankful for this holiday season, but an Oakland win over the Dallas Cowboys will not be one of them.
Despite trailing 21-7 in the first half, the Cowboys rallied from behind thanks to three touchdowns by running back DeMarco Murray to beat the Raiders 31-24.
Oakland gave Dallas everything it could handle before succumbing in the second half. Cowboys kick returner Terrance Williams, who was in for the injured Dwayne Harris, fumbled the game's opening kickoff and it was returned 23 yards for a touchdown.
The Cowboys entered the game with the league's 29th-ranked rushing attack, but they had 144 yards on the ground which was their second-highest total of the season. Murray had the three touchdowns, but it was backup Lance Dunbar who paced the attack with a career-high 82 rushing yards.
With the win, Dallas is now 7-5 and will at the very least remain tied atop the NFC East at the end of the weekend.
Thanksgiving also provided the opportunity for the Eagles to get a first glimpse of their Week 14 opponent - the Detroit Lions, who pummeled the Green Bay Packers, 40-10.
Quarterback Matthew Stafford overcame three turnovers to throw for 330 yards and three touchdowns and running back Reggie Bush accounted for 182 yards of offense and a touchdown. The Lions scored 37 straight points as they gained 561 total yards compared to just 126 for the Packers.
The Lions are 7-5 and sit atop the NFC North.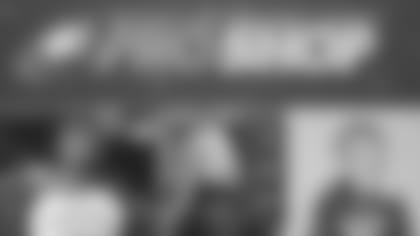 2. FANS: SCORE BIG WITH THESE BLACK FRIDAY DEALS
Now that all of the turkey, stuffing and pie has settled, it's time to get the holiday shopping started. If you know a fan who is looking for a new jersey or that unique item to set him or her apart, then take advantage of the Black Friday deals at the Eagles Pro Shop at Lincoln Financial Field, Market Place at Garden State Plaza in Cherry Hill, N.J. or the Rockvale Outlets in Lancaster, Pa. Don't want to leave the house? You can also shop our online store at store.philadelphiaeagles.com
Here is your playbook to take advantage and save big this holiday season ...
$10 off Adult Jerseys
15% off Kids Jerseys (all sizes)
40% off all s/s, s/l, and tanks
25% off headwear
25% off l/s, outerwear, hoods, bottoms, lounge
Buy One, Get One 50% off all Novelty & Accessories (including footwear)
On Saturday, Santa SWOOP will appear at the Rockvale Outlets location. All fans 14 and under can get a FREE photo!
If you're coming to the game Sunday, score 20% off headwear, 25% off T-shirts and get a free ornament with any purchase over $25 while supplies last.
3. TONIGHT: WIN TICKETS AT BUD FRIDAY
Get the weekend started right at the Bud Friday which will be held at the Blue Dog Tavern on 4275 County Line Road in Chalfont, Pa. from 7-9 p.m.
Meet Eagles players, Eagles Cheerleaders and SWOOP as well.
And if you're looking for tickets to Sunday's game, you can have a chance to win tickets so make sure to joun us tonight at the Bud Friday event.
Bud Fridays are held each Friday prior to a home game. For the list of upcoming Bud Friday parties, click here.
4. WILL CARSON PALMER MEET TRENT COLE SUNDAY?
In the Week 11 win over Washington, linebacker Trent Cole registered his first multi-sack game since December 2011.
Cole made the transition from 4-3 defensive end to 3-4 outside linebacker and had been very successful against the run and creating pressure on the quarterback. He is ranked by Pro Football Focus as the best 3-4 outside linebacker against the run. He is tied for third on the team with seven quarterback hurries.
But the two-time Pro Bowl selection has been known for hunting quarterbacks. He is third in franchise history behind only Reggie White and Clyde Simmons. Entering the Washington game, Cole had only posted one sack in 2013. That's why Cole's two-sack performance against Pro Bowl tackle Trent Williams was very rewarding.
"Throughout the season, it's been rough. I've been trying my hardest to get there, but I'm playing a new position and learning," Cole said.
Cole explained that the biggest difference is learning how to rush in the 3-4 base. Cole said that the light went on during that Washington game.
"I had to learn to rush with two other guys," Cole said. "When you rush with three guys, I would get back there and there are plenty of places for the quarterback to leak out."
Cole essentially changed his rush technique, but he didn't want to give it away.
"It's a secret so I can keep having success at it," he said.
Arizona quarterback Carson Palmer has been sacked 30 times this season. Only Carolina's Cam Newton has been sacked more times (31) among NFC quarterbacks.
5. THE EXPLOSIVE OFFENSE STARTS UP FRONT
The Eagles had five different starting offensive line combinations by Week 13 of 2012. Left tackle Jason Peters never suited up for a single game. Center Jason Kelce suffered a torn ACL in Week 2. Todd Herremans was on Injured Reserve for the final seven games with a foot injury.
It's been a much different story for the Eagles offensive line in 2013. The Eagles have rolled out the same five-man starting unit for each of the first 11 games and are on track to make it 12 this Sunday against Arizona. The Eagles have set a franchise record with nine games with at least 400 yards of offense and it's no coincidence that the continuity of the offensive line is a big reason for overall unit's success.
"They've played a lot together. I think they've played together now almost 90 percent of the snaps. I think that's important for that unit," offensive coordinator Pat Shurmur said.
"You know, when guys come back from injury you really don't worry about it. I know all the players are exposed to injury. Our guys have done a good job of training their bodies in the offseason and then working and preparing each week, so they minimize those risks. But they've done a good job. Anytime an offensive line can play together for as long or as many snaps as they have, they have a chance to be a good offense."
Here is a more detailed look at what the return of Peters and Kelce this season have meant for the Eagles offense ...
The Difference With Kelce And Peters Back
Stat
First 11 Games 2012
First 11 Games 2013
Record
3-8
6-5
Scoring
16.7 PPG (30th in NFL)
25.1 PPG (10th in NFL)
Total Offense
357.1 YPG (14th in NFL)
412.5 YPG (5th in NFL)
Rushing Offense
129.1 YPG (9th in NFL)
150.6 YPG (2nd in NFL)
Passing Offense
246.1 YPG (17th in NFL)
261.7 YPG (8th in NFL)
25+ Pass Plays
17 (21st in NFL)
37 (1st in NFL)
Turnovers
27 (31st in NFL)
15 (T-14th in NFL)