The Eagles have their one and only practice of the week today before getting some rest during the bye. Join us at 11:25 a.m. as coordinators Pat Shurmur and Bill Davis reflect on the state of the team before Eagles Live! at Noon. Following practice, Nick Foles, LeSean McCoy, DeSean Jackson and DeMeco Ryans will all hold press conferences. Until then, there's a lot of dive into in this edition of 5 Things To Know Today ...
It's hard to quantify just how impressive Nick Foles has been for the Eagles this season. In five starts, Foles has completed 63.6 percent of his passes for 1,554 yards, 16 touchdowns and no interceptions. On the season, Foles' 128.0 quarterback rating is the league's best, topping Peyton Manning's 118.3 rating.
The biggest difference between Foles' production this season versus his rookie year is the absence of interceptions. He threw five interceptions in six starts in 2012 en route to a 79.1 quarterback rating for the year. For his career, though, Foles' first two seasons rank up with the very best in NFL history.
Foles' career quarterback rating of 97.6 is the sixth best in NFL history for any quarterback who has thrown at least 300 passes through his first two seasons. The company he keeps? Kurt Warner, Dan Marino, Russell Wilson, Ben Roethlisberger and Daunte Culpepper. Not too shabby. And oh by the way, Foles ranks one spot ahead of Robert Griffin III.
Quarterbacks In First Two Seasons
Player
Years
TD
INT
QB Rating
Kurt Warner
1998-'99
41
13
107.9
Dan Marino
1983-'84
68
23
104.5
Russell Wilson
2012-'13
45
16
102.1
Ben Roethlisberger
2004-'05
34
20
98.3
Daunte Culpepper
1999-'00
33
16
98.0
Nick Foles
2012-'13
22
5
97.6
Robert Griffin III
2012-'13
34
15
93.2
Carson Palmer
2004-'05
50
30
90.2
Jeff Garcia
1999-'00
42
21
89.7
Ken O'Brien
1984-'85
31
15
89.7
2. TODAY: A SECOND CHANCE AT FREE COFFEE!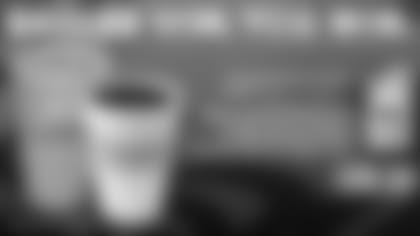 ](http://www.dunkinphil.info/)
In case you haven't heard, we wanted to make you aware of a promotion we're doing with Dunkin' Donuts this season called Eagles Win You Win. The day after an Eagles win (home and away), head to your local Dunkin' Donuts for a FREE medium hot or iced coffee. All you have to do is download the free Dunkin' Donuts app on your mobile phone and the coupon will appear the day it's valid. So stop in this morning to start your Monday off right with a FREE coffee from Dunkin'.
But Dunkin' Donuts has decided to EXTEND the free offer for one additional day this week. Don't miss out on the chance for a second chance at free coffee.
3. HOOPS BACKGROUND HELPING BARWIN GET THE BLOCKS
Outside linebacker Connor Barwin has been a key member of the Eagles defense and brought an underrated element the unit has sorely lacked in previous seasons – the ability to bat down passes at the line of scrimmage.
Coming from the Houston Texans, where defensive end J.J. Watt practices the craft better than any defensive lineman in league history, Barwin knows the advantage of getting his hands up as the quarterback is getting ready to release the ball.
"It was a big emphasis where I came from (Houston)," Barwin said. "Then I think with my basketball background (he played at the University of Cincinnati), that has something to do with it."
The combination of Barwin's height, length, athleticism and basketball instincts make him the perfect specimen for getting his hands up and deflecting passes. After notching another bat-down at the line of scrimmage against the Washington Redskins, Barwin now has a total of 10 passes defended for the season, which ranks him tied for third among all front-seven players. At the very worst, deflecting passes typically results in an incompletion, but it also offers an opportunity for the defense to make a play on the ball and come up with a turnover via interception.
Just from watching the Eagles defense in 2013, it is obvious that the coaching staff has urged front-seven players to get their hands up more in an attempt to disrupt passes. Barwin has led the way, and the rest of his front-seven brethren have followed suit.
4. FANS BROUGHT THEIR A-GAME ON SUNDAY
Happy to be finished answering questions about the team's losing streak at home, the Eagles in the locker room raved about the atmosphere at Lincoln Financial Field during the team's 24-16 win over the Washington Redskins on Sunday.
"I think today was the loudest the fans have been," said defensive end Vinny Curry. "They were great. We loved it. Guys were talking about that when we were coming off the field, 'Did you hear how loud the fans were?' We loved it, man. That's a salute to the fans. Now we just can't wait to come back for (the Week 13 game against the Arizona Cardinals)."
"I thought our crowd was fantastic," said head coach Chip Kelly. "They probably deserved it as much as anybody. They were into it the entire game. It was an awesome feeling. There was a lot of energy in that stadium and we needed every ounce of it. So it was awesome."
Throughout the first three quarters, the crowd of 69,144 was in celebration mode as the Eagles raced out to a 24-0. But when things got tight in the fourth quarter, especially with the Redskins driving in an attempt to tie the game in the game's final minutes, the crowd took their noise to another level.
"It's outstanding," said center Jason Kelce. "The fans obviously did an outstanding job today especially on that last drive when we really needed it. It was great that we were able to pull it out for them."
5. #FLYEAGLESFLY: A TRUE TEAM EFFORT
Before the Eagles head into the bye week, here's one final look at the win over Washington showing how it took the entire stadium to help pull out the victory.