The game is still a day away, but the team's preparation is almost complete. In addition, Lincoln Financial Field is getting cleaned up as snow fell in the Delaware Valley forcing many schools to close on Friday. Good, it gives every fan a chance to rest up and get ready to put the wild in Wild Card Saturday as the Eagles will take on the Saints with kickoff set for 8 PM. Until then, there's plenty of notes our 5 Things To Know Today ...
1. MEET THE AXEMAN TONIGHT AT THE EAGLES BUD FRIDAY PEP RALLY
Get excited for Saturday's Wild Card Game! The Eagles and Bud Light are hosting a Pep Rally at Chickie's in South Philadelphia from 7-9 PM. Meet former Eagles Pro Bowl linebacker Jeremiah Trotter! Get your photo with the Eagles Cheerleaders and SWOOP! Sing the Fight Song with the Eagles Pep Band! Want to go to the game?!? Join us for a chance to win tickets and cheer on the team in person!
2. HENERY'S STREAK HAS GONE UNDER THE RADAR
On November 10, kicker Alex Henery missed his first field goal attempt against the Green Bay Packers at Lambeau Field. It was his fifth miss on the season in 19 attempts. Henery could have hung his head and got down on himself, but instead he focused on trusting his mechanics. He hit his next two field goals that afternoon, and that streak has now been extended to nine straight successful attempts to end the season.
According to the third-year kicker, the key was to keep the same approach.
"I've been doing the same thing I've done all year, it's just that I feel like I have a good rhythm going and I'm hitting good balls," said Henery, who hit a 47-yard field goal in the win over Dallas. "Other than that, I've really just been doing what I've been doing since the beginning of the year, and I'm hitting the ball well."
In a game that is as physically demanding as football, Henery explained that the mental aspect is just as crucial, especially for kickers.
"It's more about how you handle it mentally," Henery said. "Say I miss a few early on, if you let that impact you later on in the year, then it can get you. It's one of those things where I take every game as a new one and it's 0-0 to start the game."
Henery will face a new challenge this weekend, as Saturday brings his first career playoff game. Though he doesn't worry about having to deal with any extra playoff pressure, he did explain that kicking off in the cold presents a bit of a challenge.
"With the ball, it gets colder so the leather's harder, so it doesn't travel as far," said Henery, who had three touchbacks against Dallas and a career-high 37 for the season. "That's the main thing, that you don't get the same distance out of the ball as you would on a warm day.
"It kind of brings everything in hand with whatever scheme you have going in, just because you know that the ball isn't going to travel as far as it did in Dallas. It's one of those things that you work around and you have to make sure that you're not just feeding it to them right down the middle."
3. PAYTON: KELLY-FOLES COMBO BAD NEWS FOR REST OF NFC EAST
Head coach Chip Kelly infamously said earlier this year that Nick Foles will be his quarterback for the next 1,000 years.
It feels like that's how long head coach Sean Payton and quarterback Drew Brees have worked in tandem, but it has been eight years since the two joined forces in New Orleans. In addition, offensive coordinator Pete Carmichael has been there for the entire tenure as well.
Brees has earned seven Pro Bowl trips since signing with the Saints. He has led the NFC in passing yards four times. He has an astounding four 5,000-yard seasons. He's also led the NFC in passing touchdowns four times and completion percentage three times. Most importantly, Brees led the Saints to a win and MVP honors in Super Bowl XLIV.
"There's a familiarity just based on the system and the offense," Payton said earlier this week on his conference call with reporters. "I think it's ever-changing with regards to the people around him whether its receivers or tight ends or running backs."
In Foles' first season with Kelly, there have been amazing results. Foles tied the NFL record for most touchdown passes in a single game. He led the league in passer rating, yards per attempt, touchdown percentage and touchdown/interception ratio. Could a similar run of success be in the works for Kelly and Foles?
"Clearly, in the early stages that's tough news for the rest of the NFC East. I think they've been outstanding," Payton said. "His transformation this year has been amazing."
Payton explains that the mark of a good coach is getting the most out of his talent. He believes Kelly has done that in year one.
"Any good coach takes basically the ingredients he has and then kind of applies the offense or the defense or the kicking game around the skill set of the players and I think he and his staff have done that extremely well," Payton said.
4. SQUARE RECALLS HUMBLING HIT ON NATIONAL TV
In the first quarter of Sunday's 24-22 win over Dallas, rookie nose tackle Damion Square was in position to make a tackle on Cowboys running back DeMarco Murray. Murray had slipped out of the backfield and caught a pass from quarterback Kyle Orton. Square was in full pursuit, and as he went to make the play, well, he got squared up.
Murray lowered his helmet and sent Square airborne.
"I was at the nose position and I ended up having to come around to be contain on the other side," Square said in his defense. "As soon as I came to the other side, I saw him throw the check down. When he threw the check down, I was running at an angle and I didn't think that I would be in front of him. I thought he was going to keep running and I was going to have to jump on his back or something.
"Cary (Williams) popped up, coming off of the receiver, and boxed him in. I thought he was going to attack Cary, but he ended up attacking me. It was just something that I thought I was going to make a for sure tackle on his back, and he turned around and gave me the business."
Square then explained that getting nailed like that is part of the game, but he still wishes it hadn't happened in front of a national audience in the biggest game of the season for both teams.
"I've been on that side (of big hits) before," said Square. "It's going to happen. You don't want it to happen. You hope you aren't that guy and you hope it doesn't happen on national television, but at the end of the day you have to understand that if you play this game, humility comes with the territory."
After the play was over, Square was called over to the sideline as part of the Eagles defensive line rotation. Upon returning to his sideline, his teammates were quick to have a laugh at his expense.
"They're supposed to though, because if it was the other way around, I would have (had fun)," said Square. "They give you crap, but at the same time, they play with you, so they give you love too."
Through all of the questioning about the big hit that he took, Square was a good trooper. In fact, he wants a keepsake to forever treasure the moment.
"I want the picture because I think it was pretty drastic."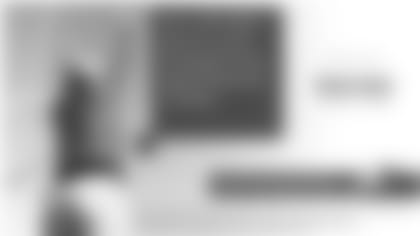 5. HAVE THE EAGLES THROW YOUR OFFICE A PARTY!
Ricoh and the Philadelphia Eagles are giving you the chance to win a VIP party for your office for up to fifty (50) people at the NovaCare Complex. Click here to see how to enter and Official Rules. Contest ends January 31, 2014.