In this special playoff preview edition of 5 Things To Know Today, find out how fans can get involved in the postseason frenzy as the official Eagles pep rally takes place tonight! In addition, learn about some of the players' previous playoff experiences from those who are about to experience it for the first time to one player who just captured Super Bowl glory a year ago ...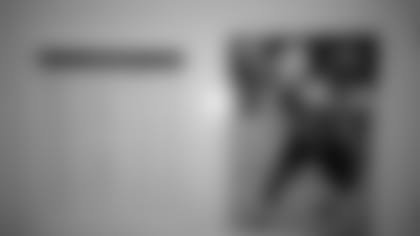 1. BOYKIN USES DRAFT SNUB AS MOTIVATION
Eleven cornerbacks were picked ahead of Eagles breakout playmaker Brandon Boykin in the 2012 NFL Draft. He has a list of their names – Morris Claiborne, Stephon Gilmore, Dre Kirkpatrick, Janoris Jenkins, Trumaine Johnson, Josh Robinson, Jamell Fleming, Bill Bentley, Jayron Hosley, Omar Bolden and Coty Sensabaugh – hanging above his bed.
Boykin had a stellar career at the University of Georgia and was projected as a second- or third-round pick. He fractured his leg at the Senior Bowl, however, and could not participate in the NFL Scouting Combine or Georgia's pro day. That, combined with Boykin's height, 5-foot-10, and weight, 185 pounds, depressed his draft stock. We've seen it so many times before when teams pass over a supremely gifted player because he suffered an injury in the pre-draft process or is "too small" and then end up regretting it once he fully recovers and shows he's the same player in the NFL that he was in college. You know, it's the size of the fight in the dog, not the size of the dog in the fight.
It has been well documented that general manager Howie Roseman and his player personnel staff had Boykin as the highest-rated player on the board, by far, and were sweating it out until their selection in the fourth round, 123rd overall, at which time they hastily turned in the card with his name on it. Every other team's loss has been the Eagles' gain. Boykin is now an integral part of Bill Davis' defense and has made momentum-shifting and game-saving plays throughout the season. He's also the best gunner on special teams and has downed a number of punts deep inside the opponent's territory.
"He's contributed on every level with this team," fellow cornerback Cary Williams said of Boykin, "whether it's special teams or the return game; being a gunner or a nickel defensive back coming in the game and locking people up. Our season wouldn't be the same if we didn't have him. He's played tremendously, and we lean on that guy to play really well in the slot. He's done a tremendous job."
2. TONIGHT: GET READY FOR GAMEDAY AT THE PEP RALLY
In preparation of Saturday's Wild Card matchup against the New Orleans Saints, Chickie's & Pete's on Packer Ave. in South Philadelphia will host the official Philadelphia Eagles Playoff Pep Rally tonight from 5:30–7:30 PM. Eagles players and alumni, SWOOP and the Eagles Cheerleaders will be on hand to entertain the crowd, while the Eagles Pep Band and Drumline perform. There will also be opportunities for fans to win free prizes and giveaways.
3. WILLIAMS: CHIP KELLY'S BEEN A DIFFERENCE-MAKER
Cornerback Cary Williams is one of the Eagles who enters this year's playoffs with plenty of experience in the postseason. Williams was a starter on last year's Super Bowl champion Baltimore Ravens. In March, Williams was one of the key free agent signings poised to help revitalize the defense that was making the transition to a new scheme.
Even though Williams signed with a team that was 4-12 last year, he is still playing. His former team did not make the postseason. Williams points to new head coach Chip Kelly as the primary reason the Eagles have been able to turn their fortunes so quickly.
"He's been a difference-maker for this organization," Williams said. "I think he has a tremendous way of making people believe what he's saying. When he speaks, we want to listen. He always finds a way to grab your attention in some way. That's what great coaches do."
Kelly was known for his prolific offenses at Oregon, but Williams said that he is involved in all facets of the team. According to Williams, Kelly will listen to defensive meetings on his iPad and is a regular in special teams meetings.
"He has his hand in everything. He's a great team manager," Williams said.
And, of course, there's the sports science aspect of Kelly's program.
"I'm a science guy, too, to a degree. I do feel a little bit better than what I did last year to some degree, but football is still football. It's still an individual matchup that you have to win," Williams said.
One of the small, but instrumental, changes that Kelly has made is the decision to hold a walkthrough two days before the game instead of a full practice.
"Everywhere (else) in the league, you're not off. You're still running. You're still on your feet and you're moving around," Williams said. "As the game gets closer, when you get less reps I think it's important for the success of the team when you feel a little bit fresher."
Williams has not been giving players advice about what to expect with the playoffs. He said that earlier in the offseason teammates asked about what it was like to win the Super Bowl. Williams understands that players want to experience the postseason for themselves, but should know one important thing.
"We can't take this opportunity for granted. You never know when another opportunity is coming," said Williams, who has played in 10 career playoff games. "That's the one thing all of my playoff experiences have taught me."
He's been a successful college coach. He's done a pretty good job here. We're winning and we're in the playoffs.
4. RYANS: THE APPROACH DOESN'T CHANGE
Linebacker DeMeco Ryans is no stranger to the turnaround of a franchise.
In Houston, Ryans was a key part of a Houston team that went 6-10 in his first season and eventually won the AFC South division title and a playoff game in his final season. The tides of change have swept through Philadelphia must faster as the Eagles reclaimed the NFC East in Ryans' second season with the team.
When the Eagles acquired Ryans in a March 2012 trade, his leadership was one of the key factors in making the move.
"Those are culture-setters when you have guys like that — great character, hard working ... You're talking about a really productive player and a really hard worker — smart football player as well," said general manager Howie Roseman.
On the day he was traded, Ryans explained how the Texans were able to build towards a winning program.
"It took us a while to get there, but once we had the core guys in place and we did what winning teams do," he said. "We practiced the way winning teams practice, and we went out about our ways the way winning teams do. You saw that come to light with us making the playoffs and us making a run on it."
Now that the Eagles are back in the playoffs, Ryans is singing a similar tune.
"I feel like we are continuing with our same approach, taking it one week at a time," he said on Wednesday. "If we keep out mindset there, taking it one week at a time, continuing to get better each week, then we'll be fine."
Ryans has been lauded as one of the catalysts in the Eagles' success, but he downplays his role as a leader.
"It starts with doing your job, doing things the right way," Ryans said. "If guys see you doing things the right way, they'll follow you."
5. GRAHAM, ALLEN FINALLY GET A SHOT AT PLAYOFFS
Linebacker Brandon Graham and safety Nate Allen were the Eagles' first two picks in the 2010 NFL Draft. They were the first pair of defensive rookies to start on opening day since 1983.
Graham recorded three sacks as a rookie. Allen was the NFL's Defensive Rookie of the Month in the first month of his career.
The Eagles went 10-6 and won the NFC East title that year, but neither Graham or Allen got to play in the playoffs. Graham's season ended that season in Dallas when he tore his ACL. One week after Graham suffered his injury, Allen tore his patellar tendon and he, too, was done for the season.
"It was tough," Allen recalled on Wednesday. "I was a rookie and I got hurt in Week 15 right before the season was about to be over and we were about to go into the postseason. It was a tough thing, but you learn from everything and it just makes me appreciate it more now. It was frustrating but you have to move on from that."
Graham didn't think it would take three years to get back, but on Sunday the Eagles captured the NFC East title on the same field where Graham suffered his knee injury.
"Man, it's definitely going to be fun. I'm excited. It's the playoffs. Everybody's re-energized," Graham said. "I'm just excited to be in there. We fought to be here and now it's time to go win and get this ring."
After spending his first three seasons as a defensive end, Graham made the transition to linebacker this year and as a reserve has posted 21 tackles and three sacks. Graham's best season was in 2012 when he had 50 tackles and 5.5 sacks.
Allen, meanwhile, started all 16 games for the first time in his career and registered a career-high 94 tackles to go along with a sack and an interception. He, too, is excited for the postseason, but head coach Chip Kelly's message to the team is to not change the routine.
"That's something that we keep harping on is that we're not going to change anything up," Allen said. "We're going to keep being us, not matter what it is. Obviously, we know the significance of every game from here on out and what it means and where we are, but we're going to prepare the same way that we have been."
The wait for a return trip to the playoffs will hopefully pay off on Saturday night.