Get ready for a double-dose of head coach Chip Kelly. At 10:40 a.m., Kelly hosts his press conference which is followed by Eagles Live! at Noon where Kelly will join Dave Spadaro in the studio for the weekly one-on-one interview presented by Gatorade. Until then, there's plenty to delve into from Nick Foles' Texas background to Riley Cooper's one-handed catches and some amazing stats ...
1. FOLES VS. STAFFORD: FROM FRIDAY NIGHT LIGHTS TO NFL SUNDAYS
Sunday's game against the Detroit Lions will feature a pair of starting quarterbacks who both played high school football in the state of Texas. Nick Foles (Westlake) and Matthew Stafford (Highland Park) are just two of 11 NFL quarterbacks who played their high school ball in the Lone Star State.
According to Foles, the big stage of high school football in Texas might have something to do with the prevalence of starting quarterbacks from the State.
"It's a big state, so there are a lot of people, but as you all know, football is pretty big in Texas," said Foles. "There's the Friday Night Lights and we play in front of people who love football ... I knew that we had at least 8,000-10,000 people a game and we got in the playoffs and it would be 40 or 50,000, and if you're playing in a state championship, that's going to be huge.
"I don't know if that has something to do with (the large number of Texas quarterbacks in the league). You're always playing in front of crowds and you've got a lot on your shoulders - I don't know what it is."
2. BARWIN: THE "JACK" OF ALL TRADES
Linebacker Connor Barwin can do it all.
On Tuesday, defensive coordinator Bill Davis referred to his position as the Jack linebacker, meaning that he is the Jack of all trades. Barwin is tied for second on the team with 4.0 sacks this season, and he has been equally impressive when asked to drop back in coverage.
Barwin's versatility dates back to his college days, so says former University of Cincinnati teammate Jason Kelce, who told a story on Tuesday about how his college teammate has always had "freak" athletic ability.
"Connor has always been a freak, in terms of his physical ability," Kelce said. "We would always do long-distance running, and they would always put you in a position group. I'd be with the offensive line and the linebackers would always be with the big skill guys. Connor, who was a defensive end, I think 270 pounds at the time, used to run with the defensive backs. We would run 350 or 400 meters, all the way around the football field, and he would beat every single defensive back and finish in first place, and he wouldn't get tired. That's one of the things that you notice even at this level - his motor is on another level."
"The defensive backs were not big fans of it," Kelce added. "Getting beat by a 270-pound guy isn't what you're supposed to do, especially in a long-distance race."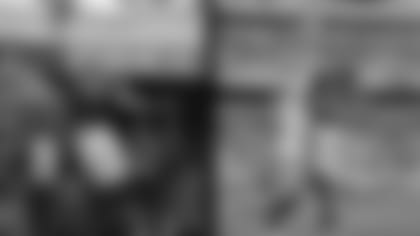 3. WHICH COOPER CATCH WAS MORE IMPRESSIVE?
Wide receiver Riley Cooper was asked on Tuesday about his amazing one-handed catch and spin move from Sunday's win over Arizona. Quarterback Nick Foles threw the ball to the wide-open Cooper too high, but the 6-foot-2 Cooper was able to get in the air and snatch the ball out of the air. Cooper didn't think his catch was such a big deal.
"It was all right. The ball came to me and I made a play," Cooper said. "That's what we get paid to do, right?"
Foles was so impressed that he said it should be the wallpaper image on Cooper's phone. Cooper thought that his one-handed touchdown grab against Dallas last season was more impressive. On that play, Cooper jumped up over rookie cornerback Morris Claiborne to make the catch. It's one thing to have a height advantage, but Cooper is learning to utilize it this season.
Cooper has started all 12 games this season and has registered career highs in catches (34), yards (640) and touchdowns (7).
"When you're in the game every play, you get a flow for the game," Cooper said. "You're blocking, you're catching, you're doing all of those things. It really helps you get in that groove of the game. It's fun, though."
4. WOLFF DOING EVERYTHING TO GET BACK, EVEN STEALING PARKING SPOTS
As mentioned in the Thanksgiving edition of "5 Things To Know Today," linebacker Brandon Graham is almost always the second player – behind tight end James Casey – to arrive at the NovaCare Complex and takes the first player-designated parking spot to the right of the main walkway. For the first few days of this week, however, Graham has been forced to park in the first player-designated spot to the left of the walkway. That is because safety Earl Wolff and his white Range Rover have staked their claim to what Graham had previously labeled as "that's my spot, man."
"Ooooh, did he say something about that?!" Wolff asked when apprised of his transgression. "I didn't think about that until now."
It's ok, though, Wolff's intentions are not to steal Graham's beloved parking spot, but simply to get to the NovaCare Complex as early as possible so he can get in extra rehab on the knee injury that has kept him out for the past two games.
"I got here extra early (Tuesday), got in at 7:10," Wolff said.
Wait a second, 7:10? Graham said he gets in between 6:45 and 7:00 in the morning.
"He usually does," Wolff said. "Usually when I come in, he's right there (in his spot)."
Maybe Graham's slacking a bit after his best game of the season against the Cardinals, in which he notched two sacks?
"Nah, nah, it's not that, it's not that," Wolff said with a smile, understanding the joking tone of the question. "I wish (Graham) was (at his locker) so I could say something. I'm just beating him now because I'm coming in earlier."
Getting in earlier in the morning for extra rehab appears to have benefited Wolff, who says he's feeling the best he has since suffering the injury against the Packers.
"Definitely," Wolff said. "As a matter of fact, it's kind of like a 180 compared to how it was last Monday. Last Monday, I was still limping and couldn't really move it, but now I'm getting a full range of motion now."
While Wolff did not practice on Tuesday and his status officially remains day-to-day, the good news is that his return does not appear to be too far away, and he should be back on the field for the stretch run as the regular season winds to a close.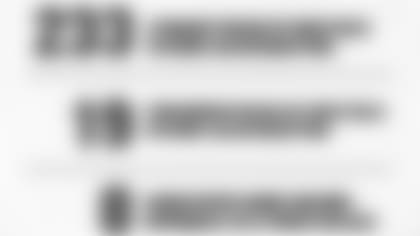 5. 'TIS THE SEASON TO BE STREAKING!
The Eagles have put together some impressive streaks of late, but the most important number is the last one - four straight wins. The win streak has catapulted the Eagles into a tie for first place in the NFC East and they are in control of their playoff destiny.