Running back LeSean McCoy grabbed all of the headlines when he said on Wednesday that he wants to put the offense on his back this Sunday against the Chicago Bears. There are plenty of other stories Eagles fans must know about as the Eagles prepare for their big primetime matchup. In 5 Things To Know Today, learn about quarterback Nick Foles and tight end Zach Ertz's pre-game routine, linebacker Mychal Kendricks' ability to make impact plays and a reason to get the weekend started a little earlier than usual ...
1. FOLES AND ERTZ'S PRE-GAME RITUAL
Youngsters Nick Foles and Zach Ertz have each put up big numbers for the Eagles this season. Game by game, both players have grown more comfortable both with the speed of the NFL game and with each other. Since the Eagles Week 9 matchup with Oakland, the two have connected for 198 yards and four touchdowns.
Wonder where that chemistry comes from? Before each and every Eagles game this season, the two former Pac-12 players can be found warming up one-on-one while most of the other players are still in the locker room.
According to Ertz, the pre-game routine has been great to help develop a familiarity between the quarterback and tight end, and it's also a chance to show off a different skill set.
"I think it just kind of loosens us both up and we kind of take a step back," said Ertz. "We kind of get to show off my arm and his catching skills. It's a way to relax before the game and it's fun to just go around and check out the field and talk about how field is and just mess around out there."
Eagles fans probably shouldn't expect Foles to be making any Ertz-ian catches any time soon and Ertz may not wind up throwing seven touchdown passes in a game, but remember, practice makes perfect.
2. KENDRICKS: HE'S HERE, THERE AND EVERYWHERE
Going into the 2013 season, it was thought that the transition to Bill Davis' 3-4 scheme would be most beneficial for inside linebacker Mychal Kendricks, in particular, as it is the same defense that takes advantage of his rare talents that enabled him to flourish at Cal. After coming out with a boom against Washington on a national stage in Week 1, he struggled a little over the next month or so. However, by October, things started to click and ever since Kendricks has resembled the playmaking blur who garnered a top-50 selection in the 2012 NFL Draft. He only continues to get better and more impactful with each passing game.
"I try to be an impact player every game," Kendricks said. "Sometimes things fall your way, sometimes they run the ball away from you the whole day. You get in there, you play, and if things fall your way, they do. If they don't, they don't. But whenever you get an opportunity to make a play, you have to make it happen. I had an opportunity and things fell my way."
Kendricks is second on the team with 122 total tackles, with two sacks, two interceptions and four passes defended. That second interception came off a tipped pass against the Minnesota Vikings on Sunday, and he leads the NFL with four fumble recoveries. Kendricks is very much a ubiquitous player on the field, with a combination of speed, explosiveness, athleticism, agility and range that few, if any, of his peers can match. His transition back to 3-4 inside linebacker has also rejuvenated him as a blitzer.
"I think that my speed, my agility, my side-to-side movement and my quickness, and the fact that I'm not the biggest (linebacker) allows me to squeeze through gaps that others might not be able to," Kendricks said. "I feel like those are all things that work in my favor. It's been pretty effective."
Kendricks attributes his ascent to finally having a stable coach and scheme, which has enabled him to get comfortable and just react on the field instead of burning a crucial split second thinking about what he's supposed to do.
"That's how things work, usually," Kendricks said. "Whenever you get into a new system, it takes a while to get acclimated into it. The longer you're with someone, the longer you're with a system, the more comfortable you are and the faster you're able to react to do your thing."
Is that split second he gains because of reaction time the difference between making plays and just missing them?
"For sure," Kendricks answered. "Most definitely, that's safe to say."
3. NO CARRIES, NO CATCHES? POLK STILL MAKES AN IMPACT
Chris Polk has nine career carries for 86 yards and two touchdowns. Even if you take out the 38-yard touchdown run against the Detroit Lions to seal the Eagles' 34-20 victory in the Snow Bowl, that's still 48 yards on eight carries, which equals a robust 6.0 yards per carry. Sure, it's a small sample size, but Polk was one of the standout players of Training Camp and has shown flashes of being an effective runner whenever given the opportunity. As the regular season winds down, he has started to take the snaps as the second running back behind LeSean McCoy.
"I'm just trying to bring overall aggressiveness and go out there when I get my number called," Polk said. "I do everything to the best of my ability. I'm in there to hit people."
And hit people, he does. That's Polk's style. He's a bruising, physical, north-south runner who welcomes contact and relishes pounding defenses.
"(LeSean McCoy) is real elusive, Bryce (Brown) is the speedster, I'm going to get the tough yards," Polk said. "I think we complement each other very well, it's just a matter of if we have time and if it fits the scheme."
Polk first appeared to be taking a step in the direction of separating himself as the number two back when he broke off a 28-yard touchdown run, the first of his career, against the Denver Broncos on September 29. Then, two weeks later against the Tampa Bay Buccaneers, he suffered a shoulder injury that sidelined him for one game. Polk did not touch the ball again even once over the next five games, until the Lions came to town. Head coach Chip Kelly said afterwards he had been coming on in practice lately and deserved more snaps, which he received against the Vikings. Polk did not get a carry in that game and dropped the only pass intended for him.
"I got caught looking upfield," Polk said of the drop. "Don't take your eye off the ball because you catch the ball with your eyes, not your hands."
Later in the game, Polk contributed in a way that didn't involve running or receiving – he threw a big block to help spring tight end Brent Celek on a screen pass that got the Eagles inside the 10-yard line on their second touchdown drive.
"That was way fun," Polk said. "It would've been way more fun if we had scored and won the game, but it's a good feeling to get that big hit and help the team."
Polk has been a major contributor on special teams throughout his time with the Eagles and is now getting an extended look in the regular offense as he attempts to carve out a role. Against a Chicago Bears team that ranks last in the NFL stopping the run, perhaps Polk could get his most touches yet.
4. TONIGHT: WIN TICKETS AT A SPECIAL BUD THURSDAY
Start the weekend early and come out and celebrate with the Eagles! The Eagles Pep Rally sponsored by Bud Light will be held Thursday, December 19 at the Irish Rover on 1033 S. Bellevue Avenue in Langhorne, Pa. from 7-9 p.m.
Meet Eagles players, Eagles Cheerleaders and SWOOP! Sing the Fight Song with the Eagles Pep Band!
Want tickets to Sunday's game against the Bears? Then come join us for a chance to win tickets, along with other Eagles autographed merchandise!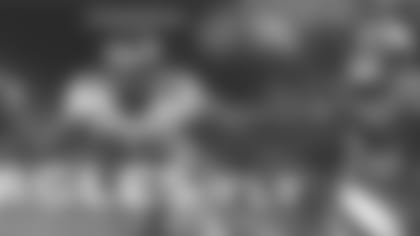 5. GET THE FINAL POSTER IN THE DAILY NEWS COMMEMORATIVE SERIES
Today we conclude our Poster Series in the Philadelphia Daily News, in which the DeSean Jackson commemorative Eagles poster can be yours! Get your Philadelphia Daily News now and combine your posters to form one big Eagles poster!