Here's the forecast for Wednesday's edition of 5 Things To Know Today. It's a little Shady, but when is it not in Philadelphia? There's also DeSean Jackson's connection with an Internet sensation. From a football standpoint, find out how Tuesdays With Chip have impacted the Eagles this season and the importance of adding a little thunder to the offense ...
1. TUESDAYS WITH CHIP: THE RESULTS ARE OBVIOUS
While most of the league used Tuesday to rest and recover, the Eagles were hard at work on the practice field. While it may not have been welcome news to the veterans on the Eagles roster right away, Chip Kelly set his schedule to include a Tuesday practice in order to help the players recover quicker from their Sunday games.
"I, like most people, especially older guys, was not a fan of the Tuesday practice but we all stuck with it and it's really amazing how much better our bodies feel than mine ever did years prior," said linebacker Connor Barwin. "And I think it does give us a head start in preparation for the week ahead.
"It wasn't a big difference because we had Monday off, we just flipped those days. But the practice on Tuesday, we all didn't know how that was going to go. I'd be lying to you if I said I was excited about it early on in the season, but now I think everybody thinks it's working and doesn't mind it at all."
Running around in practice on Tuesday also seems to accelerate the recovery process throughout the rest of the week.
"We feel like our Wednesdays are a lot better because we're able to come out on Tuesday and do some things," said linebacker DeMeco Ryans. "From that standpoint, we feel like we have a better week by going out on Tuesday."
As defensive coordinator Bill Davis explained, there's also a bit of a mental edge to working while your opponent is sitting on the couch.
"The message, and we just got done with the guys, is all about Tuesday, and that's been the mantra all the way through is Tuesday, can we out-prepare and outwork and out-meet and out-train and out-recover the Vikings on this Tuesday," Davis said. "If we do that one day at a time, focusing on our corrections from last Sunday's game and moving on to the introduction of the Vikings and just throw everything into that one day and the things we can control. We say it over and over again, let's control what we can and forget about the rest."
2. OOOOOH KILLEM: DeSEAN JACKSON HANGS WITH TERRIO
Wide receiver DeSean Jackson has been known to play the game of football with the energy and passion of a young kid. Well, he's been dancing in the end zone like one this season.
Jackson's touchdown celebration has been the Cousin Terrio, a salute to the 6-year-old whose dance moves on Vine and YouTube have turned him into a star. On Sunday, Jackson got to do the dance in the end zone against the Lions in front of Terrio himself. Terrio was a guest at the game, courtesy of Jackson.
"He had a great time. He's a very young 6-year-old, who has a huge following," Jackson said. "Everywhere I go, people ask me about him. For him to be able see the game, be in the snow and just have a little fun was great."
Jackson is friends with Terrio's manager, yes he has representation, and said some things are in the works for the future.
3. CHRIS POLK ADDS A BOLT OF THUNDER TO THE OFFENSE
Sunday's weather conditions made it tough for players to get their footing in the snow. In the first half, the Eagles running backs tried to run east-west to find the hole before attacking, but the ability to plant and explode wasn't there. The Eagles were shut out in the first half and gained 55 yards on the ground.
Well, things changed in the second half. The Eagles adjusted to a more north-sound running style which perfectly suited second-year running back Chris Polk. The 5-foot-11, 222-pound bowling ball whom running backs coach Duce Staley calls "a warrior" had 50 yards on just four carries including a 38-yard touchdown run. The Eagles finished with 299 rushing yards, the most by the team in a single game in over 13 years.
"It's definitely a testament to patience, but good things come to those who wait," Polk said. "We definitely have a lot of good guys, so I'm not made about that or anything. The only thing that you can control is your effort, so I'm going to do everything that I need to do to get on the field, and when I do, I have to make things happen."
Polk earned the extra workload in large part due to his effort in practice.
"One thing I know about Chris is in the last couple of weeks specifically, he has really, really practiced very well, and I think, like we said at every position, it's an open competition, and you keep showing us that you deserve time on the field, then that's what it's all about," said head coach Chip Kelly.
The second-leading rushing in the University of Washington's history, Polk admitted that it's been hard adjusting to a much lighter workload. He has nine career carries, all of them this year. That's why he looks at practice as his opportunity to shine.
"With practices, I just treat them like the game, whether I'm giving scout teams a look - I'm trying to score on every play when I'm on the scout team," Polk said. "In practice, I'm trying to run everything full speed to the best of my abilities, because when it comes to the game, you fall back on your training, so I take that to heart. If I train hard, I play hard."
4. WOLFF INCHES CLOSER TO A RETURN
Safety Earl Wolff returned to practice for the Eagles on Thursday for the first time since injuring his knee on November 10 against the Green Bay Packers. The fifth-round pick had emerged as a starting-caliber safety opposite Nate Allen before the injury and is looking forward to getting back on the field. He won't rush it though.
"We'll see," Wolff said, when asked if he'll be able to play this week against the Minnesota Vikings. "That's what I'm going to see.
Wolff will test his body throughout the week before he and the coaching staff make a decision on his availability this weekend.
"Today, I did a little bit," Wolff said. "Tomorrow, I'll do more. Thursday, I'll do even more, just to see how I feel."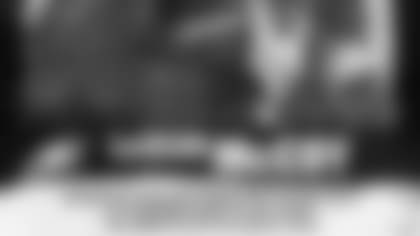 5. VOTE FOR LeSEAN McCOY FOR FEDEX GROUND HONORS
Following the best individual rushing game in Eagles history, LeSean McCoy has been nominated for the FedEx Ground Player of the Week Award.
In a memorable performance, McCoy racked up 217 yards in the Eagles 34-20 victory over the Detroit Lions. Dashing through the snow, McCoy rushed for 148 yards in the fourth quarter alone, en route to breaking the previous Eagles record of 205 yards set by Steve Van Buren in 1949. McCoy broke free for long touchdown runs of 40 and 57 yards to help lead the Eagles to their fifth-straight win.
McCoy won the FedEx Ground Player of the Week Award in Week 1 for his 184-yard performance against the Washington Redskins. If you'd like to do your part to see him take home the honors again, you can vote for him here. Voting lasts until 3 PM on Friday.