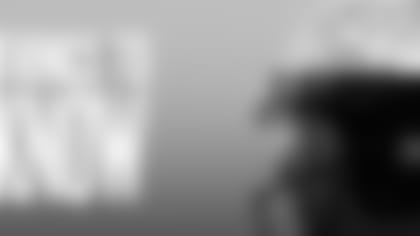 Gameday is inching closer. Head coach Chip Kelly offers his final scouting report at 11:45 AM. Make sure to also join us for Eagles 360 at 5 PM as Glen Macnow offers three bold predictions for the Sunday night matchup with Dallas. Until then, here are the 5 Things to Know Today for Thursday, November 5.
1. Bradford Looks Ahead To Second Half
"I think I feel more comfortable in the pocket. I feel like my pocket movement and awareness has been better. I think my play has still been inconsistent and I think there are things that I've got to do better to put us in better situations out there, but I do feel like I have improved," he said.
As Spadaro wrote, "the Eagles have made a lot of progress offensively since the Week 1 loss in Atlanta, and they're going to have a chance to see what kind of steps they've taken on Sunday night. Dallas shut the Eagles down at Lincoln Financial Field in a 20-10 Cowboys victory in September, one of the ugliest games in a long, long time."
Bradford is optimistic that the progress will turn into results in the second half of the season.
"It's coming together. I really believe that," Bradford said. "That's what we're working for. One game, one week and we're focused on Dallas."
2. Did Deion Sanders Make The List?
3. Encouraging News For Nelson Agholor
Wide receiver Nelson Agholor has been sidelined with an ankle injury, but was a full participant during Wednesday's training session.
"Every day I'm going to get better, but I would play if I had to," Agholor said.
4. Greg Cosell's Thoughts On Dallas
Every Wednesday, NFL Films senior producer Greg Cosell offers a scouting report of the upcoming opponent. Here are this thoughts on quarterback Matt Cassel.
"What stands out about quarterback Matt Cassel is he's unwilling to turn it loose," Cosell wrote. "There were some intermediate throws there against the Seahawks and he did not pull the trigger."
Of course, the Eagles are aware of what Cassel did against them when he was a member of the Vikings in 2013. Check out the rest of Cosell's observations.
5. Davis Pleased With The Pass Rush
A year after the Eagles ranked second in the league in sacks, the team is tied for 18th heading into Week 9. Defensive coordinator Bill Davis is not concerned with the pass rush. In fact ...
"The pass rush is good. We looked at it obviously all week, and I have said this before up here, 'Are we moving? Are we affecting the quarterback and moving him off his spot?' There were a handful of things that would have been sacks, but Eli (Manning) grounded it or (Ryan) Fitzpatrick threw it with his left hand in the shovel, so the pocket was collapsing," Davis said.
"I love the way the guys are rushing together. I think this is the best year we've had of four guys being where they're supposed to be together. Now, you put a good coverage behind that like we are, and now the quarterback has to make that choice, 'Am I going to force the throw and throw interceptions,' which we're getting more of, and that's kind of replacing some of the sacks that were happening a year ago."