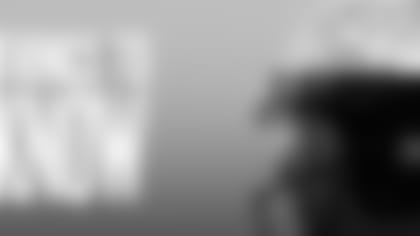 Good morning, Eagles fans! The team gets back to work today as Sunday night's prime-time showdown with the 11-2 Arizona Cardinals inches closer. Head coach Chip Kelly joins Dave Spadaro for their weekly 1 on 1 interview presented by Wawa as part of this evening's Eagles 360 which begins at 5 PM. Dave and co-host Joe DeCamara will also offer a scouting report of the Cardinals.
We'll have plenty of coverage of the team's training session throughout the day, but first here are the 5 Things to Know for Wednesday, December 16 ...
1. This Is Now Sam Bradford's Team
There has been a lot of praise for quarterback Sam Bradford in the past couple of days following the team's win over the Bills. After missing two-plus games with a concussion and non-throwing shoulder injury, Bradford has guided the Eagles to back-to-back victories to put the team in a first-place tie in the NFC East.
"And now this is Sam's Club, so to speak. It isn't just about his numbers -- he has completed 65 percent of his passes in his last four starts for 898 yards, five touchdowns and just one interception with a 96.9 rating -- or about his growing comfort in the locker room as a leader or the fact that the Eagles are 6-2 in the last eight games that he's started and finished (Miami is the game that he started and didn't finish). It's a combination of everything that has his teammates heaping praise on Bradford, has Chip Kelly talking about keeping Bradford around in the future and has the trained eye very much aware of the progress No. 7 has made on the field," Spadaro wrote.
"Off the field, in the locker room and in the halls of the NovaCare Complex, Bradford is much more at ease. Philadelphia was a smack-in-the-face culture shock for him coming from laid-back St. Louis. He's much more comfortable talking to every corner of the locker room. He's won his teammates' respect with the toughness and the resilience he's shown on the field. Bradford, a quiet guy by nature, is letting his personality show and he's been more vocal and emotional on gamedays."
2. Davis: Cox Will Get Recognized
Next Tuesday, the players who were selected to represent the AFC and the NFC in the Pro Bowl will be announced and there is some drama with regard to whether or not defensive end Fletcher Cox will get his due.
Cox has been just as instrumental as Bradford in helping the Eagles get back in the division race. Two weeks ago, Cox had eight quarterback hurries - the most by an Eagles defensive player since 2012 - in the win over New England. He led the team in tackles and posted the lone sack in Sunday's win over Buffalo.
"He's not overlooked by his peers," Davis said. "The players will vote him in, coaches will vote him in. Anybody who puts the tape on or has gone against him, I think that's a no-brainer. They will vote him in."
3. Arizona's Receivers A Tough Task
Davis doesn't have time to be concerned about Cox's individual accolades this week with the Arizona Cardinals' brilliant trio of receivers coming to Lincoln Financial Field. Larry Fitzgerald, John Brown and Michael Floyd have combined for 2,635 yards receiving and 18 touchdowns. Julie Bacanskas has more on the matchup.
"You can't really double-team anybody on their team," safety Malcolm Jenkins said. "They've got three or four solid receivers and a really good tight end and they do some good things with their backs as well. Floyd on the outside, Brown is a speedy guy, and we know all about him from last year, and then Larry is having one of those career years in the slot. Everybody's got to win their matchup. You can't roll the help to one guy because all the other guys are more than capable of winning."
Jenkins, who will line up in the slot against Fitzgerald, called the future Hall of Fame selection the "most-decorated slot receiver" he'll face this year.
"I know him personally and I know how hard he works and what he's been doing in this league for a long time," Jenkins said. "He's a smart guy. He's savvy. He knows the position. You put him in the slot, he's a good route runner, which is what you need to be in there.
"He's savvy enough to find the soft spot in zone, and he's smart enough to read defenses as well. He does all the dirty work, too. He blocks willingly and does it really well. He's an all-around good receiver. That's why he's been one of the best in this league for a really long time."
4. What Will The RB Rotation Look Like?
With all four running backs healthy and active for last Sunday's game, the Eagles divvied up the workload. Ryan Mathews got 13 carries for 38 yards, DeMarco Murray had the ball handed off to him 11 times for 34 yards and Darren Sproles rushed seven times for 41 yards. Kenjon Barner played, but didn't get any touches.
"We have what we think to be four really good running backs, so we want to use them all," Shurmur said. "I think if you put a really good player in the game, and he's fresher as you go, then you get a little bit more out of him.
"We don't try to match the expectations outside the building. We just go put them out there, train them up and let them play."
5. Agholor, Reynolds Up For Weekly Awards
Two Eagles were nominated for weekly awards, but need your vote in order to win. Wide receiver Nelson Agholor's 53-yard touchdown, the first of his NFL career, earned him a spot on the ballot for the NFL's Rookie of the Week honor. Safety Ed Reynolds' first-career interception made him a finalist for the NFL's Clutch Performer of the Week award. Show some love for the Eagles who helped secure Sunday's win.