There are still plenty of questions to be answered, of course because we know neither the scheme nor what the new coaching staff feels about any players on the roster. Not until head coach Chip Kelly sees on the field will he believe he knows what he truly has on the roster.
Until then, though, we're speculating, and until the pre-draft mini-camp begins and then the draft rolls around, that's all we've got. Why not? It's fun.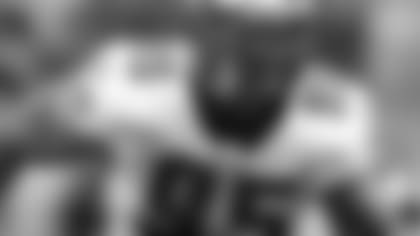 Anyway, the Eagles are hopeful that the draft class from a year ago, one that paid early dividends with fine play from No. 1 pick Fletcher Cox and No. 3 pick Mychal Kendricks and No. 5 pick Brandon Boykin and then later in the season saw some strong contributions from Nick Foles, Dennis Kelly and Bryce Brown. The other two members of the draft class on the roster but not on the field very much, defensive end Vinny Curry and wide receiver Marvin McNutt, nevertheless had a taste and are back for more.
It was considered a strong draft class in 2012 and it still looks that way. That's important to know, for the ways of the NFL landscape change very quickly and assigning "grades" to a draft class, for example, sometimes looks completely different from one year to the next.
How many of the players taken by the Eagles in 2012's draft will start a year later? Cox is a likely place to start after a rookie year in which he recorded 5 1/2 quarterback sacks and impressed the Eagles as well with his run-stopping abilities. When and if the Eagles play a 4-3 front, Cox would be a strong prospect to start at tackle. If the Eagles run a 3-4 look, Cox would be a perfect candidate to man one of the defensive end spots, or, as they say in the broadcast booth, a "5 technique" defensive end.
What the coaching staff has planned for Kendricks is a mystery, but he certainly opened the defensive coaches' eyes when they reviewed his play from 2012. A super-aggressive player who is an explosive athlete, Kendricks played the SAM linebacker spot as a rookie and held his own.
How does defensive coordinator Billy Davis planning on using Kendricks? Where does he fit in a scheme that has been loosely described here -- by me, that is -- as a hybrid between a 4-3 and a 3-4? Does Kendricks remain at SAM linebacker? Does he move to the open end and rush the quarterback? Does Davis see Kendricks as an inside 'backer?
Boykin did a nice job as a slot cornerback and as a kickoff return man last year, and should have the chance to compete for a role at least as substantial this time around.
Brown, who dazzled early as he replaced an injured LeSean McCoy in the latter stages of 2012, returns and looks to be the perfect partner to McCoy in Kelly's backfield. Kelly should compete for playing time along the offensive line and Foles is, as we all know because we follow it every single moment of every single day, pushing to be a starter at quarterback.
What about Curry and McNutt, two impressive athletes who played so well in the preseason? Much depends on the X's and O's, for the common thinking outside of the Eagles' organization is that if the defense moves to a 3-4, Curry would be tough to fit into the scheme. The coaches, of course, have not made that determination. Curry will get a long look in the pre-draft camp and through training camp.
As for McNutt, he brings to the table a big body and strong hands, and in a highly competitive picture at wide receiver, McNutt has his work cut out for him to make the team.
Then there's Foles, who last week met the media and did so with tremendous cool and poise. The situation at quarterback is obviously more complex and layered than we've seen for many years with the Eagles. There are five of them on the current roster, and Foles seems to have as good a chance to start as any of them, including veteran Michael Vick who began and ended 2012 atop the depth chart.
This is a new year and a new coaching staff and a new set of circumstances. But this much is fair to say: The Eagles had a lot of impact from their rookie class in 2012 and could have just as much, if not more from that group one season later.