Over this past summer Todd Pinkston found himself in a familiar place, but in a very unfamiliar role. He was at Eagles' training camp at Lehigh University … only this time as a coaching intern.
"I had a lot of flashback moments," Pinkston said. "I had to get used to being in a dorm. I had to get used to the crowd, the fans."
Much like Philadelphia gave Pinkston his first chance to play in the NFL, the team is now helping groom him for a career in coaching.
"That's my goal, to get into coaching, regardless if it's college, NFL or high school," Pinkston said. "Whatever opportunity comes up I'm going to take advantage of it."
Pinkston has his former position coach to thank for this opportunity. Receivers coach David Culley, who developed this skinny, small-town kid from Mississippi into a productive NFL receiver, extended an invitation to Pinkston.
"Once I was done playing, I knew I wanted to start coaching, so I contacted coach Culley for some advice," Pinkston said. "When you've been playing football and sports all your life, you want to hand that down to the kids coming up that look up to you.
"My dad is a coach. When I was younger he was always a football and track coach. I just want to be a role model as he was to me."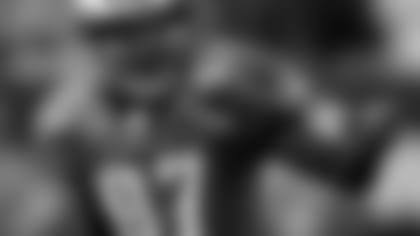 WR Todd Pinkston
A second-round pick in the 2000 draft, Pinkston was a productive receiver known for his speed and big-play ability. Teamed with James Thrash, Pinkston enjoyed his best season in 2002, when he led the team with 60 receptions for 798 yards and 7 touchdowns. In 2004, he averaged 18.8 yards per reception while playing opposite Terrell Owens.
Pinkston produced a number of big plays in five seasons with the Eagles. All told, he hauled in 184 passes for 2,816 yards and 14 touchdowns. His last NFL game was Super Bowl XXXIX, in which he caught four first-half passes before sitting out the rest of the game due to dehydration.
Pinkston's 40-yard catch keyed an 81-yard drive that was capped by Donovan McNabb's 6-yard touchdown pass to L.J. Smith to give the Eagles an early 7-0 lead over the Patriots.
"I felt bad because I wanted to be out there with my guys. I wanted to be out there contributing," said Pinkston, who finished the Super Bowl with 82 receiving yards. "I played at the highest stage, the highest stage you can play. Unfortunately, we lost."
Pinkston, who ruptured his Achilles' tendon in training camp in 2005 and retired soon after, played a position that was heavily scrutinized by the Philadelphia faithful. He caught a lot of criticism as a player, some warranted and some not. But he has no regrets.
"I look back on it (career) every day," Pinkston said. "I know I might have had an up-and-down career, but all in all, I got the opportunity to be a professional athlete for one team and that was Philadelphia, which gave me my first start in football and actually gave me my first start as far as entering coaching."
So there was Pinkston in late July enduring the grueling two-a-day practices with quarterback Donovan McNabb and other Eagles players he once played with from 2000-2005.
"It was kind of funny coming in here as a coach instead of as a player," he said. "It was a joy when I first got there because people still yell out 'Pinky' and all of this. It was a blessing. I was just happy to be back."
His former head coach was also glad to have him back in the fold.
"It's good to see Todd here," Andy Reid said. "Todd always had a great attitude here. I remember going back to his rookie year, he came in this little skinny guy and he was the only receiver his rookie year not to miss a practice, and that impressed me. He is a coach's kid, he always wanted to be a coach and this gives him a chance."
Pinkston did reveal that Reid even considered him for a position on the field.
"He actually said that I picked up some weight and maybe I could play tight end or something," Pinkston said with a laugh.
Pinkston spent the training camp and preseason period assisting Culley with a mix of veterans and young players that make up the receiving corps. He cheered on and clapped when guys like DeSean Jackson and Kevin Curtis won their one-on-one battles against defensive backs in practice. He preached the importance of practice, and he also worked after practice with rookie Jeremy Maclin.
"I just try to tell them the little things about the NFL as far as being a receiver," Pinkston said. "You can be a good player; but I always tell them I want you to be a great player. I don't want them to be just a deep threat. I want them to be an intermediate route runner, be a complete receiver, and to play your next play like it's your last play."
Good advice from an aspiring coach.
"Eventually, if I get to the professional level, that would be a blessing for me."