 While not being selected in the 1995 NFL Draft seemingly decreased Tom Hutton's chances of playing in the league, being passed over did offer the punter what he hoped would be the best opportunity to make a team.
"After the draft, three or four teams called and were interested in signing me as a free agent," Hutton said. "And the reason I selected Philadelphia was because I would be competing against another incoming rookie (Boston College's Jeff Beckley).
"There were no vets in camp. I don't think that I had as much pressure on me because the expectations weren't as high as if I had been a drafted player. I didn't have very good mini-camps, but I had a good Training Camp and ended up beating him out."
Hutton became a four-year starter at Tennessee after making the team as a walk-on. Despite starting a similar path with the Eagles, he was a little apprehensive regardless of the success he experienced with the Volunteers.
"It's funny. I didn't take it for granted that I had made the team until probably the eighth or ninth game of the season," Hutton said. "And I don't think I really appreciated the fact that I made it until we were in the playoffs against the Cowboys at Texas Stadium.
"I remember in pre-game warm-ups, looking back and seeing the likes of (Troy) Aikman and Emmitt Smith in addition to the players who were on our team, Randall (Cunningham) and Ricky Watters and asking myself, 'What in the world am I doing here?'"
Averaging over 43 yards per punt that season, Hutton answered his own question. Any other questions he may have had were answered by his teammate, veteran kicker Gary Anderson.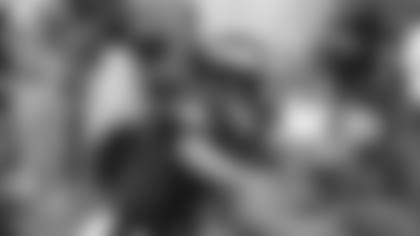 "Gary was my mentor," Hutton said. "I didn't really know anybody in Philadelphia coming from Memphis, Tennessee and when he came into camp he sort of took me under his wing and taught me how to hold for extra points and field goals. And he taught me the importance of being a marketable player. Not just as a punter, but being able to back him up on kickoffs and extra points and field goals. I really enjoyed having him there."
Punter? Check. Holder? Check. Backup kicker? Check. Tackling machine? Yeah, why not?
Granted, some tackles occurred, um, a little late. Which may have been the case when Hutton brought down punt returner Deion Sanders in the end zone during a 34-0 loss to the Cowboys on November 2, 1998
"I remember being on the 5-yard line and vaguely remember him high-stepping and for a split-second I thought to myself, 'Should I tackle him or not?'" Hutton said of Sanders' 69-yard return for the touchdown. "And I said, 'What the heck, I'll go ahead and take him down.' So I did and he ended up spiking the ball right next to me."
In his four years from the Eagles from 1995-98, Hutton averaged 42.4 yards on 349 punts and had 77 of them downed inside the 20-yard line.
"I always enjoyed for some reason, it was a thrill to be backed up either in the end zone or deep in your own territory – it wasn't good for our team, but I always used that to push myself," said Hutton. "And I also enjoyed directional punting while I was there.
"As far as my overall experience in Philadelphia, it was something that I'll never forget. The fans there were just tremendous to play for. And the guys that I played with and the coaches I played for. I made a lot of friends and it was just a terrific experience."
Hutton and with his wife, Garnett, make their home in Memphis and have two daughters: Garnett, 14; and Callie, 11. He is a vice president of commercial sales and leasing for the Boyle Investment Company. It's one of the largest privately owned real estate companies in Tennessee.
"I lease, manage and develop office properties primarily in Memphis, but we also have a Nashville office," said Hutton, who has been with Boyle for 14 years. "I enjoy getting to meet new people and new prospects. I enjoy the different aspects of making a big deal. It's completely different than playing football in the NFL. It's the real world. The NFL was not the real world. It was fun while it lasted. It's just a small part of my life, I guess.
"I feel more secure doing this than I did in the NFL. They analyze you on a daily basis. I remember when I first came to Boyle, my boss, for the first six months I drove him crazy asking how I was performing. (Playing in the NFL) has probably opened some doors that wouldn't have ordinarily been opened, but I try not to rely on that. I try to stay focused and work hard and to continue learning."