 Selected by Philadelphia in the first round of the 1996 NFL Draft out of Texas A&M–Kingsville, Jermane Mayberry was penciled in to become the starting left tackle. That plan, however, was put on hold when he came down with pneumonia.
"It was pretty hard to go through," said Mayberry, who didn't step onto the field until midway through his rookie season when he played on special teams. "And it was really humbling from a standpoint of you go to college and you have success and you just assume that success is going to continue and when it doesn't ..."
After starting every game at left tackle in 1997, Mayberry was moved to left guard the following season. He initially wasn't too comfortable with the switch of positions.
"I had never played guard. Everything happened a little faster inside, so it took a little while to get used to it," Mayberry said. "But I was willing to do whatever they asked of me. I tried to make the best of it."
Moved to his third position – right guard – in 2000, Mayberry helped the Eagles post an 11-5 record, their first winning season in four years.
"I think, one, we caught people by surprise," Mayberry said. "And then, two, it was our second year under (head coach) Andy (Reid), so we just kind of got his system down. He kind of got us going in the right direction."
Mayberry definitely had his career on the right track.
"To me it was huge. It kind of validated my pick," said Mayberry, a Pro Bowl starter following the 2002 season. "I think considering everything myself and my family went through – even Juan (Castillo, the Eagles' offensive line coach who had also been his college coach), because he cared so much for me – it was a nice way just to be recognized for the accomplishments and things I had done over my career.
"There was a big group of us (including tackles Tra Thomas and Jon Runyan, marking the first time the Eagles had three offensive linemen in the Pro Bowl together) that went that year. The team was doing well, so I think that's what made it really nice, that a bunch of us got to go together."
The "bunch" along with the rest of the team got together following the 2004 regular season and headed to Super Bowl XXXIX as the NFC Champions. And even though New England won, the game was an experience that Mayberry will never forget.
"That night playing in the game, it felt like being a kid again," said Mayberry. "I mean, it felt like just being in the backyard it was so much fun. With all the hype that came with the game and all the excitement, it was pure fun. It was probably the most fun I had, even though we lost, in a game."
Granted, Mayberry's last game as an Eagle was a loss in the Super Bowl, but what he brought to the children of Philadelphia off the field should be recognized as nothing short of victorious.
"I think the most important thing and the thing I'm most proud of is my work with the Eye Mobile," said Mayberry.
The idea of the Eagles Eye Mobile was born shortly after Mayberry, who suffered from an underdeveloped optic nerve in his left eye, was drafted in 1996. During a meeting with his agent, Jack Bechta, then-Eagles president Joe Banner and Sarah Martinez-Helfman, the former executive director of the Eagles Youth Partnership, Mayberry said that he'd like to do something to help children get their eyes checked.
Though Mayberry has moved on and now makes his home near Ft. Worth, Texas with his wife, Danielle, and son, Jay, the Eagles Eye Mobile continues its mission throughout the Philadelphia area.
"I'm really glad that they did keep it going because it's such a great program," said Mayberry, whose photo is featured on the vehicle. "And I say this with not any kind of false humility, but I think you could put anybody's name on the bus. It's the Eagles that drive it and it's what the Eagles have done over the years and it's what the Eagles mean to that community.
"That's really what makes the Eye Mobile go, the city's passion for the Eagles. That's what gets us in the door. That's what gets the kids excited about getting their glasses and getting on the bus. It's that the Eagles are behind it."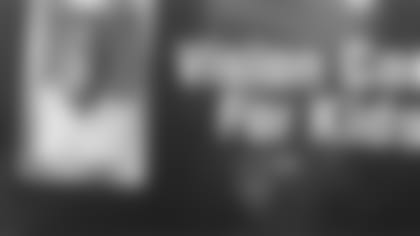 Now in its 20th year, the Eagles Eye Mobile has provided comprehensive exams for more than 71,000 children in area public schools. At no cost to the families, more than 52,000 pairs of glasses have been prescribed and distributed.
"Anyone who wears glasses knows how powerful it is the first time you put them on and you can see what you've been missing," Mayberry said. "It's just something that I'm very privileged to have a part of. I'm very thankful to the Eagles for supporting it because without them it wouldn't go anywhere."
"There are kids now in the city that would have been held back in kindergarten or first grade when all they needed was a pair of glasses," said Martinez-Helfman, who is now president of the Samuel S. Fels Fund. "There were kids in special needs classrooms where all they needed was an eye exam and a pair of glasses. And there are kids who have had vision-saving surgery because Jermane stepped up when he was 22 years old to make a difference. It's been so transformative for thousands of kids. The Eye Mobile is Jermane's legacy in Philadelphia."