The former fullback's second career provides a unique perspective of the Eagles
Jon Ritchie, a native of Mechanicsburg, Pennsylvania, a town near Harrisburg, made his way back to the eastern part of the state, specifically Philadelphia, twice in his professional career.
The first time was in 2003 when the fullback signed as a free agent with the Eagles following five seasons in Oakland as a Raider.
"They had the (NFL's) best record since 2000," says Ritchie, who will be today's Honorary Alumni Captain presented by Santander. "I was coming off of a Super Bowl (XXXVII) and I felt like they had a chance to get there. I wanted to get back to the Super Bowl and I wanted to get back home.
"I didn't realize when I was playing out in Oakland that no one ever got the games back here, being that it was regional. Unless we were playing (in a nationally televised game) on Monday night or Thursday night or Sunday night, a lot of people – friends and family and that sort of thing – didn't have much of a chance to see me play.
"So it was nice to get back close to home and have people I knew sitting in the stands. That meant a lot to me because I had not had that experience before. It became kind of an event for our family and our friends. It was a different feeling. It was a nice, comfortable situation, for sure."
As the lead blocker for Philadelphia's "three-headed monster" backfield of Brian Westbrook, Correll Buckhalter, and Duce Staley, Ritchie defined the fullback position.
"It was a workmanlike mentality where you knew you had a role," Ritchie says. "The role kind of evolved from the time I started playing until when I was done playing. The fullback became less and less involved with the offense. It was a strange process, but that was my role. Just do what you can with what you're given. Do what the coaches asked and don't ask questions."
The 2004 season, which came to an early end for Ritchie after suffering a torn ACL in his left knee during a September 26 game in Detroit, would be his last. He was released by the Eagles near the end of the following year's Training Camp.
"It was a complete and total shock to me when they released me because there was nothing ever mentioned to me along the way like, 'Hey, we don't feel like your knee is where it needs to be,'" Ritchie says. "I did whatever they asked me to do. I tried to be a good teammate. I took pride in doing my job and tried to do it the best I could."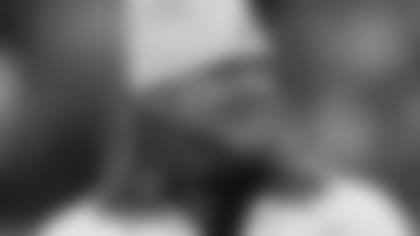 In October 2016, after working as a game and studio analyst for ESPN, NBC Sports, and other broadcast outlets, Ritchie made his way back to Philadelphia a second time for a new job in his second career. He was named co-host of the midday show with Joe DeCamara on SportsRadio 94WIP.
"I had been a huge fan of sports radio as a player here in Philadelphia," Ritchie says. "It's amazing what a huge part of the fabric of the Eagle fan community sports radio is. I grew up 90 miles west of here and I had no idea how important sports radio was until I came here as a player. And for me to have the opportunity to still be around the game a little bit, even though now I'm not privy to a lot of the good stuff that I miss as a player, just being able to talk football and to be involved as a peripheral media member, it's a real kick in the pants for me. I love it.
"When I first started, I thought wouldn't it be awesome to do radio where I don't have to put on a suit, where I don't have to shave. I thought that would be quite a perk. Now I find that while I'm doing this show, it is so cool to open things up to people who are listening and get a chance to hear their point of view, their perspective. I just feel like it enables me, through my employment, to get a great feel for what this city is thinking."
Granted, Ritchie's time on the field was shortened because of an injury, but he still played seven seasons in the NFL – five with Oakland and two with the Eagles – which is twice the average length of a player's career and he played in Super Bowl.
However, even with these gridiron credentials, does Ritchie find it difficult at times to critique players who are in the same shoes he once wore?
"Initially, I did," Ritchie says. "But I retired back in '05 and I worked at ESPN for four years, I was with NBC Sports for four years critiquing, and I got over that fear of being negative. Initially, I didn't want to hurt anyone's feelings or burn any bridges with the players and now I'm far enough removed. It's my job. I try to be as frank and honest as possible and I think people recognize that. I hope people recognize that because I really do admire these guys. I just want to be as real as I can with the listeners."