The NFL Draft is fewer than three weeks away. The Eagles are busy finalizing plans. They are discussing various scenarios. When you pick 32nd, you have to react to what happens before your pick comes up.
With that in mind, let's take a look at a mock draft. This is not my fantasy draft, but rather just a possible scenario. These are players who make sense for the Eagles and positions the team could potentially target.
Based on history, Howie Roseman will make trades to move up and down, but for now, I just picked players based on the Eagles staying put.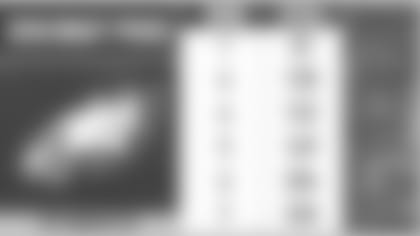 First Round (No. 32 Overall): DB Justin Reid, Stanford
The 6-1, 204-pound Reid is the kind of versatile, highly productive player who would make sense for the Eagles. He can play safety or corner. He can play in the slot. Reid has a good combination of size and athleticism. In 2017, he picked off five passes and had 6.5 tackles for loss. That shows he has good ball skills and also can make plays around the line of scrimmage.
I think the Eagles would try Reid in the slot initially. Patrick Robinson left in free agency so the Eagles are unsettled there. Reid played in the slot for Stanford in 2017 so that's a role he's got experience in. He also has the skill set to handle it.
Depending on how things go in the future, the Eagles could leave Reid in the slot or they could move him back to safety. He can play in the box or back as a centerfielder. Reid is a gifted defender who can do it all. He would give the coaching staff a lot of options, something that is critical in today's NFL where matchups rule the game.
Fourth Round (No. 130 Overall): RB Kalen Ballage, Arizona State
Ballage has tremendous potential. He looked great at the Senior Bowl, in the practices and the game. His combination of size (6-1, 228 pounds), speed, and skill gives him a chance to shine in the NFL. The reason Ballage is going to be a mid-round pick is that he was inconsistent at ASU. He never ran for 1,000 yards in a season. Ballage did run for 1,984 yards and 27 touchdowns in his career. He also caught 82 passes.
The Eagles don't need Ballage to be a workhorse, but rather part of a running back rotation. LeGarrette Blount is gone and Ballage has the size and physicality to help fill that role. He also is a talented receiver and a good kickoff returner. Ballage is a gifted prospect. Under Duce Staley's tutelage, Ballage has the potential to be better in the NFL than he was in college.
Fourth Round (No. 132 Overall): TE Durham Smythe, Notre Dame
Smythe caught 28 passes in college. Some guys would catch that many passes in a month. The problem wasn't Smythe, though. Notre Dame's passing game was not very good the last few years. Smythe went to the Senior Bowl and caught everything thrown his way. He showed that he can be a good receiver when he has good quarterbacks throwing him the ball.
Smythe had a solid workout at the Combine. He has the hands and athleticism to be a factor in the passing game. Smythe is an excellent blocker, something the Eagles could use. With Brent Celek gone, the team adds a big (6-5, 257 pounds), physical tight end who could make a difference in the run game.
Fifth Round (No. 169 Overall): DT P.J. Hall, Sam Houston State
Hall is a highly disruptive defensive lineman. He had 43.5 tackles for loss, including 19 sacks, over the past two seasons. He didn't play at a big school, but he absolutely has NFL talent at 6-0, 308 pounds. Hall played well at the Shrine Game and had very good workouts for NFL teams.
Jim Schwartz loves pass rushers and Hall would give him another player to add to the mix. Hall would be especially helpful because he can get pressure right up the middle. That's critical with so many teams trying to throw the ball quickly against the Eagles' defense. Edge rushers don't always have time to get there, but interior rushers can still affect the quarterback.
Sixth Round (No. 206 Overall): S Siran Neal, Jacksonville State
Neal is another versatile defensive back. He has experience as a corner, safety, and in the slot. Neal is a tough, physical player. He can really hit. He broke up 11 passes as a senior so he also has good cover skills. Neal had a good showing at the Senior Bowl.
I think the Eagles would play Neal as a safety. They could use someone with his combination of size (6-1, 204 pounds) and physicality at the back end of the defense.
Seventh Round (No. 250 Overall): LB Skai Moore, South Carolina
Moore played middle linebacker for the Gamecocks. He wasn't your usual run-stuffer, though. Moore picked off 14 passes in his college career. That is an amazing total for a linebacker. He also racked up more than 350 tackles.
The Eagles would like to add more depth at linebacker. The 6-2, 226-pound Moore has the kind of cover skills the team wants. He could play in the middle or outside. The Eagles love players who can make plays and Moore has that kind of potential with his ball skills.