The Eagles are saddened to learn of the passing of Tim Rossovich, the team's first-round draft pick (14th overall) in 1968. Rossovich died Thursday in Sacramento, California at the age of 72.
An All-America defensive end at the University of Southern California, Rossovich played in 55 games, starting 48 of those games, with the Eagles from 1968-71 and was voted into the Pro Bowl following the 1969 season. Rossovich, who wore jersey No. 82, was a rangy, impact player who was fearless on and off the football field.
Rossovich played four seasons with the Eagles and then played with the San Diego Chargers in 1972-73 before finishing his NFL career with the Houston Oilers in 1973. He also played with the Philadelphia Bell of the World Football League in 1974 and 1975 and then became a television and film actor and stuntman in Hollywood. His credits included Magnum P.I., MacGyver, Hunter, Baywatch, The Love Boat, Knight Rider, Charlie's Angels, Remington Steele, Soap, and The A-Team. Among his film credits are Night Shift, The Sting II, and The Main Event.
Born Timothy John Rossovich on March 14, 1946 in Palo Alto, California, he graduated from St. Francis High in nearby Mountain View. Rossovich is survived by wife Lauren, daughter Jaime, father Frank, actor-brother Rick, and two sisters.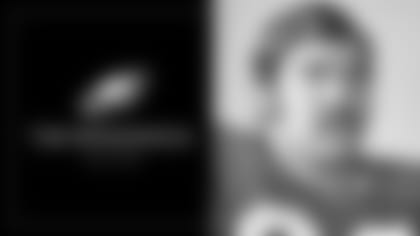 In 1967, the Eagles allowed the most rushing yards in three years and recorded fewer than half as many sacks as their opponents. Yet during the following year's NFL Draft, just two of the 20 players selected by Philadelphia were defensive linemen. One, however, Tim Rossovich, would make an impression in and away from Franklin Field and later Veterans Stadium.
A captain of the 1967 National Champions, Rossovich was chosen in the opening round, which caught him by surprise.
"To be drafted in the first round was an unbelievable experience in my life and something that I didn't expect," Rossovich said. "I had no expectations. I wanted to be a baseball player. I was drafted by the Pittsburgh Pirates out of high school and I chose not to go play in the minor league system because I had the fortune of having about 150 scholarship offers for football. I thought it'd probably be best to take advantage of that and get my education because who knows what's going to happen in the future."
After becoming the starting left defensive end midway through his rookie campaign, Rossovich's future was now! He earned a trip to the Pro Bowl following his second season, but changes in Philadelphia accompanied the arrival of the new decade. Jerry Williams replaced Joe Kuharich as the head coach. And due to a career-ending injury, Rossovich was forced to succeed middle linebacker Dave Lloyd at middle linebacker.
"Jerry Williams called me in and said that he thought the best athlete should be playing middle linebacker," Rossovich said, "and would I consider moving from defensive end? And I said, 'Well, it's not like asking the center to move and play quarterback. Yes, of course. I can be in on every tackle, on every play.' So, I moved to middle linebacker."
Rossovich taught himself how to play the new position with the help of a roommate who could bring his work home with him.
"You know how I learned to play middle linebacker? From (Chicago Bears All-Pro) Dick Butkus," Rossovich said. "Not from him personally, but at that time, I was living with Steve Sabol of NFL Films and (Eagles defensive tackle) Gary Pettigrew and I said, 'They moved me to middle linebacker. I need to know how Dick Butkus plays middle linebacker.' So, he would bring all the highlights and I would study Dick Butkus for hours and hours and hours and hours."
"It really reminds me of that story I read in the book Jarhead," Sabol said, "where the Marines before the first Gulf War, before they took to the desert, they'd all watch Apocalypse Now to get fired up. I think that Tim used (the Butkus) film as an inspiration. At the time, Dick Butkus was the linebacker by whom all others were measured. Tim, of course, was a lot smaller than Butkus, but played the game with that same kind of intensity.
"Tim played with such an abandon that I think that was his strength. He had no respect at all for his body. I mean, he would just throw it and use his body as a missile! He was an inspiration to his teammates because of how fearless he was and I think he was a fan favorite for that reason and also because he was a character. Philadelphia fans love personalities."
"After (Lloyd) was injured, he was not there that much, but he was very supportive," Rossovich said. "He gave me what he knew, but what he knew was not what Dick Butkus knew.
"What I learned from Dick Butkus was that the most important thing was that you know all of your keys, you know what's happening in the backfield, you know what's happening on the line, and when somebody gets the ball, you don't tackle them, you tackle somebody three feet behind them. Because when you tackle somebody three feet behind them, you put your face onto their chin and you snap their neck. Their legs stop moving and they can't dodge you. They just fall down in a heap. That's football. That is football!"
Traded to San Diego in 1972 for its first-round draft choice a year later, Rossovich's Eagles tenure was brief but memorable.
"I was able to have a dream come true, to be able to play for a professional football team, and above and beyond that, to be able to have the entire City of Philadelphia embrace me with such love and respect and belief and hope that I could maybe help the team, my God, it was something that I could never imagine," Rossovich said.
– Dave Spadaro also contributed to this report.