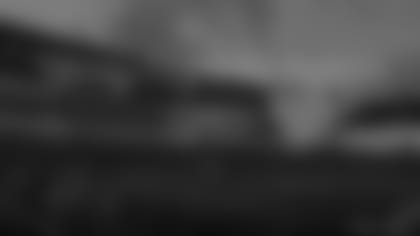 ](https://spark.adobe.com/page/6aw5kVgwSfWiq/)
Back in 1997, life was taking off for Rodney Peete and Holly Robinson Peete. He was a quarterback for the Philadelphia Eagles and she was enjoying a successful acting career. They'd been married for two years and were expecting twins, a boy and a girl. It was as if they'd hit the jackpot.
But, three years later, things took a turn. Their son, RJ, wasn't developing the same way as his sister, Ryan. Doctors told them not to be alarmed, but Holly knew something wasn't right.
"We noticed that RJ wasn't connecting with his twin sister in a way that felt very odd to us," Holly said. "He wasn't making eye contact with his sister. He wasn't pointing at things and he was starting to say words but they were disappearing. So, his language was beginning to come and then it was, 'Where did it go?' He was about 2 years old."
As time went on, the symptoms continued to show, but the Peetes were once again told to not worry.
It was an answer that Rodney accepted, but Holly wouldn't be so easily convinced.
"All leading up to when we initially got the diagnosis, it was, 'He's a boy and don't compare him to his sister. He's going to develop slower. He'll be alright. He'll grow out of it.' But, Holly was like, 'No. Something's up. Something's going on. We have to take him to someone else and really get him evaluated,'" Rodney said. "That's when we got the news. It wasn't from just the normal pediatrician and him telling us, 'Something's going on.' We had to make the initiative and it was Holly that said, 'We've got to find out.'"
After hours of testing at a developmental pediatrician's office, the results came back. At 3 years old, RJ was diagnosed with classic autism.
The parents were stunned by the news and sat in silence while they processed the information. Next thing they knew, doctors began reading them a list of things their son would never do. Rodney and Holly were told RJ would never talk, would never make friends, never play sports and the list continued on from there.
It was a devastating time for the Peetes, but they were determined to do what they could to help their son.
"We both knew that this was going to be a journey," Holly said. "It was going to be a fight and we knew we had to roll up our sleeves and get to work."
The two spent every day doing their best to help RJ and immediately immersed him in therapies that made all the difference in the world in his growth. Now at 18 years old, he can speak. He has friends. He has a job. He is accomplishing all the things doctors said RJ would never do.
Instead of letting autism control his life, RJ pushes through the hard times and, along with his family, has become a major advocate. Initially for the Peetes, speaking out about the diagnosis was nerve-wracking, but they all knew sharing their experiences with autism could help others dealing with it as well.
It also helped that a few familiar NFL figures inspired them to take action.
"When we got the autism diagnosis, we knew we had to advocate but it took a while," Holly said. "It was scary talking about our son in public. Did we want him to be the poster boy of autism? There really weren't very many other well-known or celebrity parents who were talking about their kids, but there were a couple and coincidentally they were in the NFL, Dan Marino and Doug Flutie. The way they talked about their children was so inspirational to Rodney and me. We've had the chance to tell both of them that they are the reason we felt comfortable having this public conversation, spreading awareness and helping others. Leave it to some quarterbacks to make a difference."
Rodney and Holly's lives were forever changed the day RJ was diagnosed with autism, and they will never take for granted the odds their son has beaten and all he has achieved.
"To see RJ grow like this and be comfortable in his own skin and understand who he is and his worth and be able to share that with others, it's beyond our wildest dreams looking back to when he was first diagnosed," Rodney said. "So, we're proud of him every single day and the way he has not only advocated for himself but now for others is truly amazing."