Eagles fans have been called crazy so many times that it's become cliché.
But for one Eagles fan to label another Eagles fan crazy ... during Dallas week?
The historic rivalry between the Eagles and the Cowboys has been long documented. The passion that builds up in the week leading up to a game against Dallas reaches a fervor pitch. It is not a typical regular season game. It brings out the best in Eagles fans.
Which is why it's all the more amazing that Stevie Rite was told by many of his fellow Eagles fans to turn it down a notch in the days leading up to the Dec. 16 game against the 'Boys in the 2007 season. Sure, the Eagles were not headed for the playoffs and the Cowboys had all but wrapped up homefield advantage throughout the NFC playoffs. But it wasn't a time to cease being a fan.
"It's character. All the negativity that builds up, we (true fans) look right through that," said Rite. "Character his heart, it shows hope. It's such a great thing. We might be the minority, but only the strong survive. These people that burn their jerseys out in the streets and say they're not going to watch anymore, they were never a real fan to begin with. We're genuine."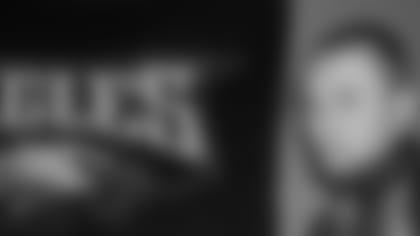 Musician extraordinaire and passionate fan Steve Rite almost gave up on his dream
Rite is an accomplished lyricist and music producer who is blessed with a wit for writing about the Eagles' upcoming opponents that combines the attitude and blue-collar work ethic of South Philly and creativity of a Penn scholar. He can accommodate any style, whether it's rock, hip hop or country. He started penning rhymes about the Eagles in 2006 which revolved around the Power of One campaign. Rite finally put his work out in the public eye on his MySpace page before last season and within hours of uploading his songs, "The Matt and Huggy Show" on 94 WYSP in Philadelphia played one his songs on the air. Before long, Stevie Rite had a weekly gig leading up to each game.
"The Eagles are always on my mind and they say that's what makes the best artist, (write about) something that's always on your mind, your lifestyle," said Rite. "I love the Eagles. They are my life. People say, 'How can you love a team? They're just a team.' To me, I love them. They are always on my mind. It's easy (to write about the Eagles) because I have such a passion for the Eagles. It's not something out in left field."
But fans were wondering how could he rip on the Cowboys as the Eagles were about to go into their house. Rite didn't care. He even said that if the Eagles were ever 0-15, he'd write a song before the last game of the season. And after the Eagles stunned the Cowboys, he had plenty of ammunition about Cowboys quarterback Tony Romo and his pop-star girlfriend Jessica Simpson for his song leading up to the Saints game - "Eagles Pride".
"How about that win over the Cowboys/And Romo getting nervous in front of his girl/I heard she didn't meet him after the game/And that night she called back (ex-husband) Nick Lachey"
The Riverside, NJ native grew up cheering for the home team like many fans did. But when his father, Steve, built a tile floor for the greatest defensive end in Eagles history, Reggie White, years ago a fanatic was born.
"That put a fire under me and got me going," said Rite after his father came home with a poster that was autographed by White.
When Rite was about seven, he started penning rhymes and performed at talent shows and for family and friends. He channeled his devotion to music when he was 15 and started renting space in a studio to record his rhymes and beats. In 2002, he transformed the guest bedroom at his house into a studio. State of the art it's not, there is no soundproofing and the microphone sits in Stevie's bedroom. He has to edit the sound of the door slamming out of the songs. In all, Rite has spent between $25-30,000 on his craft.
Now, he just needs a home for his Eagles music. "The Matt and Huggy Show" was cancelled when 94 WYSP changed its format. He wouldn't mind getting a chance to perform for the Eagles themselves.
"To have them acknowledge it and like it, that would be a dream come true," Rite said.