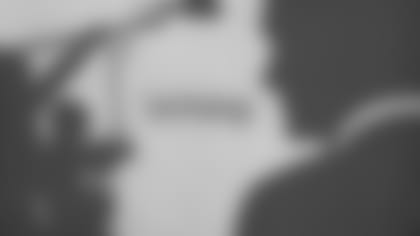 *App users, click "View In Browser" for the full Smithology experience.
When Smithology debuted early this season, I promised to ask the hard-hitting questions. So for this week's edition, I'm staying true to my word and literally asking the hard-hitting questions.
Football is a contact sport. If you play the game, you've got to keep your head on a swivel, knowing that a hit or a block could be coming at any moment.
Me, I've never played a snap of organized football, but I've taken my share of backyard hits. In little league baseball, I played catcher and got railroaded by someone much bigger than me when I was about 12 years old. That was enough for me. There were pretzels and water ice after the game, so I was okay.
To hear from the players who have actually suited up and taken their shots, I set out in the locker room to ask about the hardest hits they've ever dished out and the ones they've ever taken during their careers on the gridiron ...
Bennie Logan' Biggest Hit
Logan: In high school I was on kickoff return, and I just used to always peel back on people.
Alex Smith: How come you don't play kickoff return anymore?
Logan: It's a different kind of thing in the NFL. It's a different kind of speed than it was in high school.
Biggest Hit On Bennie Logan
Logan: In high school, I got cracked back on when I was a defensive end and I was running back to the ball. A guy came from behind, and I think it was a tight end or receiver that peeled back on me.
Allen: Things got a little heated during a practice once. It was O-line versus D-line, and I caught the center off-balance, and I just got him. There's not that much space on the line. Either that or like a screen in high school I'd say were my biggest hits.
Biggest Hit On Beau Allen
Allen: It happens all the time on screens. When you're a D-lineman, your eyes are looking right at the running back. The O-line will just peel back around and just be waiting for you and catch you. When we played Iowa my senior year (at Wisconsin), that's exactly what happened. I was really close to chasing down the running back, and when you're a defensive lineman, you always feel really athletic when you hawk down a running back like that, and some dude just cleaned my clock. I didn't even see him at all.
Brandon Graham's Biggest Hit
Graham: Michigan State, my senior year. Glenn Winston. Have you ever seen it? Hold on, I'm gonna show you, little man. (Opens YouTube on his phone)
AS: Do you keep it saved in your favorites?
Graham: Nah ... Man, all these advertisements.
Graham: (Shows the big hit) Sit down, boy. You gotta look at the replay, man.
AS: Can you take me through the play? How'd you get such a good read?
Graham: Because I knew that in the red zone they like to run that power to my right.
AS: Do you think he still remembers it?
Graham: Oh yeah, my cousin went to Michigan State too, and they have a baby together. They're going to get married soon. It's crazy. It's something we talk about all the time. Every time I want to mess with him, I tell him 'Don't make me go back to those days.'
Graham immediately picked out that big hit from his college days, but this special teams play from the 2014 season opener would also rank high on his list.
Biggest Hit On Brandon Graham
Graham: (It was in) Green Bay on a kickoff. (Mike) Daniels, the defensive end, that guy got me. It was the first year Chip got here. That was the first time I got hit to where I didn't want to play anymore.
Fletcher Cox's Biggest Hit
Cox: My freshman year in college. Some quarterback from Jackson State (Trae Rutland). It was like my first time ever rushing in an actual game. I can't even remember his name.
Biggest Hit On Fletcher Cox
Cox: DeMeco (Ryans) got me. Friendly fire. We were both running to the ball and he just ended up hitting me and taking me out. My rookie year against the Redskins. It caused a concussion (Cox was inactive the following week).
Najee Goode's Biggest Hit
Goode: Man, just go on YouTube and type my name in. I have one where I put somebody to sleep against Maryland. It was Davin Meggett. Then I saw him at the Senior Bowl, and I almost knocked him out again.
AS: Did you trash talk to him?
Goode: Oh yeah, you have to. I said a few things. I told him I was going to be here all day. I caught him on a screen pass right on the sideline. I knocked him out in front of everybody, all of his teammates.
Biggest Hit On Najee Goode
Goode: We were playing against the Patriots my rookie year. Tom Brady ran a screen play. I was running to go hit Shane Vereen and I didn't see the center. He just cleaned me flat back. It happened, but that was the only one I can remember.
Cedric Thornton's Biggest Hit
Thornton: Minnesota (in 2013) would definitely have to be up there. It was the guy with the ponytail, the running back (Matt Asiata). I know I had one in college too against Alabama, but I can't remember the running back.
Biggest Hit On Cedric Thornton
Thornton: The guy in Green Bay (last year). I had to take a play off. I was playing inside and I jumped offside so I thought the play was over. I was chilling and he came out of nowhere. Green Bay was talking about it. It hurt my feelings.
Bryan Braman's Biggest Hit
AS: Do you remember the hardest hit you've ever given out on a football field?
Braman:  It was the Tennessee Titans (in 2011). It wasn't the no-helmet hit, but there was an offensive lineman that was part of the wedge, and I came down and knocked him clean out. They had to cart him off the field.
Biggest Hit On Bryan Braman
Braman: It was also my rookie year, against the Miami Dolphins. On a punt return, Jacoby Jones was going up the sideline and I blocked two people at once. De-cleated both of them. He got up and he told me he was going to get me back for that. I told him 'Good luck,' and it wasn't but two special teams plays later, I was seeing nothing but cleats in the sky.
DeMarco Murray's Biggest Hit
While I didn't have the chance to ask Murray about what was the biggest hit that he ever dished out, it very well could be this play from the 2013 regular season finale against the Eagles. Sorry, Damion Square.
Well for one thing, if players have a big hit video on YouTube, they know it exists and are more than happy to tell you all about. Second, Brandon Graham refers to me as "little man," and rightfully so. Also, the biggest hit in his NFL career came against a soon-to-be family member.  Meanwhile, Bennie Logan used to dominate on kickoff returns as a high schooler. 
Until next week, Fly, Eagles, Fly.