The 92nd East-West Shrine Game takes place next Saturday in St. Petersburg, Florida (3 p.m., NFL Network). This college all-star game has produced current Eagles such as guard Brandon Brooks and safety Rodney McLeod among others. PhiladelphiaEagles.com will be on site to cover the practices starting on Monday. Here's a preview of the players to watch on the offensive side of the ball.
Top of the Heap: Zach Terrell (Western Michigan)
Historically, the group of quarterbacks at the Shrine Game is not a star-studded one in terms of NFL prospects, and this year is no different. All six of these passers have distinct flaws in their game, but it's Terrell who stands out the most to me. Sure, he was helped by the fact that he had a stud receiver in Corey Davis and a future NFL lineman in right tackle Taylor Moton, but I truly believe that if Terrell were a couple of inches taller (listed 6-1, 210 pounds) and threw the ball a little bit better (he's a marginal arm talent) he would be a mid-round prospect.
The senior throws with consistent accuracy in the short-to-intermediate areas, does a nice job getting through his progressions quickly and flashes the ability to operate in a muddy pocket to deliver the ball downfield. Those are traits that can allow you to stick on the back end of an NFL roster, and I think that is Terrell's future in the league.
Practice Standout: Wes Lunt (Illinois)
All six of these quarterbacks are stacked relatively close together, so there's an opportunity for all of them to shine this week. Cincinnati's Gunner Kiel probably has the best arm of the group, so that could bode well for him in practice, but keep an eye on Lunt as well. The senior started his career at Oklahoma State before transferring closer to home. Lunt has NFL size and looks the part of a classic dropback quarterback. He displays good touch to all areas of the field, and if he can prove to evaluators that he has enough arm talent to stick in the NFL he has an outside shot at the late rounds of this draft.
Most Productive College Player: Nick Mullens (Southern Miss)
Terrell is the most productive of this group with over 12,000 yards and 96 touchdowns in his career as a passer, but Mullens isn't too far behind. The senior from just outside Birmingham, Alabama threw for over 11,000 yards and 87 touchdowns in three-and-a-half years as a starter for Southern Miss. He has limited physical tools and had the benefit of playing in a strong system, but with an above-average release and solid accuracy, especially in the short part of the field, Mullens has a solid résumé based off of his career numbers.
Best Story: Gunner Kiel (Cincinnati)
If you can say one thing about Kiel's college career, it certainly wasn't boring. Considered the top high school quarterback in the entire country in 2011, the Indiana native initially committed to LSU before switching to Notre Dame late in the process. He spent one year in South Bend before transferring to Cincinnati, where he started 26 games in three years. Kiel started just three games for the Bearcats this fall, and has had injury issues throughout his career, but I'll be interested to see what the former big-time recruit shows in person down in St. Petersburg.
Philly Connection: Alek Torgersen (UPenn)
A three-year starter who called Philadelphia's Franklin Field home during his career with the Quakers, Torgersen has solid size at 6-3, 230 pounds. He was a two-time first-team All-Ivy League player, and has a quick release to go with quick feet and solid touch to all areas of the field. His physical tools aren't outstanding, and he'll need time to become accustomed to the speed of the NFL game if he makes it through Training Camp. This week, however, provides Torgersen a good opportunity to prove himself against a higher level of competition.
Rest of the Pack: Cooper Rush (Central Michigan)
Top of the Heap: De'Veon Smith (Michigan)
He's not going to be a first-round pick, but Smith is one of my favorite players in this draft even though he doesn't necessarily project as a starting ball carrier in the NFL. The big question with the fourth-year senior is his overall level of athleticism. Smith has natural power, a very competitive and physical running style, and the ability to impact third down. Smith is a reliable pass catcher, but more importantly he's one of the best pass protectors at the running back position that I've ever personally evaluated. Smith has good vision, is a hammer between the tackles at just under 6-0, 229 pounds and profiles as a serviceable backup in the NFL.
Practice Standout: Elijah McGuire (Louisiana-Lafayette)
McGuire is a bit undersized at 5-9, 204 pounds, but he has some dynamic qualities that I believe will help him stand out among some of his peers at this game. He arrived on campus as a two-sport athlete, doubling as a point guard for the Ragin' Cajuns' basketball team, where his athletic ability was put on great display and further carried over to the gridiron. McGuire was one of two active players in the NCAA with 3,000 yards rushing and 1,000 receiving. He burst onto the scene as a sophomore, winning the Sun Belt Player of the Year and Offensive Player of the Year honors. After nearly entering the 2016 NFL Draft, McGuire chose to go back to school and finish his degree. He profiles best as a potential matchup problem on third down for an NFL offense with his athletic background.
Most Productive College Player: Marcus Cox (Appalachian State)
Elijah McGuire was actually the most productive of this group with over 4,300 yards and 42 touchdowns throughout his career, but Cox is right behind him. The senior has a good feel for the zone run game and is a strong runner between the tackles, showing solid vision and the contact balance to be effective as a reserve runner in the NFL.
Best Story: Dare Ogunbowale (Wisconsin)
I'm a sucker for former walk-on players at these games because you always see players who overachieved and earned their place. Self-made players litter NFL rosters all over the league, and Ogunbowale is a perfect example of that type of player. Ogunbowale began his career as a non-scholarship athlete out of Milwaukee. He worked with the defense as a cornerback. The 5-11, 199-pound Ogunbowale made the move to running back and was the Badgers' leading rusher in 2015. He continued to make an impact on special teams, and has the potential to develop into a viable No. 2 or No. 3 option in an NFL backfield. Ogunbowale also comes from a good gene pool. His mother was softball player at DePaul University, while his sister was a high school All-American basketball player who ended up at Notre Dame.
Philly Connection: Joe Williams (Utah)
Williams took a bit of a backwards road to Utah. He grew up in Allentown, Pennsylvania not far from Philadelphia. After graduating from Emmaus High School, he went to Fork Union Military Academy to get his grades in order and more visibility. He ended up at UCONN on scholarship, but after one season he ended up at ASA College in Brooklyn. From there, he traveled west to Utah, where he was set to be the starting running back entering his senior year. After a tough couple of weeks to start the season, the coaching staff opened up the running back competition. Williams retired in September, citing a lack of desire and nagging injuries as his reasons for stepping away from the game.
After a few weeks, and multiple injuries in the Utes' backfield, Williams rejoined the team after some coercing from the coaching staff and lit the world on fire. In his first three games back in the lineup, Williams carried the ball 98 times for 683 yards and six touchdowns thanks to his explosive short-area burst and overall athletic ability. He will have questions to answer with his part-time retirement in the rear-view mirror, but Williams has a good opportunity down at the Shrine Game to further prove himself.
Rest of the Pack: I'Tavius Mathers (Middle Tennessee State)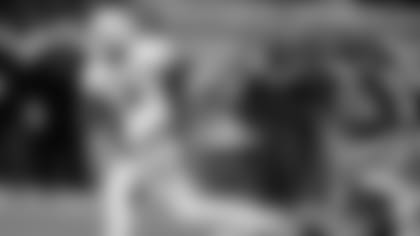 Top of the Heap: Stacy Coley (Miami)
Coley (above) may never be a featured starter on the outside at the next level, but he projects well to the pro game with his abilities as a route runner paired with his top-end speed and quality ball skills. A starting gunner on punt coverage who has also made an impact as a returner with the Hurricanes, Coley projects best as a slot receiver who will be active every week because of his well-rounded skill set.
Practice Standout: Austin Carr (Northwestern)
A third-team All-America and first-team All-Big Ten pick this year, Carr has NFL size at 6-1, 195 pounds and transitions really well inside, a position he dominated with the Wildcats. A former walk-on who didn't see action until his junior year, Carr has solid quickness but he wins with his skill as a route runner and uber-reliable hands. The redshirt senior made contested grab after contested grab throughout his final season, and that consistency at the catch point will serve him well as he transitions to the NFL. I expect him to stand out this week in practice because of his ability to win in the "big man's" game in jump balls as well as the "small game" getting in and out of breaks in those one-on-one drills.
Most Productive College Player: Gabe Marks (Washington State)
Marks is as productive as you can be for a college receiving prospect. With 316 catches, over 3,400 yards and 37 touchdowns in his career in head coach Mike Leach's high-powered "Air Raid" offense, the senior posted video game numbers throughout his career. He projects best as a slot receiver in the NFL thanks to his size (6-0, 180 pounds), reliable hands and solid route-running abilities.
Best Story: Trey Griffey (Arizona)
Griffey is the son of MLB Hall of Famer Ken Griffey, Jr. and a one-year starter under Rich Rodriguez. Griffey is a proven special teamer for the Wildcats who gives good effort as a blocker but needs refinement in a lot of areas at the wide receiver spot. This will be a big week of practice for the senior from Orlando, Florida as he tries to prove that he can be an NFL Draft pick. He was already chosen in the Major League Baseball Draft by his father's Seattle Mariners.
Philly Connection: Jalen Robinette (Air Force)
Back in 2008, the Eagles signed an undrafted free agent wide receiver out of Air Force by the name of Chad Hall, who ended up playing for three years in Philadelphia before moving on to San Francisco, Kansas City (where Doug Pederson was the offensive coordinator) and Jacksonville. This year's Air Force receiver is Robinette, who was very productive for the service academy throughout his career thanks to his size (6-3, 217 pounds), strength and ability to box out defenders at the catch point.
Rest of the Pack: Quincy Adeboyejo (Ole Miss), Billy Brown (Shepherd), Kermit Whitfield (Florida State), DeAngelo Yancey (Purdue), Tony Stevens (Auburn), Karel Hamilton (Samford)
Top of the Heap: Eric Saubert (Drake)
This is a very deep tight end class overall, which means there's a handful of quality tight end prospects at this game who should hear their names called on draft weekend. Saubert tops the list. The redshirt senior comes from a non-scholarship FCS school, so this will be a huge chance for him to prove himself against better competition than what he faced on a weekly basis in college. Saubert has an NFL body at 6-5, 246 pounds, is a very natural catcher of the football and above all else he is competitive. That relentless nature shows up as a route runner (where he does need some fine tuning), at the catch point, with the ball in his hands and as a blocker where he dominated at a lower level of competition. In most years, I think Saubert would be getting buzz in the middle rounds, but it wouldn't shock me at all if he ended up going later in this class because of the depth at the position.
Practice Standout: Anthony Auclair (Laval)
I actually think Shepherd's Billy Brown (listed above as a receiver) projects best as a tight end and will get to show off his unique skill set against defensive backs in one-on-one drills, but you can't forget about Auclair. At 6-5, 254 pounds, he has an intriguing body type for the tight end spot and, like Shepherd, played receiver in 2016 up at Laval in Canada. The draft-eligible Auclair has pretty good athletic testing numbers on his résumé, and his versatility as a pass catcher and a tenacious blocker could go a long way to letting him stand out much like former Canadians Laurent Duvernay-Tardif and David Onyemata, using the Shrine Game to vault themselves into the NFL.
Most Productive College Player: Michael Roberts (Toledo)
At 6-5, 271 pounds, Roberts has an NFL body and he uses his large frame to go up and win in jump ball scenarios. He's not an explosive athlete, and I do want to see him improve as a blocker, but I think Roberts can show up throughout the week in practice because of his ability to win in contested situations.
Best Story: Colin Jeter (LSU)
There aren't as many stories as cool as Jeter's in college football. As a senior high school football player in Texas, he got an offer from the Air Force Academy and was headed down the path to become a civil engineer in the military. He was three weeks into basic training in Colorado Springs when he got the call no child wants to hear - his mom was diagnosed with breast cancer. Jeter immediately left the Academy and went home, choosing to play football at nearby Kilgore Community College so that he could be close to his family.
While working out after his freshman season, an LSU assistant coach caught wind of Jeter, and soon after he earned a scholarship offer from Les Miles. Baton Rouge is just a few hours' drive from Jeter's hometown, and with his mom in remission, Jeter went on to become a two-year starter for LSU. He actually replaced current Eagle Dillon Gordon in the starting lineup after he went down with an injury in 2015. Like Gordon at LSU, Jeter is more of a blocker than a receiver, and when he gets stronger he'll fit in nicely as a backup in the NFL for a team that is focused heavily on the run game.
Philly Connection: Scott Orndoff (Pitt)
Orndoff has been one of the tight ends who has flown most under the radar this season, his first full year as a starter for the Panthers. At 6-5, 255 pounds, he has an NFL frame and speed to win down the seam. Pitt loved to get the ball in his hands at every level of the field, and he made people pay by averaging 15.5 yards per catch during his career. Orndoff can line up at a number of spots and win, and I like his potential as both a receiver and as a blocker. He also comes from a football family - his dad played at California (PA) before playing professionally in Philadelphia for the Stars of the USFL.
Rest of the Pack: Taylor McNamara (USC), Blake Jarwin (Oklahoma State)
Top of the Heap: Will Holden (Vanderbilt)
Holden was a late addition to the roster, but I think he's a player who will stick in the NFL for a long time. He's got NFL size at 6-7, 312 pounds, has played both tackle spots as well as inside at guard as a three-year starter for the Commodores and has really strong hands at the point of attack. He's not the greatest athlete in the world, and he is prone to getting beaten by explosive edge rushers around the corner, but Holden reminds me a bit of longtime NFL player Andrew Whitworth. It's not always pretty, but he's an effective lineman who could surprise NFL teams this week in St. Petersburg.
Practice Standout: Kyle Kalis (Michigan)
A four-year starter for the Wolverines at guard, Kalis is a battle-tested veteran with the mentality and technical skill set needed for a lengthy NFL career. Offensive linemen tend to stand out best in these games during one-on-one pass protection drills, and I think Kalis is further along as a pass protector than he is as a run blocker at this stage of his career. I expect his lateral agility, strong anchor and sound technique to serve him well in practice against the interior pass rushers on the East squad.
Best Story: Tobijah Hughley (Louisville)
A former walk-on from nearby Lexington, Kentucky, Hughley spent two years in the shadows for the Cardinals before being thrust into the spotlight. In head coach Bobby Petrino's first spring practice, he made the decision to promote Hughley to a starting role, shifting a longtime starter to guard to make room for the 6-3, 291-pound sophomore. He responded by starting every game for the next three seasons, finishing his career as one of the consummate leaders on the team. From walk-on to captain? That's a story anyone can get behind.
Philly Connection: Gavin Andrews (Oregon State)
Andrews' teammate, Sean Harlow, was scheduled to participate in this game, but was forced to bow out due to injury. That is something Andrews himself is accustomed to. The senior missed his entire 2015 campaign due to injury, dealt with ankle problems during his third year on campus and missed a month with mono as a true sophomore in 2013. Andrews played 10 games this season as a redshirt senior, and throughout his career has played at nearly every offensive line spot. That versatility will serve him well in the NFL, something he can learn from his former teammate, Eagles 2016 third-round pick Isaac Seumalo.
Rest of the Pack: Lucas Crowley (North Carolina), Joe Scelfo (N.C. State), Cameron Tom (Southern Miss), Alex Kozan (Auburn), Adam Pankey (West Virginia), Dieugot Joseph (FIU), Erik Magnuson (Michigan), Jonathan McLaughlin (Virginia Tech), Dan Skipper (Arkansas), Chase Roullier (Wyoming), Zack Johnson (North Dakota State), Erik Austell (Charleston Southern), Avery Gennesy (Texas A&M), Evan Goodman (Arizona State), Storm Norton (Toledo), Victor Salako (Oklahoma State), Sam Tevi (Utah)
Fran Duffy is the producer of "Eagles Game Plan" which can be seen on Saturdays during the season. Be sure to also check out the "Eagle Eye In The Sky" podcast on the Philadelphia Eagles podcast channel on iTunes. Prior to joining the Eagles in 2011, Duffy was the head video coordinator for the Temple University Football team under former head coach Al Golden. In that role, he spent thousands of hours shooting, logging and assisting with the breakdown of the All-22 film from the team's games, practices and opponents.