Our coverage of the 2017 Senior Bowl (Saturday, 2:30 p.m., NFL Network) is underway with a look at the top defensive prospects below. Just last year, Jalen Mills showed at the Senior Bowl why he was worthy of being drafted. Who will be on the team's radar after this week?
Top of the Heap: Dawuane Smoot (Illinois)
A number of big-name pass rushers are not in Mobile this week including Auburn's Carl Lawson, Michigan's Taco Charlton, and UCLA's Takkarist McKinley, but Smoot is right up there with them. The two-year starter for the Illini arrived on campus as a 230-pound track guy, and now is a skilled pass rusher who has a number of moves in his repertoire to go along with a very good first step off the line. If Smoot isn't the best player along the defensive line, then I expect it to be ...
Practice Standout: Daeshon Hall (Texas A&M)
This guy was much more than the "starter opposite Myles Garrett" on Texas A&M's defense. Hall has length, knows how to use his hands, is a quality run defender, and a high motor. He's not as explosive as Smoot off the edge, but he's a savvy, skilled pass rusher and a competitive talent who I expect to see making plays in one-on-one drills all week during practice. I expect a few hustle plays that stand out to onlookers during team drills as well.
Most Productive College Player: Keionta Davis (Tennessee-Chattanooga)
Davis posted 31 sacks in 27 starts for Tennessee-Chattanooga. He may not have the athletic upside of an NFL starter, but he knows how to use his hands, competes at a high level, and displays a high motor consistently whenever I watch him play. Davis more than held his own against Alabama and the All-SEC talent Cam Robinson. I'm excited to see how Davis performs at the Senior Bowl where he'll be pitted against a number of quality blockers.
Best Story: Tyus Bowser (Houston)
Bowser is undersized, but makes up for it in other ways. The Texas native was very productive for the Cougars the last two seasons, and his instincts in zone coverage stood out to me as a 3-4 outside linebacker. Bowser played two seasons for the UH basketball team earlier in his career, and that hoops background shows up on the football field. He is a high-motor player with athletic traits you want on the perimeter, as he chases down quarterbacks from sideline to sideline.
Philly Connection: Derek Rivers (Youngstown State)
The FCS All-America has the chance to impress NFL decision-makers in Mobile. He's got solid flexibility turning the corner and displays the motor to chase plays down from the back side. He needs to get stronger and further improve his pass rush moves, but he's got the potential to turn into a solid backup in the NFL. Rivers grew up in North Carolina, just a short 90-minute drive from Eagles legend Mike Quick's hometown. He also attended Fork Union Military Academy, the prep school Quick went to before heading off to N.C. State.
Rest of the Pack: Ryan Anderson (Alabama), Vince Biegel (Wisconsin), Tarell Basham (Ohio), Jordan Willis (Kansas State), Josh Carraway (TCU), Carroll Phillips (Illinois)
Top of the Heap: Eddie Vanderdoes (UCLA)
We'll see how much Vanderdoes shows up during pass rush drills, but that's not his forte. A strong run stuffer with a nose for the football, the junior is stout at the point of attack, plays with a nasty disposition, and is a plug-and-play option up front in that role. Like his former teammate Kenny Clark (a first-round pick for Green Bay), it wouldn't shock me at all to see Vanderdoes starting as a rookie.
Practice Standout: Jaleel Johnson (Iowa)
A two-year starter for the Hawkeyes, Johnson shows flashes of dominance in ways very similar to Kawann Short when he came out of Purdue. Short was very inconsistent throughout his college career, but his highs were so intriguing that he was viewed as a huge "boom or bust" type of player. Short came to the Senior Bowl, became a third-round pick, and later a big-time disruptor for the Carolina Panthers. Johnson could have a similar fate, as a player with his blend of strength and athleticism is hard to find in this class. It would not surprise me if he or Montravius Adams from Auburn was the star of the show this week among the interior defensive linemen.
Most Productive College Player: Chris Wormley (Michigan)
The beauty with Wormley is that he can play a number of positions in the NFL, whether it's outside as a defensive end in a 4-3, a defensive end in a 3-4, or even potentially inside as a defensive tackle. He's got length, above-average athleticism for a near 300-pound man, and he knows how to use his hands to get after the quarterback and make plays in the backfield, which is something he did often throughout his college career. The Toledo, Ohio native racked up 31.5 tackles for loss and 17.5 sacks as a collegian, both high marks for interior defensive linemen.
Best Story: Larry Ogunjobi (Charlotte)
It's pretty cool when you graduate school as one of the greatest players in the history of your program. But how often these days do we see a prospect who is considered the FIRST great player at his program? That's certainly the case with Ogunjobi, a four-year starter at nose tackle for the upstart Charlotte football program. The Greensboro, North Carolina native joined the team at its inception. Despite starting 46 games in four seasons, he's still a raw product, having never played organized ball until his sophomore year of high school. A high-motor kid with good athleticism, it wouldn't shock me if we hear Ogunjobi's name called more than a few times this week during drills.
Philly Connection: Tanoh Kpassagnon (Villanova)
Like Wormley, Kpassagnon (pronounced "Pass-N-yo") has great size and position versatility. He has rare length for the position, coming in at almost 6-7 and 300 pounds, but his movement for a guy that big is what stands out. The two-year starter grew up in Ambler, just outside Philadelphia, and he'll need time to get stronger and further develop his body. He could be a key part of a defensive line rotation at the next level in a few years.
Rest of the Pack: Montravius Adams (Auburn), Ryan Glasgow (Michigan), Stevie Tu'ikolovatu (USC), Isaac Rochell (Notre Dame), Carlos Watkins (Clemson), Dalvin Tomlinson (Alabama), Tanzel Smart (Tulane)
Top of the Heap: Haason Reddick (Temple)
With several of the big names at linebacker opting out of this event in an already-thin group, it's fitting that a college defensive end is actually at the top of my list here. Reddick is no slouch, though. Reddick is a former walk-on who came to the team as a cornerback before moving to strongside linebacker and eventually defensive end. Reddick is too small to play on the line of scrimmage to the NFL, but his athleticism and high motor will fit well at the linebacker spot. How will he adjust to the new role? It's a position he only played sparingly throughout college? That's the question the Camden, New Jersey native has to answer this week.
Riser of the Week: Harvey Langi (BYU)
Linebackers are typically placed in one of two groups. Either they're a thumper inside between the tackles or they're a more athletic, rangier player who can work sideline to sideline. It's not often you get one who can do both. When you do, that player often turns into a three-down player at the next level (one of the reasons why I liked Jordan Hicks so much out of Texas). Langi has the potential to be one of those guys. He's got good size at 6-2, 249 pounds, and he likes to bang down in the trenches. He also has a high motor and the athleticism to cover a ton of ground, and play in coverage. Langi is a converted running back who will be a bit older than most rookies, but he is a developmental starter who could open eyes in Mobile.
Most Productive College Player: Connor Harris (Lindenwood)
Harris is one of the most productive college football players ... ever. The Missouri native shattered the NCAA record with 633 total tackles in 48 starts. The high school quarterback and safety jumped right into the starting lineup as a linebacker in his freshman year and never looked back. The small-school standout will have to prove if his physicality and high motor will carry over to the NFL level at this event.
Best Story: Ben Boulware (Clemson)
Most college football fans are aware of Boulware as one of the emotional leaders of the National Champion Clemson Tigers, as he's been incredibly productive in just two years as a starter. He was named first-team All-ACC in both seasons. You may not know that he was an all-state baseball player in high school as a junior, and his brother was drafted by the Cincinnati Reds. But the best story about Boulware may be with his newest tattoo. After an ESPN analyst called Clemson's linebackers the "Achilles heel" of the defense leading into the title game, Boulware got some ink done on his own Achilles with a picture of the National Championship Trophy. He has always played with a chip on his shoulder, and now he plays with one on his leg too.
Thank you, I'll be here all week in Mobile.
Philly Connection: Alex Anzalone (Florida)
Anzalone grew up about 90 minutes outside of Philadelphia in Wyomissing, Pennsylvania, the hometown of my podcast co-host Ross Tucker. Anzalone declared for the draft despite starting only 10 games in three seasons. With two season-ending injuries under his belt, the 6-3, 241-pound linebacker has plenty to prove in Mobile now that he's healed from his broken leg that ended his season this past fall. Anzalone has physical tools that you want at the position, but does he have the instincts to hang with the big boys? That's a question he'll need to answer this week.
Rest of the Pack: Duke Riley (LSU), Ben Gedeon (Michigan), Jordan Herdman (Simon Fraser)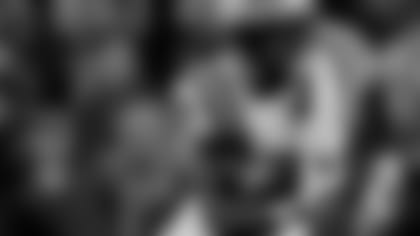 Top of the Heap: Tre'Davious White (LSU)
I've been banging this drum for a while, but White (above) is one of my favorite players in this entire draft class in what is slated to be a legendary group of corners entering the NFL this year. A four-year starter in Baton Rouge, White has played inside, outside and at safety for LSU. He has been very productive despite being one of the top cover men in the country. He's a bit undersized at 5-11, 195 pounds, but he's instinctive, has good ball skills, and is a very competitive tackler. Look for him to flash all week in Mobile.
Practice Standout: Cam Sutton (Tennessee)
Along with White, I expect Sutton to really flash this week. I'm higher on the former Tennessee star than most analysts because I see a player who, like White, has all the traits you want in an NFL defensive back. He's instinctive, has very good ball skills, and is a competitive man-to-man defender. Sutton has to improve as a tackler, but since there's no tackling in practice I don't expect that to be an issue for the four-year starter. He could excel inside or outside at the next level.
Most Productive College Player: Desmond King (Iowa)
Many viewed King as a potential top-10 pick entering the season, and while I don't think that will happen I really like him as a prospect. At 5-10, 201 pounds, he's built like a slot corner, but is capable of lining up on the outside as well in the NFL. King is a good run defender, is a good athlete, and has the ball skills you want down the field, as evidenced by his 47 ball disruptions (14 interceptions and 33 pass breakups) during his four-year career for the Hawkeyes.
Best Story: Brendan Langley (Lamar)
In a stacked cornerback class, I don't expect Langley to hear his name called before the latter part of Day Two at the earliest, but at 6-0, 192 pounds, and 4.4 speed he is going to open eyes. A former four-star recruit out of high school, Langley started his career at Georgia and bounced around from offense to defense and back again before eventually transferring to Lamar, where he started as a receiver before making the permanent switch to cornerback. The move seems to have panned out for him, as he finished his career with seven interceptions, including six this past season as a senior.
Philly Connection: Chidobe Awuzie (Colorado)
Awuzie is another corner who analysts are very high on. At 5-11, 195 pounds, he has scheme and position versatility (his coaches think he can start at any spot in the secondary), and his instincts are what help set him apart from some of his peers. How is this San Jose, California native who went to school in Boulder, Colorado connected to Eagles history? They're not blood relatives, but Awuzie's godmother's nephew is none other than former Eagles cornerback Nnamdi Asomugha.
Rest of the Pack: Marquez White (Florida State), Jourdan Lewis (Michigan), Rasul Douglas (West Virginia), Corn Elder (Miami), Damontae Kazee (San Diego State), Ezra Robinson (Tennessee State)
Top of the Heap: Rudy Ford (Auburn)
There's two players here who really stand out to me at this position, and they're the first two I list in this section. The reason I rate Ford above Justin Evans is that I think he's a more complete run defender. I think both players have the ability to do anything you ask an NFL safety to do in today's game. Whether it's play single high in the deep part of the field, line up over a tight end, fill the run downhill in the alley, or play in underneath coverage, Ford can do it. His toughness, athleticism, and versatility really piqued my interest when I watched him this season.
Riser of the Week: Justin Evans (Texas A&M)
Evans is similar in a lot of ways to Ford. He's just as athletic and rangy, has solid ball skills, understands his role in the run fit and has a high motor. His biggest issue is that he misses some tackles due to poor technique in the alley. He's a tough player, but at practice in Mobile he won't have to worry about tackling so his athleticism and ball skills can take over in the secondary. I expect both of these players to stand out.
Most Productive College Player: Nate Gerry (Nebraska)
At 6-2, 216 pounds, Gerry has good size for the safety spot and backed that size up with his production. With 273 tackles in his four-year career for the Huskers, Gerry was rewarded as a third-team All-America this season, his third straight year with four interceptions. Gerry is a really good run defender and a smart, tough, physical presence on the back end. The biggest concern with Gerry is his range in the deep part of the field, a question he'll have to answer this week at practice.
Best Story: Josh Harvey-Clemons (Louisville)
A former big-time recruit who many services ranked as a linebacker out of high school, Harvey-Clemons began his career in the SEC with Georgia. As a freshman starter with the Bulldogs, JHC used his rare size (6-4, 225 pounds) for the position down in the box as a run defender, and at the catch point where his length and ability to disrupt the football in the air came through in a big way. He later transferred to Louisville after some off-field concerns, but Harvey-Clemons is going to be an interesting narrative to follow as one of the more polarizing prospects in this draft.
Philly Connection: Lorenzo Jerome (St. Francis)
It's a couple of hours away from Philadelphia, but St. Francis University is home to one of the late additions to the Senior Bowl roster in Jerome, a 6-0, 195-pound defensive back out of Florida. Jerome was viewed as a late-round pick by scouts entering the season, and he'll have a chance to prove why he could be selected higher than that down in Mobile.
Rest of the Pack: John Johnson (Boston College), Obi Melifonwu (UConn), Jordan Sterns (Oklahoma State), Rayshawn Jenkins (Miami)
Fran Duffy is the producer of "Eagles Game Plan" which can be seen on Saturdays during the season. Be sure to also check out the "Eagle Eye In The Sky" podcast on the Philadelphia Eagles podcast channel on iTunes. Prior to joining the Eagles in 2011, Duffy was the head video coordinator for the Temple University Football team under former head coach Al Golden. In that role, he spent thousands of hours shooting, logging and assisting with the breakdown of the All-22 film from the team's games, practices and opponents.