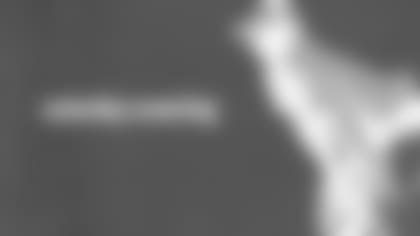 Well, this is it, the grand finale of the 2015 college football season. The two best teams in the country square off Monday night in the National Championship Game, and with two extremely talented teams it should be an outstanding game. Before we get to the key matchups, you should know we've got all of your bases covered when it comes to everything surrounding the upcoming NFL Draft. Our Journey to the Draft Podcast is now in full swing, as Chris McPherson and I reflected on some of last weekend's big matchups and look ahead to some of the top underclassmen declaring for the draft around the country. Plus, this week on the College Draft Podcast with Ross Tucker, Ross and I talked in-depth about this game as well as the top Ohio State players who have ended their college careers for good. Enough of all that though, let's look at five of the most pivotal matchups for the title game.
1. Clemson QB Deshaun Watson vs. Alabama LB Reggie Ragland
When Alabama thumped Michigan State on New Year's Eve, a lot of the Crimson Tide's success came from that outstanding front seven being able to shut down the Spartans' run game. I've gone on record many times expressing my feelings about linebacker Reggie Ragland and what he brings to Nick Saban's defense. Ragland is instinctive, physical, tough, a great tackler and I think he has the ability to play sideline-to-sideline at the NFL level. The senior captain led the team in tackles, and even with the monstrous defensive line in front of him, he has shown the ability to take on blocks, shed them and flow to the football. If Alabama is going to win this game, Ragland is going to be one of the reasons why.
Alabama's success in the semifinal game against Michigan State centered on making that team one-dimensional. Running back Larry Scott, the hero of the Big Ten Championship Game for Michigan State, was held to just 8 yards on the ground, as the Spartans averaged just 1.1 yards per carry on the day. This Clemson attack, however, is completely different than what the Tide saw against Michigan State, and a lot of that has to do with the Heisman finalist Deshaun Watson. The true sophomore quarterback ran for over 1,000 yards this year, averaging 5.5 yards per carry. The Tigers, much like the Ohio State team that beat Alabama a year ago in the playoffs, have an offense focused on speed, tempo and deception. The zone-read element will be a huge factor in this game, and whether it's Watson carrying the ball or running back Wayne Gallman, or any of the receivers that you'll see used on jet-sweep action throughout the night, the Alabama front seven's eye discipline will be put to the test.
2. Clemson RB Wayne Gallman vs. Alabama's Defensive Line
Watson is the engine that makes the Clemson offense go, but the redshirt sophomore running back, Wayne Gallman, is the name to watch when it comes to immediate NFL Draft potential. A punishing runner at 6-1, 205 pounds, Gallman has outstanding contact balance, meaning that when the first defender makes contact, he's able to almost always stay upright and keep moving. The ACC's second-leading rusher is big, strong and looks more decisive than he did a year ago as a freshman ball carrier. If Clemson is going to win this game, Gallman will need to fare better than his Michigan State counterpart did back on New Year's Eve.
The Alabama defensive line is the most physically imposing group in the country. Junior A'Shawn Robinson is a physical marvel at 6-4, 312 pounds, and much like Fletcher Cox here in Philadelphia he has the ability to thrive in either a one-gap or two-gap scheme. His combination of natural athleticism, explosive movement and overwhelming power makes him a tough matchup for anyone, and his motor never stops running, as you'll see him making stops out near the sideline at some point tonight. The bad news for Gallman is that the man responsible for blocking Robinson for most of the night will be true freshman Mitch Hyatt. It could be a long, long night for the first-year starter on the left side of the Clemson line.
On the other side, senior Jarran Reed arrived in Tuscaloosa in 2014 as a junior college transfer and he nearly declared for last year's NFL Draft. After taking some time to think about it, he chose to go back for another season and it's paid off nicely for him. The 6-4, 315-pound behemoth consistently controls the point of attack and disrupts the run game on a weekly basis for Saban's defense. Reed along with Robinson form perhaps the best duo of defensive line prospects in the nation. Don't forget about defensive lineman Jonathan Allen, though. Allen led the Tide with 12 sacks and 14.5 tackles for loss this fall, and his ability to line up anywhere along the line makes him very intriguing for NFL teams. It's possible that all three players could hear their names called within the first two rounds of April's draft.
3. Alabama RBs Derrick Henry and Kenyan Drake vs. Clemson's Defense
What Alabama has in the backfield is very difficult to defend if you're the Clemson defense, and it's not just because of the presence of the reigning Heisman Trophy winner, Derrick Henry, because senior Kenyan Drake is a matchup problem as well. Drake, who will be at the Senior Bowl later this month, is explosive, elusive and offensive coordinator Lane Kiffin likes to get him involved in the offense in a multitude of ways, as he touched the ball more than anyone in the offense not named Derrick Henry this fall (averaging 6.4 yards per touch).
Everyone knows what Henry can do to opposing defenses, as his sheer mass coming downhill at 6-3, 242 pounds (heavier than any running back drafted in the last five years) is tough for any defender to take on by himself. That's why I made this matchup all about the Clemson defense as a whole in defending the run.
The leading tackler for this Clemson unit is linebacker B.J. Goodson, who had mostly been a backup entering the season but with the exodus of talent from the Tigers' defense last offseason he was thrust into a starting role and has thrived, racking up 98 tackles, 14 tackles for loss and a pair of forced fumbles this season inside. Next to him is junior Ben Boulware, another playmaker at the second level of this defense and one of the reasons they are where they are today. One of the most fascinating players, however, is safety Jayron Kearse. The nephew of former Eagle Jevon Kearse, Jayron has rare size for the safety position at 6-5, 220 pounds, and while he was used more so in coverage than in the run game in games I've watched, he will certainly need to be a big part of stopping Henry tonight. Keep an eye out as well for defensive lineman Kevin Dodd, an underclassmen rumored by many to be entering the NFL Draft.
4. Alabama OT Cam Robinson vs. Clemson Edge Rusher Shaq Lawson
One player who many had heard about, but hadn't seen much of coming into the season was junior pass rusher Shaq Lawson for Clemson. Playing mostly behind Vic Beasley a year ago, the 6-3, 275-pound defensive end racked up 3.5 sacks and 11.5 tackles for loss in spot duty, having just one start on the season. This year, he started all 14 games and finished 12th in the country with 11 sacks, nearly doubling his tackle for loss numbers with a whopping 22.5 on the season. Unlike Beasley a year ago, Lawson beats tackles in a number of different ways, and with a little more junk in the trunk than the current Atlanta Falcon, he has an NFL body right now with the ability to wreck a game at any point. Lawson sprained his left MCL in the semifinal game against Oklahoma, however, and while he is expected to play he won't be 100 percent, unfortunately for the Tigers.
Lining up as the right defensive end, Lawson will see a large majority of his snaps against a former five-star recruit in true sophomore left tackle Cam Robinson. At 6-6, 326 pounds, Robinson started every game as a true freshman a year ago on the blind side, and repeated that performance this year, as he prepares to start his 29th consecutive game in his still very young career. He's obviously not draft-eligible at this point, but you will hear plenty about Robinson a year from now as we prepare for the 2017 NFL Draft, and this will be a game and a matchup that many people will point to over the summer when doling out their initial grades for one of the top players in the country next season.
5. Alabama WR Calvin Ridley vs. Clemson CBs Mackensie Alexander and Cordrea Tankersley
Speaking of talented underclassmen, after losing Amari Cooper in the 2015 NFL Draft many thought that the Tide would see a bit of a drop-off at the wide receiver position this season. Enter wideout wunderkind Calvin Ridley, who stole the show last week against Michigan State to the tune of eight catches, 138 yards and two touchdowns. Ridley won't be eligible until, gulp, 2018, but he seems destined to be the next edition of uber-talented SEC wide receivers. Look for senior quarterback Jake Coker to target Ridley early and often down the field in this matchup.
Charged with defending Ridley will be the pair of Clemson's talented underclassmen cornerbacks, Mackensie Alexander and Cordrea Tankersley. Many have hyped up Alexander as the season has unfolded, and for good reason, as the 5-11, 195-pound corner has a great combination of quickness and instincts that give him the potential to be a shutdown corner at the next level. Alexander, who has not yet declared for the draft but is rumored to do so, is seen as a potential Top 10 draft pick by some, and with the amount of man coverage they play in that defense it will be easy for teams to project his college tape to the pro game.
On the other side of Alexander is Tankersley, a player who until recently hadn't been rumored to be entering the draft, but our good friend Tony Pauline told us that it looks like he will join Alexander in doing so after the championship game. In the games I watched of Alexander early this season, Tankersley actually stood out to me on a number of occasions, including on a leaping interception against Louisville. At 6-1, 195 pounds, he has the size that teams covet at the position, and having a strong game against a talented group of SEC receivers will go a long way toward boosting his stock.
Fran Duffy is the producer of "Eagles Game Plan" which can be seen on Saturdays during the season. Be sure to also check out the "Eagle Eye In The Sky" podcast on the Philadelphia Eagles podcast channel on iTunes. Prior to joining the Eagles in 2011, Duffy was the head video coordinator for the Temple University Football team under former head coach Al Golden. In that role, he spent thousands of hours shooting, logging and assisting with the breakdown of the All-22 film from the team's games, practices and opponents.