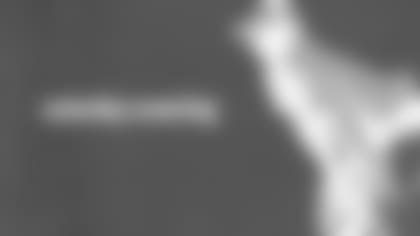 Week 5 of the 2016 college football is underway! There are a couple of HUGE matchups to enjoy not only because of playoff implications, but also some that could impact the conversation surrounding the next couple of NFL Drafts. This week on the College Draft podcast with Ross Tucker, I broke down all the best matchups from some of the top games of the week, but let's look at five more matchups that fans should keep their eyes on this weekend. Then, I'll highlight a prospect who is getting a lot of positive buzz in the media, and profile a small-school player to keep an eye on.
1. Louisville QB Lamar Jackson vs. Clemson Defense
*Memorial Stadium, Clemson, South Carolina - 8 PM - ABC *
Let's start with THE game of the week, as two Top 5 teams battle under the lights in the stadium Brian Dawkins called home during his four years in college. The Clemson Tigers welcome Louisville and red-hot quarterback Lamar Jackson to town. Jackson was one of the most productive players during the first month of the season. Jackson accounted for 25 touchdowns in the first four games of 2016 (13 passing, 12 rushing). The 6-3, 205-pound passer is everyone's early favorite for the Heisman Trophy. If he wants to inch closer to the award, a huge performance in a game like this will go a long way toward the final prize. Keep in mind that Jackson is just a true sophomore, so he is not eligible for the draft until 2018.
As usual, Clemson's defense will present a big test for Jackson. While it may not have the star power of years past (13 players drafted on defense alone in the last three years), but there's still a couple of big names to keep an eye on. A lot of people's eyes are drawn to senior linebacker Ben Boulware, but the player who excites me most is cornerback Cordrea Tankersley. At 6-0, 194 pounds, Tankersley has all the makings of a first-round pick at corner and a future NFL starter because of his size, speed, quickness, ball skills and instincts. The game where Tankersley really stood out to me last year was against Louisville, interestingly enough, on a leaping interception along the sideline. A repeat performance against a quarterback like Jackson, who has thrown an interception in each of his last three games, would do a lot to put Tankersley on the national radar.
2. Georgia RB Sony Michel vs. Tennessee LB Jaylen Reeves-Maybin
*Sanford Stadium, Athens, Georgia - 3:30 PM - CBS *
Keep an eye on this matchup because All-America candidate Nick Chubb (ankle) will not play after sustaining an injury last week against Ole Miss. Despite the fact that some view Chubb as a potential Top 50 pick (mainly because of his vision, quickness and physicality), the Bulldogs do have other horses in the backfield. They'd likely lean on junior Sony Michel, who has a slightly different skill set. His athleticism and versatility in space would likely be put on display against this Tennessee defense.
Regardless of who is in the backfield for Georgia, be sure to watch senior linebacker Jaylen Reeves-Maybin. While senior edge rusher Derek Barnett stole the show a week ago against Florida, Reeves-Maybin leads Tennessee's front seven with 20 tackles and a pair of tackles for loss on the season. He's undersized, but he's very athletic and very instinctive. His issue for the last couple of seasons has been finishing tackles, where his lack of bulk at under 230 pounds results in him bouncing off ball carriers in the run game. Still, Reeves-Maybin is one of the top linebackers in the country, and if you're watching this game he is certainly a player to keep a close eye on.
3. UNC WRs Ryan Switzer, Mack Hollins and Bug Howard vs. FSU CB Marquez White
*Doak Campbell Stadium, Tallahassee, Florida - 3:30 PM - ESPN *
North Carolina made it to the ACC Championship a year ago. Experts did not give the Tar Heels much of a chance against the Clemson Tigers, but they made it there due in large part to their offense with running back Elijah Hood and a triumvirate of receivers who helped lead the way. Between the hashes, Ryan Switzer has made most of the headlines as a quick, shifty slot man who excels in the return game as well. Switzer isn't a finished product yet, but the Tar Heels' leading receiver is as tough a cover inside as anyone in the country. On the perimeter, UNC has a pair of bigger receivers who can go up and get the football in contested situations. Bug Howard (6-3, 215 pounds) has solid ball skills and caught the game-winning touchdown last week for the Heels, while Mack Hollins (6-3, 205 pounds) is their best deep threat, averaging over 23 yards per catch.
When UNC has the ball, keep an eye on the wide side of the field, because that's where you'll find cornerback Marquez White for the Seminoles. Just under 6-0, 175 pounds, White was a true lockdown corner last year opposite of Jalen Ramsey, allowing just two catches of more than 10 yards in 2015 without giving up a touchdown on the season. The off-coverage corner has a pretty complete game because of his quickness, instincts and his feistiness in the run game. However, White had just one interception and two breakups a year ago, and has yet to register one of either tally so far through four games of this season. His questionable production on the ball will be a topic of conversation much like it was for Mackenzie Alexander a year ago. Something tells me White will be tested on Saturday afternoon, and I can't wait to see how he does.
4. Iowa TE George Kittle vs. Northwestern LB Anthony Walker
Kinnick Stadium, Iowa City, Iowa - Noon - ESPNU
When studying 2016 Senior Bowl standout Henry Krieger-Coble (who I really liked), I couldn't help but notice one of the other tight ends on the field. Much like Krieger-Coble, he did a little bit of everything for the Iowa Hawkeyes and lined up all over the formation. Turns out, he was Krieger-Coble's cousin, and his name was George Kittle. A year later, Kittle is the second-leading receiver for Iowa with 10 catches for 192 yards and two touchdowns as he looks to follow in his kin's footsteps on his way to the Senior Bowl this winter.
Across the field from Kittle will be one of the best linebackers in the country, Northwestern star Anthony Walker. At 6-1, 235 pounds, Walker has just decent size, but he's very instinctive, has an extremely high motor and really excels in coverage down the seam. Whether he was making plays downfield against tight ends like Jake Butt from Michigan or running backs like Stanford's Christian McCaffrey in 2015, Walker stood out, and he will have a big impact on the success of the Iowa offense in both the run and the pass game. How these two match up will be a very interesting storyline to follow on Saturday.
5. Kentucky C Jon Toth vs. Alabama DL Jonathan Allen
*Bryant-Denny Stadium, Tuscaloosa, Alabama - 7 PM - ESPN *
At 6-5, 306 pounds, Jon Toth doesn't have the size of your typical center, but he's got the experience. The Indianapolis native is a four-year starter for the Wildcats after taking over in the second game of his career and never looking back. Prior to the start of the year, Toth started in 35 straight contests. The senior was named to the Senior Bowl Watch List this summer, and a big performance against this dominant Alabama defensive front would do wonders for his stock as the season progresses.
There is a ton of talent on this Alabama front seven. A lot of it comes off the edges. Whether it's the twitchy Tim Williams or the steady, reliable Ryan Anderson coming off the corner, they've gotten a lot of production from the outside. Don't forget about the best player of them all, however, in Jonathan Allen. A very consistent contributor to this defense since his sophomore year in 2014, Allen just became a starter this year. Whether he's lining up off the edge, as a 3-technique over the guard, or straight up over the center in subpackages, his versatility, motor and ability to rush the passer and disrupt in the backfield make Allen a potential first-round pick. On the occasions where these two line up against each other, it'll be a battle of two seasoned veterans in the trenches.
Going into the 2015 season, Clemson's Mike Williams was viewed as one of the top receivers in the country. In his sophomore season of 2014, Williams caught 57 passes for 1,030 yards and six touchdowns. At 6-3, 225 pounds, he could run like a deer. In the first game of his junior season, Williams caught a touchdown pass and collided with the goal post in the back of the end zone, fracturing his neck and ending his season before it really started. After months of rehab, Williams returned this fall in Week 1 against Auburn, and all he did was light up an SEC secondary. He caught four passes of 20-plus yards against the Tigers, finishing with nine catches for 174 yards. He looked just as explosive, and was near uncoverable on that opening night, looking like the next great talent at Clemson at the wide receiver position (following in the footsteps of Sammy Watkins, Martavis Bryant and DeAndre Hopkins).
In this game on Saturday night against Louisville, Williams is going against a Cardinals secondary that doesn't have a cornerback over 5-11. You can guarantee that with his size, quarterback Deshaun Watson will look his way early and often. A big performance in prime time is all Williams needs to get back into the national spotlight as one of the top players in the country. His talent alone is enough for me for him to be a Top 40 selection in the NFL Draft.
One of the top players from the small-school ranks is linebacker Dylan Cole from Missouri State. At 6-0, 235 pounds, he's a bit undersized, but he has definite NFL tools. Watching Cole a year ago, his instincts were evident on tape. While he got held up in traffic a handful of times, he was extremely competitive, had a high motor and had the short-area burst to close from the back side. Cole was added to the Senior Bowl Watch List this summer, and could be next in line of more than a handful of small-school players who make a big name for themselves in Mobile in January.
The first big shockwave of the college football season happened last week during the Eagles game against the Pittsburgh Steelers when it was announced that LSU had fired longtime head coach Les Miles. Whenever there's a coaching change, even this early in a season, it's inevitable that players on the roster start to hear more and more about moving on to the NFL Draft (though they should be focusing on getting to a bowl game). Who are the standouts from this talented Tigers team? It all starts with the Heisman Trophy candidate Leonard Fournette, and I wanted to learn more about the super-talented running back's off-field character from LSU beat writer Glenn Guilbeau.
RB Leonard Fournette - "He was a leader the moment he stepped onto campus on both sides of the ball," Guilbeau said. "Much like Patrick Peterson several years ago, he arrived as a man – not a true freshman. Works hard. Stays in shape. Enjoys the limelight, great interview with a good sense of humor, but not a prima donna. Sharp. A Katrina veteran and very proud of his New Orleans home."
Fournette is one of the crown jewels of this draft class. A rare prospects because of his combination of size, speed, elusiveness and competitiveness as a runner, he's drawn comparisons to Adrian Peterson, and for good reason.
CB Tre'Davious White - "Everything you would want. No telling how good he would be under a secondary coach like Saban," Guilbeau said. "His DB coach, Corey Raymond, is more of a recruiter. Coaching staff tried to make him the slot CB with speedy youngsters Donte Jackson and Kevin Toliver III on the outside, but this was a mistake as Toliver has been struggling to make plays when he's right there. White makes plays, but he is usually avoided by QBs. Blossoming as a kick returner. Smart, team leader. Could've been a late first-round pick last year, but refreshingly decided to stay for senior year, saying that he's gotten by this long without money. So, what's another year?"
White has long been one of my favorite players in the SEC, going back to his sophomore season of 2014. As Guilbeau mentioned, the Tigers have moved him more into the slot this year, but he's shadowed some of the SEC's best throughout his career on the outside. He's tough, ultra-competitive, and like current Eagle and former LSU star Bennie Logan, dons the vaunted No. 18 for LSU, which is given to the player who best represents what it means to be an LSU Tiger.
LB Kendell Beckwith - "Mature beyond his years. Very talented. Coaches messed up by not playing him earlier in his career and mistakenly had him on DL instead of at LB," Guilbeau said.
Beckwith is one of the top senior linebackers in the country, and what he lacks in athleticism he makes up for with his ability to stick running backs inside as a tackler. Beckwith is a former high school quarterback with instincts, good size and the ability to take on anyone between the tackles.
C Ethan Pocic - "Very talented and versatile, has played every position on the line," Guilbeau said. "Careful with his words, but a smart, good interview."
Pocic has rare size for a center at 6-6, 316 pounds, making many believe he's more of a guard at the next level. But he's a very good athlete with position versatility and a nasty streak. He's got the look of a starting NFL offensive lineman, wherever he lines up.
I asked Glenn about a couple of underclassmen as well who I have yet to personally study, and it was interesting to hear his take on the two biggest names from the defensive side of the football.
DT Davon Godchaux - "Came from poor, tough upbringing and is another guy who arrived as a man beyond his years," Guilbeau said. "Recent arrest on Monday, with charges dropped on Tuesday, really looks like something that just got out of hand, and I don't usually say that. Very good player."
S Jamal Adams - "Highly recruited guy, but I haven't seen it yet," Guilbeau said. "Has not come into his own. Tad overrated. Great guy, though. Again, don't know what kind of coaching these guys are getting."
Fran Duffy is the producer of "Eagles Game Plan" which can be seen on Saturdays during the season. Be sure to also check out the "Eagle Eye In The Sky" podcast on the Philadelphia Eagles podcast channel on iTunes. Prior to joining the Eagles in 2011, Duffy was the head video coordinator for the Temple University Football team under former head coach Al Golden. In that role, he spent thousands of hours shooting, logging and assisting with the breakdown of the All-22 film from the team's games, practices and opponents.