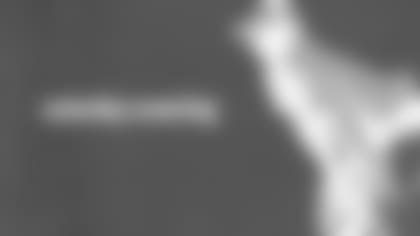 Happy New Year, Eagles fans! While the rest of the world has turned over the calendar, the college football season is still very much in full swing. With a number of big matchups on New Year's Day and on Saturday, we decided to bring you this piece a day early. This week on the Eagle Eye in the Sky Podcast, I broke down five separate matchups to watch in this week's slate of game. On the College Draft Podcast with Ross Tucker, Ross and I provided an in-depth breakdown of Thursday's College Football Playoff matchups, as well as a look at today's Fiesta Bowl between Ohio State and Notre Dame. Let's look at five more very intriguing matchups with heavy NFL Draft implications.
1. Arkansas QB Brandon Allen vs. Kansas State
AutoZone Liberty Bowl
Liberty Bowl Memorial Stadium, Memphis, Tennessee - Saturday at 3:20 PM - ESPN
In a normal quarterback class, Brandon Allen would be seen a bit differently than in this group of signal-callers, but he is a notable prospect nonetheless. Allen has drawn the praise from NFL Network's Daniel Jeremiah and has done enough to warrant an invitation to the East-West Shrine Game in three weeks. Allen isn't the biggest passer, but his light feet and accuracy at all levels of the field will give him a fighter's chance in the NFL. I'm excited to see him in person down in St. Petersburg, Florida.
While they don't have the big names they had a year ago (such as Eagles draft pick Randall Evans), Bill Snyder's Wildcats still have a number of playmakers. Junior edge rusher Jordan Willis finished 10th in the conference with 7.5 sacks. Senior cornerback Morgan Burns finished fifth with 11 ball disruptions. As a team, KSU finished fourth in sacks, first in time of possession and second in fewest penalties committed. This is an aggressive, but disciplined group and a good final test for Brandon Allen.
2. Ohio State RB Ezekiel Elliott vs. Notre Dame LB Jaylon Smith
BattleFrog Fiesta Bowl
University of Phoenix Stadium, Glendale, Arizona - Friday at 1 PM - ESPN
In what is probably the most star-studded game in the entire bowl season, the Fiesta Bowl between Ohio State and Notre Dame is full of future NFL players. My guess would be that by the year 2017, 50-plus players between both of these rosters will be playing at the next level, and these two are at the forefront. Ezekiel Elliott is likely the best draft-eligible back (though I'd argue that Kenneth Dixon is right there with him) in this class. He's decisive. He's physical. He's elusive and his competitive style will be endearing to lots of NFL coaches. Elliott was very productive in the team's regular season finale against Michigan. Will he have a repeat effort against the best defense he's faced all season long?
On a team littered with NFL talent, and on a defense that includes starters like Sheldon Day, KeiVarae Russell, Elijah Shumate and Romeo Okwara, Jaylon Smith stands out above the rest. The junior linebacker is one of the most athletic players at his position in the entire country, and while he has yet to declare I would venture to guess that he would be a Top 20 selection in the NFL Draft if he did leave school early. Smith is a physical specimen at 6-2, 235 pounds, with just four percent body fat. Smith's reported athletic numbers are outstanding for the position, and his physical toughness between the hashes stands out any time you watch the Fighting Irish. The potential one-on-one battles between Elliott and Smith both on the outside and inside the tackle box will be very fun to watch.
3. Ole Miss WRs Laquon Treadwell/Cody Core vs. Oklahoma State CB Kevin Peterson
Allstate Sugar Bowl
Superdome, New Orleans - Friday at 8:30 PM - ESPN
At 6-2, 212 pounds, Laquon Treadwell is one of the most physically imposing receivers in the country. The junior wideout lost 18 pounds entering the 2015 season, and it really shows when you watch the Rebels. Treadwell looks quicker than he did a year ago, and with his ability to get in and out of breaks at a more efficient rate he is able to gain better separation against cornerbacks. When you factor in his unique ability to win at the catch point in contested situations, Treadwell is a very tough cover, and would likely be one of the first receivers off the board in April if he enters. He told reporters recently that he may indeed stay at school to finish his degree. Treadwell's teammate, Cody Core, will be at the Shrine Game in three weeks and at 6-2, 200 pounds the former defensive back has a solid burst in the open field and a refined ability to beat press coverage. As a senior, he, too, is someone to watch in this game.
Whether he's matched up on Treadwell or Core, Oklahoma State cornerback Kevin Peterson will have his hands full tonight. A former track star in high school, Peterson has solid size at 6-0, 174 pounds, and he exudes confidence on the field. A scrappy defender who can mix it up with receivers downfield and get the ball on the ground at the catch point, Peterson will have a fight on his hands in this game. It will serve as a good launching point into the pre-draft process that will include a trip to the Senior Bowl.
4. Penn State TE Kyle Carter vs. Georgia EP Leonard Floyd
TaxSlayer Bowl
EverBank Field, Jacksonville, Florida - Saturday at Noon - ESPN
Penn State's Kyle Carter is an athletic moveable chess piece at the tight end position who has raw tools that make him an intriguing prospect in today's pass-happy NFL. He's got the movement skills to be a weapon in space, and he has incrementally improved both as a route runner and as a blocker in his four-year career. Carter is naturally very good at the catch point, adjusting to the ball well in the air and he has very reliable hands. If he can get with a really strong position coach at the next level, he could develop into a very effective player.
Carter has the potential to be matched up against Georgia edge rusher Leonard Floyd in a number of different situations on Saturday afternoon. Floyd, in my opinion a Top-15 talent, plays as an inside linebacker in the Bulldogs' 3-4 scheme, but plays on the outside in passing situations. An explosive athlete with the necessary flexibility to turn the corner and acceleration to close on quarterbacks quickly, he's one of the most naturally gifted pass rushers in the entire country. He has already declared for the NFL Draft. If, and when, Carter is kept in to pass protect, he could have quite the challenge in trying to slow Floyd down off the edge. Conversely, on early downs Floyd is often used in coverage, and watching any potential matchup with these two in space will be very interesting. I've watched Floyd run step for step with a slot receiver and knock the ball out of the air downfield, so he's got great potential in coverage. The athletic Carter will be a very good test in that phase of the game.
5. Ole Miss OL Laremy Tunsil vs. Oklahoma State EP Emmanuel Ogbah
Allstate Sugar Bowl
Superdome, New Orleans - Friday at 8:30 PM - ESPN
If Ezekiel Elliott vs. Jaylon Smith is matchup 1A to watch, then this heavyweight bout between Ole Miss' Laremy Tunsil and Oklahoma State's Emmanuel Ogbah is certainly 1B. I've gone on record on the Journey to the Draft Podcast saying that, at this point in the process, Tunsil may be the best draft-eligible player in the country, and he may be the best tackle I've studied. He's got great size to pair with great feet, but he also plays with great technique and has an edge to him. He has the ability to be the complete package in the NFL, similar to what Jason Peters has been for so long here in Philadelphia.
Tunsil will get one of his toughest tests of a shortened junior season against Emmanuel Ogbah, one of the most productive pass rushers in the country. On the season, Ogbah finished fourth in the country in sacks (13), and with 61 tackles and a pair of forced fumbles he was disruptive in both the run and pass games. Ogbah tries to attack tackles in a variety of ways, and the Cowboys move him around the formation to create favorable matchups across the line. He's not a natural bender turning the corner, but he's got NFL size at 6-4, 275 pounds and shows that he can win with some power. This will certainly be a fun matchup to watch.
Fran Duffy is the producer of "Eagles Game Plan" which can be seen on Saturdays during the season. Be sure to also check out the "Eagle Eye In The Sky" podcast on the Philadelphia Eagles podcast channel on iTunes. Prior to joining the Eagles in 2011, Duffy was the head video coordinator for the Temple University Football team under former head coach Al Golden. In that role, he spent thousands of hours shooting, logging and assisting with the breakdown of the All-22 film from the team's games, practices and opponents.