What happened to get the running game on like that?
COACH KELLY: I thought LeSean just did an outstanding job.  We've been trying to preach here just hitting things downhill.  It was very tough, especially with this defense to go lateral.  We learned that with the weather it was very difficult to go lateral and we felt like we had to get a downhill game going. I thought the job those three inside guys did was outstanding, Todd, Jason and Evan against two really good defensive tackles and then we just started changing up formationally some of the looks so they couldn't chase us down a little bit from the backside.  I thought Brent Celek had a really, really good game.
It looked like the tale of two halves.  They seemed to own that first half.
COACH KELLY: Yeah. You know, that's why you've got to play a full 60.  I think our guys understood that.  There was no panic or anything at halftime, and just came in, made the necessary adjustments.  Obviously they scored, but it was on a very short field, on Nick's first interception of the year, and then the other two came on in the return game, which was a real difficult game from a return standpoint because it was almost like you out kicked your coverage so they could get something started.  A real credit to those guys on the offensive side of the ball, and I thought our defense played really well considering the situation.
What's it like to plan all week and plan is not going to take place?
COACH KELLY: Yeah, I think we were prepared for it.  We talk about it all the time.  I talked about it a little bit earlier in the year, that everybody has a plan and then the first snap it kind of goes awry, so you didn't plan on something.  We talk about all the time that it's how you react to it.  At times during a game, the crap is going to hit the fan.  You show up here this morning, and our weather report was it wasn't going to snow until halftime.
COACH KELLY: It didn't turn out very well, but we both had the same field.  It's not like one team benefitted from it.  We're both playing in the same conditions and I think our guys embraced it.  They really enjoyed it.  They had a lot of fun.  They kind of probably went back to when they were little kids running around out there.  It was interesting for me just to see how those guys were excited about playing in it, and I thought our fans were ‑‑ I don't know if I would have been sitting out there, I can tell you that, but they were awesome.  That grounds crew, as much as they could and for what they did get done, they did an unbelievable job, and I think I'd like to thank them for what they did.  It was a very, very difficult day and a lot of people contributed to it, but we're excited to be where are right now.
How did the weather impact the play calling?
COACH KELLY: It was interesting.  It was really a couple times we thought we'd get some things going and we tried to stay out of the gun as much as we could.  We had a drive there early in the second quarter and then all of a sudden we got back into the gun and the ball goes through Nick's hands and you know we had some momentum going forward and then we go back, just trying to get our footing.  I think it's our ability to kind of get in and out and when you came out in the second half you were wondering what the weather was going to be like.  It seemed like it calmed down a little bit.  It wasn't as bad as it was in the first half.  So we felt like we could get it. The one thing is our receivers felt like they could get open.  It was just whether we could actually catch a snap and throw it to them. For the weather, I thought Riley and DeSean did an unbelievable job considering the circumstances.
Did you ever think about attempting a kick at any point during the game?
COACH KELLY: We had talked about it early and then as the snow kept coming, we knew we weren't going to. I think they attempted one and you saw what happened on that.  The ball was coming out at such a low trajectory. It is very, very difficult to get the footing, and it was probably just we thought maybe a recipe for disaster.  It was going to be a non‑kicking game from that standpoint.
Have you ever played in a game with that much snow?
COACH KELLY: No, I've had a few games in New Hampshire where it snowed, but nothing like this.
How big was it going to the hurry up offense today, it seemed like your offense really started to takeoff and pick up the pace?
COACH KELLY: We actually ran the same offense the entire game, it's just about whether we execute or don't execute.  It was hurry up and sit in the first quarter for us, and then we got a chance to get it going and to execute a little bit.  It's kind of what we do.  Again, to run the ball like we ran the ball, considering the circumstances, that's the thing I think we're most proud of.
On Riley Cooper's 44 yard catch?
COACH KELLY: It was a big play, a real tough catch.  That was almost a little bit of confidence that we can get some throws off.  We felt like with our receivers felt ‑‑ it was funny, Cary Williams was the one who came up to me, and he was like, 'Coach, this is what you've got to do because you can't make up speed if the guy makes a stick move on you just because of the footing.'  And Cary was kind of the one, and it's coming from a defensive guy saying, hey, if you have an opportunity to either throw a post or throw a corner route, it's hard to make up.  Finally we hit Riley on it, it was almost like that kind of got us going, got our confidence back a little bit, and then we got rolling there.
The weather report initially said snow at halftime.  Obviously you could tell during warm‑ups it was snowing.  Did you start throwing out sheets of paper then?
COACH KELLY: No, we just went out and played.  It wasn't that complicated.  Obviously from a play calling standpoint we kind of narrowed down what we were going to select from, but it was trying to get a feel of, and it's weird because you go in after you warm up, so what was it going to be like when we came back out.  I know when I turned the corner, I was like, oh, this is interesting.  Seemed like it got worse. In those situations they have the same exact experience.  When I think we're similar teams in what we do.  We're both a lot of 11 personnel, we are quarterback in the shotgun, Matt can throw it around a little bit, they've got arguably the best receiver in the league, so it affected both of us about the same way.
Did you feel comfortable with Nick doing a lot of stuff under center?
COACH KELLY: Yeah, and we practiced that, and we felt comfortable enough in what we were going to have to do.  We can play in inclement weather, and we know being here at times that it's not going to be ideal, and we don't play in a dome.  We were comfortable in the fact that if we were going to have to go under more often, and I think it's a real credit to those guys in terms of what we did ball security wise besides the one pick where the ball sailed a little bit on Nick.  We didn't lose a fumble on the day.  I thought that was outstanding, to be able to run the ball like we did and not turn the ball over in that weather was outstanding.
Six minutes to go in the second quarter you put Todd underneath center and ran Shady right up the middle about six times.  What did you see match‑up‑wise?
COACH KELLY: It wasn't as much a match‑up.  We just felt like coming downhill was the key in terms of what we were doing, and the more you went lateral if it got strung out. The footing was so bad that we may not get it, so we wanted a little bit more downhill run game at that point in time.
You mentioned those three interior linemen.  What were they doing specifically to neutralize them?
COACH KELLY: I just know they weren't as disruptive as they've been during the year, and I know going in that was one of the big challenges because Detroit was so stout from a run standpoint.  I don't know the number, but it may have been like six or seven straight games they hadn't given up one 60 yards on the ground. Obviously that was a big match‑up we knew going in, and I thought Todd, Jason and Evan did a real good job of that.
At what point did you notice the game would go this way?
COACH KELLY: I had no sense.  Seriously, you didn't know. In the first quarter we had no yards.  God forbid we continue to do that, that was going to be a long day for us.  Just really didn't know.  We just kind of kept poking and prodding and then we started to move the ball.  That drive we had at the end of the second quarter I think gave us an understanding that we could move the football on them, and obviously you didn't come up with points.  We kind of stalled down there in the red zone.  But we felt like when we got in here at halftime, I thought our offensive staff did a good job of putting together some formations of how to run some things and what we could come back with, but then we also felt if the snow let up a little bit, if we were going to throw it we had a chance to take some shots, and obviously that drive with DeSean, we hit him a couple times and then got a touchdown out of him and the big catch by Riley gave us an idea that we could do kind of do both things.
The downhill philosophy that you talked about, how does McCoy's ability, he makes a lot of his yards going laterally.  Does it change anything?
COACH KELLY: No, I think overall just from a schematic standpoint we wanted to get the ball downhill.  I know LeSean is a very talented back, can do some things, but this wasn't going to be a day when we were going to get to the perimeter.  I'd be hard pressed to see. I don't think they did the same thing, either.  I think if you started going east and west, you're going to continue to go east and west because you couldn't stick your foot in the ground and make that hard cut, which is what you want to try to do sometimes when you're running those flat plays
At what point did you figure out that the kicking game was out the window?
COACH KELLY: Early, when we got out there and we had talked about it. Our kickers warm up so early, it wasn't that bad on the field.  But when we came back out after stretch and then getting ready for the beginning of the game, Coach Fipp always keeps me informed and we talked about what's the line to gain and where can we kick from, and he came up and just looked at me and said the line to gain is really, really close if we're even going to think about a kick.  It really was just a necessary deal, if this came down to if it was 20‑20 and it was 4th down we may have tried to kick in that situation, but we just felt that the footing was so bad that it wasn't going to be fair, and then obviously from a field goal standpoint we were never going to do that because you can block them and return them.  We blocked their extra point.  I know the crowd was really excited when Fletch was running down the field but we weren't playing Alabama today, so you can't run them back.
There were several times today where your team could have said, that's enough, and given up.  They played better and harder later.  What does it say about their character and resiliency with the way they finished?
COACH KELLY: I think it showed everybody what we know about them, and I don't think this group gives up.  I think they've got way too much invested, and I think the more you have invested in something it's a lot more difficult to quit.  It's an extremely hard‑working group, and they understand that it's a long game, and you've just got to keep plugging away, and you can't get discouraged when you're not successful early because in this league there's a lot of times you're not going to be able to just go out there and say, hey, this is what we choose to do.  There are so many good players on the other teams that it's always going to be a battle, and they just know if we kind of hang in there and keep fighting and keep banging away that good things are going to happen for us.
Nick threw his first interception.  To see it actually happen, was it kind of surprising at all?
COACH KELLY: No, I think any mistake Nick makes is kind of surprising, because he just ‑‑ but I understand what happened.  The ball kind of sailed.  Obviously it's a weather deal.  I don't think that way, like oh, my God, that's Nick's first interception, what was my reaction going to be.  It was, hey, we turned the ball over.  The biggest disappointment was where they got it in terms of we put our defense on the field in an extremely short field.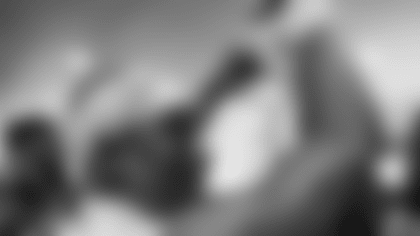 news
Game Preview: Commanders vs. Eagles
Eagles Insider Dave Spadaro offers 6 storylines to follow in the first NFC East tilt of the season.