On the Eagles' better road record vs. home record:
McCOY: "That's pretty hard to explain. I think this next week against the Redskins at home is a game where we have to win. It's a division game that's very important, and I think for this week we have to be the better team."
On the play of Nick Foles:
McCOY: "His confidence level is sky high right now. The blessed thing about us is that we have two starting quarterbacks in Mike Vick and Nick Foles, so when he came in we didn't look at him as a backup, we looked at him like a starter and he's been playing like it. He's controlling the offense, making the right calls and making the right reads."
On playing slower on the final drive of the game:
McCOY: "You know, it's actually cooler because you would think a long drive like that we would get tired, but you actually don't. When you actually slow down it's like a huddle, and we haven't huddled since probably last year."
JACKSON: "I think that everybody came out and played together. We did a great job from the start and it was a tough game to the finish. We put an eight-minute drive together towards the end of the game to kind of close the game out, but we feel great coming here to Lambeau regardless of their circumstances with their quarterback. We were able to still come out here and play well as a team."
On his seven touchdowns so far this season:
JACKSON:"I am just doing everything that I can do with the opportunities that I am getting. Chip (Kelly) came in and established a great offense to be able to make plays. Everybody is getting involved and we are just excited about the opportunities that we are able to get. We are just going out there and having fun while playing together."
JACKSON: "It was a great throw that Nick (Foles) put out there in seeing the coverage and I just had to focus on that. It got tipped by the defender. I feel like I do a great job of focusing on the ball every time a defender tips it. You just have to stay with the play."
BOYKIN: "Jordy (Nelson) did a seven route and I knew that the timing would probably be quick (with the new quarterback). So as soon he timed up to the seven route I turned my head trying to undercut it and I was able to get my hands on it. I am a little bit disappointed that I wasn't able to score, but it was a big stop in the red-zone so it was good."
On Philadelphia's defense:
BOYKIN: "I think that we are getting better each and every week. You can tell by the way that the linebackers played with being able to drop into coverage and the secondary being able to play things top down. We felt like we gave up too many yards in the passing game, but we were still able to keep them out of the end zone for the most part."
On the performance of Scott Tolzien:
BOYKIN: "I think that he did a really good job coming in unexpected of course with Seneca (Wallace) getting hurt. I think he held his own and was able to control the offense, but credit to our defense for being ready for whatever came. We had been practicing for Seneca and for the ball to be out fast, but we adjusted well."
On how much fun he and the Eagles are having right now:
COOPER: "I am having a blast. I love football, but it feels so good when you are contributing to the team and winning games. That is what I love. I am having a blast."
On how he overcame his early season adversity:
COOPER: "I am playing the same football that I have always played. I am getting a little bit more opportunity, which is great, but it starts from the quarterback. When he is spreading the ball out like he is everyone is going to get touches, everyone is going to get numbers, and everyone is going to get touchdowns. That is just fun."
COOPER: "He has great poise. He is going to sit in the pocket and kind of dissect the defense. He trusts in his guys if it is man to man coverage or something. He is going to throw it up to you."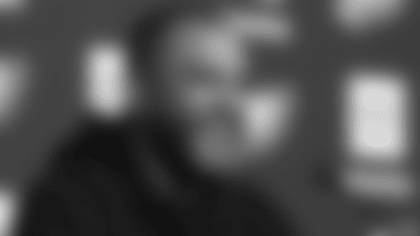 news
5 takeaways from Sean Desai's exclusive interview on the Eagle Eye in the Sky podcast
Fran Duffy welcomed the defensive coordinator for his first one-on-one interview in his new role.