Chad Ocho Cinco had his "riverdance" and Kelley Washington had his "squirrel." But the most famous touchdown celebration to come out of Cincinnati remains the "Ickey Shuffle."
More likely than not, though, neither defensive end Trent Cole nor tight end Brent Celek will bust out an ""Ickey Shuffle"" if one them happens to score against the Bengals on Sunday afternoon.
If it came down to it, though, both already know the dance by heart.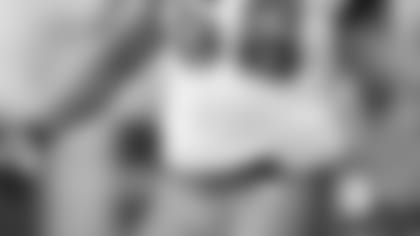 DE Trent Cole
Cole and Celek both grew up in the Cincinnati area and both were big Bengals fans.
If they have their druthers they'll both be shuffling out of Cincinnati with a win come Sunday night.
"It'd be funny," said Celek in referring to the fallout if he did his version of the "Ickey Shuffle." "I didn't even think about that, but that would be funny. When I was younger I used to do an 'Ickey Shuffle.' Not any more though. He's long gone."
Cole said the "Ickey Shuffle" was something he did regularly while playing football with his friends growing up in rural Cincinnati.
"I used to do it playing two-hand touch football and tackle football in the backyard, I used to do the 'Ickey Shuffle,'" Cole said. "The 'Ickey Shuffle,' the 'Ickey Era,' I loved it."
Cole went to just one Bengals game as a kid, but he recalled the first time he got to witness the "Ickey Shuffle" in person.
"My uncle Roland James played for the Patriots and he was playing against the Bengals," Cole said. "I saw Ickey Woods do the 'Ickey Shuffle.' He'd go behind the bench and do the 'Ickey Shuffle.' I thought that was amazing."
Speaking of family, Cole said he looks forward to going home and seeing some folks he hasn't seen in ages. He said he's scored 35 tickets to Sunday's game to make sure he has an adequate cheering section.
"It's great," Cole said. "I get to go back and see my family; I only get to go back and see my family once or twice a year. It's great to see everybody. I get to see people I haven't seen in years. They get to come see me play in a real game, a game I loved to play since I was a little kid.
"It's great for them to come out and see what I've accomplished, what I've worked hard for."
For Celek, going from spectator and fan to player is something he'll never forget.
"Just being back in the town and the stadium, where I used to go to watch all the football games rooting for the Bengals," Celek said. "It will be cool to go back there and play against them."
He is also looking forward to tasting some signature dishes from back home. For Celek, that means a visit to Skyline Chili, which opened in 1949.
"The Skyline (and) their Three-Way Chili," Celek said. "(It's) a little bit of spaghetti, a little bit of chili and some (shredded cheddar) cheese all over it. It's good."
Celek says he'll wash that down with another Cincinnati staple: Graeter's chocolate chip ice cream. Graeter's has been serving ice cream in Cincinnati since 1870 and is famous for its thick ice cream.
"It's awesome," Celek said. "All of their ice cream is so rich and so fatty, but it's the best, man."
For Celek and Cole, there's no place like home.