Two days after their 33-27 win over Washington on Monday night, the Eagles were back out on the NovaCare practice fields as they prepare for Sunday's matchup with the San Diego Chargers. Michael Vick met with the media to look back at Monday's game, and to look forward to a matchup with a team for which he nearly played.
"It was tough because we just played on Monday," Vick said of Wednesday's practice. "It was a tough game and it was a rough game. It wasn't easy by any stretch. (It felt good) to get out here and run full speed and get back into the tempo and get going. We were able to come out and have an effective practice. It was supposed to be a walkthrough, but guys are running and it just turned into an all-out practice, so credit to the guys."
Vick took a decent amount of hits in the game against the Redskins, but said that it felt good to get back into the groove of things after a preseason in which his uniform remained virtually clean throughout.
"I took a couple of (hits), but I really didn't pay any attention to it," Vick noted. "It was good to get hit. I really didn't get tackled too much in the preseason so it just prepares you for the weeks moving forward.
"In this game you always have to be on alert. As a quarterback, guys are gunning for you and they want to hit you. You have to just keep your head on a swivel and understand that you can be hit at any moment, not take anything lightly, and give it 110 percent effort each and every down. Things are going to happen, but just leave it in the hands of the referees."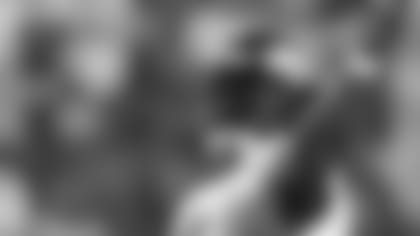 On multiple occasions during the game, Vick also found himself throwing blocks on running plays. Though his coaches prefer him to only throw passes, Vick finds it challenging to simply stand around and watch.
"I try not to do it, but just with the way we run the read-option, sometimes the ball gets cut back and I'm standing there and I'm not going to let my teammate get hit by a guy," Vick explained. "Maybe I'll just get in the way next time and try to wall him off … I'm a football player at the end of the day, I'm not just a quarterback. I'll do whatever it takes to win."
Vick was questioned repeatedly about the risks that he takes when he blocks or slides head-first on a play. Though he understands there is a possibility of hurting himself, he knows that an injury can occur at any moment in the game of football.
"You can get hurt at any point in the game," Vick explained. "Some guys have had their worst injuries just standing in the pocket- torn ACL's and things like that. Injuries are what happen in this game. There's no way to prevent it. Every player is at risk on every play."
Head coach Chip Kelly has said recently that he's not going to try to teach Vick to hook-slide or change anything about the way that he plays – a freedom that Vick enjoys.
"Chip doesn't bother me about the small nuances that people think that I should change," Vick said. "He leaves the ball in my court. He understands and I understand that if I put my body in jeopardy or at risk that I'm putting this football team at risk. I feel like I'm being selfish to my teammates. It's just something that I have to gauge and we're not going to change it at this point. I think I can make it through."
With the first game now in the rear-view mirror, Vick now prepares for the San Diego Charger, bringing to mind a interesting what-if scenario. In 2001, the Chargers held the No. 1 overall pick in the NFL draft. Vick was the consensus choice, but the Chargers elected to trade the pick to the Atlanta Falcons the night before the draft began.
"When I first came into the league, I thought I was going to San Diego but it didn't happen," Vick said. "Things can happen on the night of the draft, and I ended up in Atlanta and that was my career.
Though the Chargers ended up blowing a 28-7 lead and falling to the Houston Texans, Vick knows that they are a dangerous team that presents a challenge for him and the rest of the Eagles offense.
"We had a chance to watch them for the first time this morning," Vick said. "We watched a little bit of film yesterday. I just think that the way they played the Texans on Monday, they did a great job of putting pressure on the quarterback and keeping the game out of reach to a certain point. Every team is a threat. It's all about execution on our end."