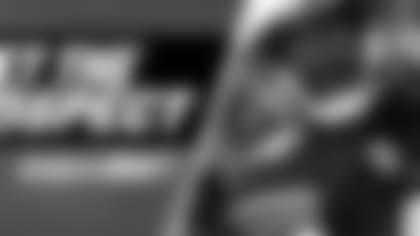 We are just 29 days away from the start of the 2015 NFL Draft. Our Meet the Prospect feature will introduce fans to the players projected to be this year's top selections. How will we select the players to spotlight? Easy. You, the fans, get to decide. Who did you pick for today's profile?
Auburn's Sammie Coates is one of the more explosive, downfield threats in the wide receiver class, especially among those who are expected to go after the middle of the first round. Coates, 6-1, 212 pounds, ran a 4.43-second 40-yard dash at the NFL Scouting Combine and showcased his explosiveness by finishing among the top five receivers at the Combine in both the broad jump and vertical jump.
On the field, Coates showed his ability as a big-play threat in the SEC with a 21.4 yards-per-catch average in his career and earned second-team All-SEC honors in 2014. From 2013-14, Coates' sophomore and junior campaigns, he caught 76 passes for 1,643 yards and 11 touchdowns. Of those 11 touchdowns, every single one came on a play over 30 yards, including five touchdowns of over 50 yards. So if you're looking for a big, fast receiver to make plays on the ball downfield, Coates very well could be your guy.
Where Coates needs to improve, and where you'll hear some criticize his game, is a perceived inconsistency in catching the ball. But some teams will take the tradeoff of the big plays downfield in exchange for the occasional drop.
Off the field, there don't appear to be many character concerns about Coates, who was invited to participate in the Senior Bowl because of his early graduation from Auburn. He figures to be selected either late in the first round or in the second round in what is considered a very deep draft for wide receivers.
Looks the part. Long legs with well-proportioned frame. Outstanding combination of size and speed. Good acceleration off the snap for a receiver with his length. Can take top off defense and open up the underneath. Will beat bold cornerbacks over the top if they wait to turn and run. Forces cornerbacks onto their heels and gets easy, open looks on dig routes. Makes easy in-cut with maximum separation. Ability to win big plays vertically. Saved best performances for big games. Put 206 yards and two touchdowns on Alabama in 2014. -- Lance Zierlein