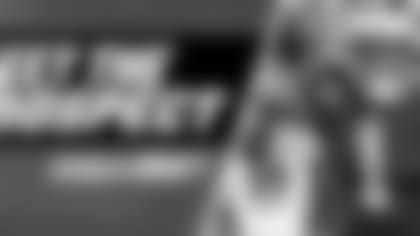 We are just 27 days away from the start of the 2015 NFL Draft. Our Meet the Prospect feature will introduce fans to the players projected to be this year's top selections. How will we select the players to spotlight? Easy. You, the fans, get to decide. Who did you pick for today's profile?
Is he a tight end or a receiver? Does it matter? Those are the questions surrounding Devin Funchess, the 6-4, 232-pound matchup nightmare out of Michigan. As a junior in 2014, Funchess caught 62 passes for 733 yards and four touchdowns. He was actually more of a downfield threat as a sophomore the year before, when he caught 49 passes for 748 yards and six touchdowns. He earned second-team All-Big Ten honors both years.
As a prospect, Funchess' selling point is his ability to make contested catches. Because of that, he should be an effective red-zone weapon in the NFL. But will he be doing his work in-line or on the outside? After Funchess ran a 4.70 40-yard dash at the NFL Scouting Combine, the reaction from many was to expect a transition to tight end. But, according to most reports, Funchess has an aversion to contact not only as a blocker but in the middle of the field as well. As such, he's still most likely to be put on the outside, where his size will be more of an advantage. He also quelled some concerns about his speed with a 4.47-second 40-yard dash at the Michigan pro day.
"When asked why he ran so much better (at his pro day), (Funchess) explained that he had been up late to do interviews at the Combine and was just plain tired when he ran," wrote NFL.com's Gil Brandt. "Funchess also posted a 4.48 short shuttle and 6.98 3-cone drill. He had one drop in his workout, but showed he's a very good athlete and smooth in his routes. He's got a chance to be drafted in the bottom of the first round, but most likely will be a second-round pick."
Knowing head coach Chip Kelly's affinity for movable chess pieces who create mismatches, Funchess is likely to be on the Eagles' radar. While 20th overall might be a bit rich for Funchess, considering the depth of receiver talent in the draft, it remains a possibility. If Funchess does slide to the middle of the second round, the Eagles showed last year that they're willing to move up for the right receiver.
Big receiver with the ability to mismatch corners in the red zone. Long legs that can cover ground in a straight line. Transitions smoothly from catch to run. Has build-up speed to factor on run-after-catch crossers. Fluid hips for size. Uses size to defeat press coverage. Good body control and length to go get high throws that few can snag. Physical with "separating hands" at the top of the route. Smooth in intermediate routes and can earn a living in that area of the field. -- Lance Zierlein